Kogan & DiSalvo – Delray Beach
258 SE 6th Ave Suite 15
Delray Beach, FL 33483
Phone: (561) 658-1822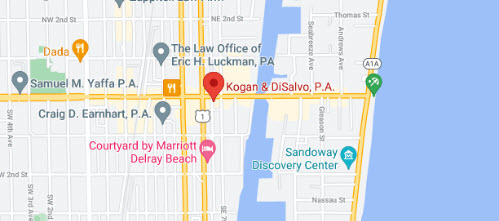 Personal injury law encompasses a wide range of accidents, from slipping and falling on a wet supermarket floor to a botched medical operation. Experienced Delray Beach personal injury lawyers are well-versed in this area of law.
For those who are injured, accessing the legal system is easy. Simply arrange for a free, no obligation consultation with a Delray Beach personal injury lawyer. The attorney can explain the applicable law and the legal process, and assess the merits of the facts to determine if there is a valid case to sue for damages.
Scope of Personal Injuries

Injuries can be physical or mental, accompanied by emotional trauma, and have numerous causes including:
Accidents involving private and company vehicles
ATV accidents
Aviation accidents
Construction accidents
Animal bites or mauling
Types of injuries are many but the most serious and catastrophic injuries are:
Brain damage
Spinal cord damage
Other injuries are caused by abuses in nursing homes, medical malpractice events, defective products, and insurance companies acting in bad faith such as denying valid insurance claims. Delray Beach personal injury lawyers are available to mitigate the consequences of such injuries.
Proving Personal Injury

Although the injuries and their causes are versatile, all of them are adjudicated by a single law ─ negligence. The law defines negligence as a reasonable person failing to use proper care toward others or committing an act that a prudent person would not commit. Without a negligent act, a personal injury is not legally actionable.
Florida uses the comparative negligence standard, which reduces the amount of damages that may be claimed by the percentage of fault assessed. For example, a person who is 20 percent at fault can only claim 80 percent of damages.
The law requires anyone who has some fault in an accident to have some financial loss and the assessment is determined in court by a judge or a jury.
Proving Negligence

Negligence is comprised of four elements and each of them must be proven to have a valid case. The first is duty of care. A reasonable person has a legal obligation not to cause harm or property damage to another. Second is breach. This is any act, or an omission, that violates duty of care. The third is causation, meaning "but for" the breach the accident would not have occurred. Fourth is that damages, the actual financial loss that resulted.
How a Delray Beach Personal Injury Attorney Will Proceed

Delray Beach personal injury lawyers handle every aspect of the case, investigating the accident, formulating legal theories, filing the lawsuit within the deadline, calculating the amount of damages sought, developing physical, documentary, and testimonial evidences, preparing the case for trial, selecting jurors, cross examining defense witnesses, and appealing to the jury to award all the damages.
In Florida, personal injury cases must be filed within two years of the accident. In highly technical cases, the attorney may hire an expert within the discipline at issue to testify on technical matters to help prove the case and rebut the expert witness that the defense uses.
As many civil personal injury lawsuits are settled without a court trial, the Delray Beach personal injury lawyer will not accept an insurance carrier's "low ball" settlement offer and will assertively work to win the amount of damages sought.