Kogan & DiSalvo – Boca Raton
7900 Glades Rd #330
Boca Raton, FL 33434
Phone: (561) 473-3309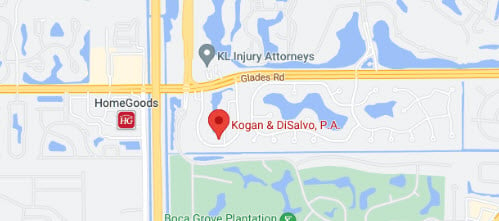 Injuries of all types happen every day and may be caused by a variety of factors. However, when they occur as a direct result of the negligence or misconduct of another person or entity, injured victims may be entitled to compensation.
In these types of situations, the best way to hold reckless individuals accountable for their actions is by retaining skilled legal counsel. Kogan & DiSalvo leverages decades of experience representing personal injury victims throughout Southeast Florida.
Trusted Personal Injury Lawyers in Boca Raton

We work tirelessly to ensure our clients secure maximum compensation for their physical, emotional, and financial losses. After suffering the effects of a car crash or other type of senseless accident, you need a Boca Raton personal injury lawyer committed to your wellbeing and success. Our veteran attorneys are well-versed in Florida's negligence laws and have a proven track record of outstanding settlements and verdicts. Our goal is to help clients get their lives back on track with minimal disruption or inconvenience.
If you choose to retain our services, you can expect to be treated with compassion and respect from initial consultation to your claim's resolution. All questions and concerns are promptly addressed with honesty and candor, allowing you to make informed decisions that protect your rights. To learn more about our approach to personal injury cases or schedule a free case evaluation, we invite you to reach out to our Boca Raton office, conveniently located to serve residents throughout Palm Beach County.
Common Personal Injury Actions in Boca Raton

Personal injury law can apply to any situation where one person or entity causes injury to another through careless or negligent behavior. There are many different types of incidents that may warrant a civil claim for monetary damages.
Our personal injury lawyers handle a range of personal injury matters, including:
Car Accidents
Over 300,000 Florida car accidents are reported every year, and many of these form the basis for personal injury claims. Speeding, distracted driving, excess fatigue, weather conditions, and intoxication are among the most common causes of motor vehicle collisions in the Sunshine State. Florida's no-fault insurance system allows for each motorist's Personal Injury Protection coverage to cover a percentage of their own lost wages and medical bills, regardless of who is to blame. However, Florida does allow victims to sue at-fault drivers or other liable parties in accidents resulting in serious personal injuries, disfigurement, or scarring.
Injuries and financial burdens from a car crash can completely change your life. Our attorneys have the legal savvy and resources to fight for justice.
Truck Accidents
Fully loaded tractor-trailers and 18-wheelers can weigh upwards of 80,000 pounds, which is no match for your standard passenger vehicle. Those involved in truck accidents are often left with devastating injuries, chronic pain, and even permanent disability. Liability may rest with the trucking company, a negligent driver, or the contractors in charge of loading and maintenance. In our experience, most truck accidents can be traced to violations of the Federal Motor Carrier Safety Administration (FMCSA) rules and regulations that outline hours of service, driver qualifications, and required maintenance.
Data shows that driver error accounts for more than 75 percent of all trucking accidents. Whether an accident is due to drowsy driving, aggressive maneuvers, or mechanical failure, victims of personal injury can demand fair compensation for their losses.
Motorcycle Accidents
The number of motorcycle accident injuries and fatalities in the Sunshine State has more than doubled over the past two decades. A recent Florida DOT Crash Analysis on motorcycle accidents suggests that negligent drivers (not the bikers) are at fault in most single and multi-vehicle crashes involving motorcyclists. Drivers who are texting, speeding, or generally inattentive are less likely to visually register a motorcyclist, fail to yield and cause life-changing injuries. Volatile weather conditions, road debris, and mechanical failures can also lead to accidents.
Data indicates that severe motorcycle injuries and deaths are more prevalent on weekends and during March, April, and October when the temperatures are milder.
Bus Accidents
An alarming uptick in Florida school bus accidents has parents on red alert. Whether working for a local municipality or a private company, bus drivers are required by law to operate their vehicles with a higher standard of care. Drivers or occupants of other vehicles or the buses who are injured can pursue damages outside of no-fault insurance if their harm meets the severe injury threshold in Florida. Our attorneys help clients who were involved in accidents with tourist buses, airport buses, school buses, intercity buses, and private shuttles.
Bicycle Accidents
Warm weather and scenic environs compel Florida residents to be outdoors, and bicycling is a favorite pastime among all age groups. Palm Beach County is home to hundreds of bicycle accidents every year–some of them fatal. Florida has been named the worst state in the nation for bicyclist and pedestrian deaths for years. A fundamental failure to yield to cyclists is a leading cause of many of these preventable tragedies. Motorists who are impaired by alcohol, distracted behind the wheel, or ignore traffic signals may be held liable for resulting injuries and losses.
Pedestrian Accidents
Florida is the most dangerous state for pedestrians, according to federal data. While sidewalks and marked crosswalks are intended to improve safety for those on foot, pedestrian knockdowns are still on the rise. Research suggests that older residents and minorities are at the highest risk of being struck by a motor vehicle. Pedestrian accidents often result in head injuries, torn ligaments, broken bones, and other trauma that can have lasting repercussions. Intoxication and driver distraction remain significant factors in all pedestrian accident deaths.
Boating and Recreational Accidents
For good reason, fishing and boating are popular activities in the waters around Boca Raton. The city has more than 70 miles of lakes and canals, as well as the Intracoastal and the Atlantic Ocean. While being on the water promises great fun, boat accidents and injuries happen. There are complicated issues surrounding most boating accident personal injury claims, and our attorneys can guide you through the legal process.
Medical Malpractice
Countless Floridians have been seriously injured or lost their lives because of preventable medical accidents. A recent evaluation of over 300,000 patients found that 12 percent of medical errors resulted in permanent disability or death. Doctors, surgeons, and other healthcare providers are not always perfect, but they are expected to provide a certain standard of care. A medical malpractice claim may be the only way to hold negligent medical professionals accountable for a misdiagnosis, medication error, or surgical mistake that undermines the health of yourself or a loved one.
Workplace Injuries
Employees who are injured on the job in Florida are usually entitled to workers' compensation benefits. This insurance is designed to replace a percentage of lost earnings and out-of-pocket medical expenses related to the injury. Whether you suffered a repetitive stress injury like carpal tunnel syndrome, an overexertion injury, or a serious slip and fall, our experienced attorneys can help you through the claims process and recover the benefits you deserve.
Slip and Fall Accidents
The National Safety Council reports that slip and falls are the second-leading cause of accidental injuries and deaths in the U.S. These incidents can lead to painful injuries and are often the result of negligent maintenance. If property owners or managers knew or had reason to know about a dangerous condition but failed to correct the issue, victims have the right to take legal action. They can also sue if the property owner failed to warn about a slick floor or other potential hazards.
Wrongful Death
Losing a family member or loved one is heartbreaking, but it's even more traumatic when the negligence of another causes the loss. We offer personalized representation to Boca Raton families during their time of need and handle all aspects of filing a wrongful death claim with discretion and compassion. In Florida, a wrongful death lawsuit is valid when a person dies due to negligence or breach of contract. The personal representative of the deceased generally has two years from the date of death to bring a lawsuit against the defendants.
The skilled attorneys at Kogan & DiSalvo could review a person's case and determine if they have a viable personal injury claim based on the cause of their accident in Boca Raton.
Quality Legal Representation in Boca Raton, FL

When you need a full-service law firm that takes cases on a contingency basis, you can depend on the team of Kogan & DiSalvo. Our talented attorneys litigate claims stemming from:
Key Elements of an Injury Case

Those who are injured in seemingly preventable accidents may wonder if they have a valid injury case. Certain elements of negligence must be present to file a personal injury claim.
The first element of negligence is demonstrating that the defendant had a duty of care to the injured person. For example, a driver must follow the rules of the road and act prudently while driving, and a property owner has a duty to keep their premises in a reasonably safe condition for visitors.
Next, the defendant must have somehow breached their duty—for instance, by texting while driving, or failing to ensure safe conditions for visitors. However, a breach of duty alone is not a valid reason for a lawsuit. The plaintiff must also have suffered injuries, the proximate cause of which must have been the other party's breach of duty.
Finally, the injury must have led to compensable damages. These could be monetary damages such as lost income or medical bills, or they could be non-economic damages such as mental anguish or pain and suffering. For more information about negligence and how it applies to their case, it is best to speak to our knowledgeable personal injury lawyers in Boca Raton.
Florida's Comparative Negligence Laws

Florida adheres to a pure comparative negligence law in personal injury cases. This means that the court must evaluate the actions of each party and apportion the responsibility for the incident.
Imagine that a drunk driver t-bones a teenage driver. When evaluating liability in this car accident, it is obvious that the intoxicated driver caused the crash. However, an investigation shows that the teen violated traffic laws and was going 15 miles over the speed limit. Under comparative negligence laws, the percentage of fault reduces your compensation award. For example, if the teen driver is found to be 30 percent at fault for the accident, they may only recover 70 percent of the total settlement or damage award.
Compensable Damages in a Personal Injury Lawsuit

The damages that result from a personal injury can range from medical bills to permanent physical disablement. Claims resulting from an accident seek financial compensation for these and other types of directly related losses.
Any direct loss that has a monetary amount is considered compensable under Florida Statute §768.81, even those that are foreseeable into the future.
The following are the types of damages you may be able to secure with the help of our personal injury attorneys:
Past, current, and future medical expenses, including: ambulance transportation, surgical costs, hospitalization, ER treatment, diagnostic tests, doctor's appointments, medication, and rehabilitation
Lost income, benefits and wages that claimants would have earned if not for the injury
Loss of earning capacity if the plaintiff cannot work or must take a lower-paying job due to their injuries
Cost of hiring someone to perform household services that claimants can no longer complete because of their injuries
Emotional trauma and distress from the accident
Pain and suffering such as anxiety, depression, insomnia, or PTSD
Loss of consortium for the injured claimant's spouse
Loss of enjoyment of life for those who cannot participate in activities that once brought them happiness, such as playing an instrument or taking an active role in raising their children
Out-of-pocket expenses for transportation costs and other needs directly related to the accident
Damages for permanent disfigurement or scarring
Compensation for damage to property
Steps to Take After a Personal Injury

The actions taken after a personal injury accident–whether a rear-end collision or a serious fall–can safeguard your health and protect your rights to seeking compensation from negligent parties. The following steps can help advance your case if you later decide to file a claim or sue for damages:
Remain at the scene – Stay put and do your best to ensure you're not exposed to further harm
Report the accident – Call 911 or the police
Gather pertinent information – This can include the insurance information of all involved parties, the license plate numbers of all vehicles involved in the accident, as well as names and contact information of witnesses and bystanders
Document the accident scene – With photos and video using your cell phone. Take photos from various angles showing where the accident took place, the damage incurred, and visual evidence
Do not admit fault or apologize, even if you think you may be partly to blame. This may be misconstrued as an admission of liability.
Avoid Social Media – It's best to stay off Social Media until your claim is resolved, as any photos or posts can be used to undermine your honesty or the severity of your injuries.
Seek medical attention – Many types of injuries do not show obvious symptoms right away. Concussions, whiplash, or even internal bleeding are common examples. As soon as possible, get a thorough medical examination. Diagnosing and documenting injuries will prove invaluable for seeking compensation.
Follow your doctor's treatment protocols
Contact a knowledgeable personal injury lawyer to explore your legal options
When to File a Personal Injury Case

If a personal injury case is not filed within the time frame provided by the law, a plaintiff may forever lose the opportunity to recover their damages. Also, the longer a potential plaintiff waits to file a claim, the more likely it is that evidence may not be well-preserved or may even be lost.
Potential plaintiffs should retain legal counsel as soon as possible to ensure their case is filed on time and understand how the statute of limitations applies in their case.
Statute of Limitations in Florida Personal Injury Lawsuits

There are time limits in which plaintiffs can file a personal injury lawsuit in Florida. This is known as the statute of limitations. For bringing a personal injury action, claimants typically have two years from the date of the injury.
Certain circumstances allow the statute of limitations to be tolled. Common exceptions where the statute is paused:
The plaintiff is under the age of 18
The plaintiff is mentally impaired
The defendant is hiding themselves to avoid the lawsuit
The defendant departed Florida before the lawsuit was filed
In accidents resulting in catastrophic injuries, such as paralysis, brain damage, or loss of limb, it's in your best interest to discuss your claim with a qualified attorney as soon as possible. In this way, the lawsuit can be filed within the applicable deadlines, and evidence can be preserved to build a solid case.
Talk to a Personal Injury Attorney Boca Raton Trusts

Even if you are not sure if you have a valid legal claim, it may help to speak to Kogan & DiSalvo about the details of your accident and subsequent injuries. Receiving a case evaluation and learning about your legal rights and options could be beneficial for your financial future and your peace of mind. In addition, our attorneys have extensive experience litigating personal injury claims and mass torts regarding a wide range of issues, including dangerous drugs.
Get in touch with our Boca Raton personal injury lawyers today to find out more. Call today to schedule a free consultation.