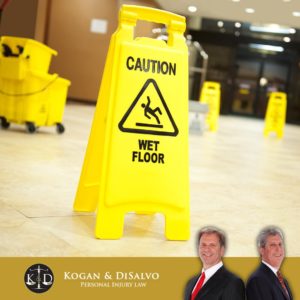 You should never suffer harm or damages due to someone else's negligence. Property owners and lessees have a legal obligation to maintain safe conditions on their property- if they do not and as a result, you suffer injuries, you are entitled to financial compensation for those injuries, pain and suffering, lost wages, and medical expenses.
If you or a loved one has been injured due to a property owner's negligence, call a Boca Raton slip and fall attorney at Kogan & DiSalvo today. There are benefits to having a skilled personal injury attorney.
En Español.
Common Causes of Accidents
Property owners, lessees, and property managers are legally responsible for their premises. Under Florida law, they are required to maintain safe conditions or give adequate warning to residents/patrons/customers of unsafe or potentially harmful situations.
Common causes of slip and fall accidents include:
Sticky or slippery floors or stairs
Standing rainwater spilled liquids or food
Uneven or damaged sidewalks, walkways, and stairs
Poorly maintained walkways
Construction zones lacking signage warning of tripping hazards
Types of Injuries
The injuries sustained in slip and fall accidents can be very serious, yet may not be obvious immediately following the slip/trip and fall accident. Often, the injuries do not present for days or weeks following the accident. For this reason, it is very important that you do not prematurely accept an offer of settlement from an insurance company without first consulting with a Boca Raton slip and fall attorney.
Examples of injuries caused by slip/trip and fall accidents are:
Fractures and broken bones
Internal bleeding
Knee and shoulder injuries
Contacting An Attorney
If you have been injured in a slip and fall accident, the slip and fall attorneys in Boca Raton will protect your rights and interests, ensuring you receive the maximum compensation from the negligent party who is responsible for your injuries and losses. Regardless of where the accident occurred, the Boca Raton slip and fall attorneys at Kogan, DiSalvo will help you. The attorneys at our law firm will aggressively pursue the maximum compensation you deserve for your injuries, pain and suffering, lost wages or even the wrongful death of a loved one due to a slip/trip and fall accident.