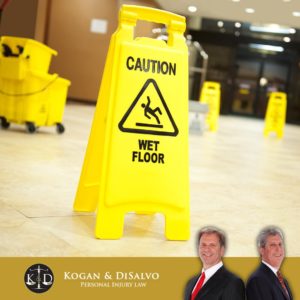 You should never suffer harm or damages due to someone else's negligence–such as poorly maintained stairs or sidewalks. Property owners and managers are legally obligated to maintain safe conditions on their premises. Further, if you are hurt, you are entitled to financial compensation resulting from your slip and fall.
If you or a loved one has been injured due to a property owner's negligence, call a Boca Raton slip and fall lawyer at Kogan & DiSalvo today. There are benefits to having a skilled personal injury attorney. It begins with a free consultation to learn about your legal rights, looming deadlines, and the possibility of financial recovery for your losses.
Common Causes of Slip & Fall Accidents

As noted above, property owners, lessees, and property managers are legally responsible for their premises. Under Florida law, they are required to maintain safe conditions or give adequate warning to residents/patrons/customers of unsafe or potentially harmful situations.
Common causes of slip and fall accidents include:
Sticky or slippery floors or stairs
Standing rainwater spilled liquids or food
Uneven or damaged surfaces
Poorly maintained walkways
Construction zones lacking signage warning of tripping hazards
Types of Injuries

The injuries sustained in slip and fall accidents may not be apparent immediately following your accident. For example, a spinal injury from falling and hitting your head may initially present no symptoms. However, several days or weeks of internal bleeding and inflammation can result in a preventable yet permanent disability. For this reason, it is very important that you seek immediate medical care. In addition, do not accept an offer of settlement from an insurance company without first consulting with a slip and fall attorney in Boca Raton.
Examples of injuries caused by slip/trip and fall accidents are:
Fractures and broken bones
Internal bleeding
Knee and shoulder injuries
Spinal injuries­­
Cuts and bruises
What is Negligence in a Florida Slip and Fall Accident?

Negligence is judged by analyzing duty, breach, causation, and injury:
Duty: The defendant (party at fault) owed you a duty to act reasonably under the circumstances.
Breach: The defendant breached their duty by failing to live up to this standard.
Causation: The breach was both the factual and proximate (actual) cause of your injuries; and
Injury: You suffered losses because of the injury.
If a defendant is found to be negligent, then the court will move on to an analysis of damages. These are the losses, such as physical injuries, emotional trauma, or damaged property, that the plaintiff suffered due to the accident.
In a slip and fall, liability revolves around who was responsible for maintaining the property. It can be a grocery store, a public sidewalk, a park, or an apartment building. For example, you slipped on the way out of a flower shop. If you were still in the building, the shop owner would likely be liable. However, the shop wouldn't be responsible if you continued walking for another twenty feet and fell on public property. In this instance, the claim would likely be against the government entity tasked with sidewalk maintenance.
What Types of Damages are Available?

Damages in slip and fall cases will be economic, non-economic, and exemplary. Economic damages are tangible, verifiable losses, such as medical bills and lost wages. Non-economic damages are intangible losses such as pain and suffering. Finally, exemplary damages are awarded to punish the defendant–and used to deter future similar bad acts or gross negligence.
Economic damages can include:
Past and future medical bills.
Rehabilitation, i.e., physical therapists, occupational therapists, and speech therapists.
Lost wages, benefits, bonuses, and other income due to time out from work
Lost earning capacity
Non-Economic damages can include:
Loss of companionship.
Disfigurement.
Pain and suffering.
Mental anguish
Loss of enjoyment of life.
Punitive or exemplary damages are only awarded when the defendant's egregious actions involved intentional misconduct or gross negligence. When awarded, they are typically for significant sums capped at $500,000 or three times the amount of compensatory (economic and non-economic) damages.
Should a death result from a slip and fall, the family may have the option of pursuing a wrongful death case. It will offer compensation for a lifetime of lost wages, companionship, and other services, such as child care that the decedent would have provided had they not died.
Finally, Florida is a modified comparative fault jurisdiction. This means that your total compensation from a slip and fall will be reduced by the amount of your fault for the accident, up to 50%. If you are found to be 51% or more at fault, you are prohibited from recovering anything. Thus, if a court finds that you are 30% responsible, you will be able to recover 70% compensation. Conversely, if a court finds that you are 70% responsible, you will be barred from any compensation.
Common Locations of Slip and Fall Accidents

Slip and falls can happen anywhere; however, some of the most common locations include:
Stairs can have spilled liquids, worn or rounded steps, loose or missing handrails, bunched carpeting, poor lighting, or hazards such as children's toys.
Apartment complexes may not de-ice common areas and sidewalks
Parking lots with cracks, holes, poor lighting, or other hazards.
Sidewalks with cracks, gaps, or uneven surfaces.
Nursing homes where frail individuals can slip on unsecured rugs spilled liquids, or debris left on the floor.
Shops such as grocery stores can have hazards like spilled liquids on hard surfaces, slippery waxed or polished surfaces, or objects left on the floor to trip over.
Construction sites where falls from ladders or scaffolding are a common hazard and must be addressed by the employer.
What To Do After a Slip and Fall Accident

A slip and fall accident can happen under an extensive set of circumstances. The consequences can range from mild surprise with some slight bruising to a traumatic experience accompanied by life-altering injuries. However, regardless of the circumstances of the slip and fall, the following are a few things to do in the aftermath:
Document the scene. This can include taking photos or videos of spills, broken sidewalks, ice, or other hazardous conditions that were a factor in the accident to gather evidence about the conditions that led to the fall.
Seek medical attention. Often adrenaline will mask symptoms, so it is essential to receive a diagnosis, especially if there is a potential injury to the head or neck.
Document all losses, such as any injuries you received, medical diagnosis, or damaged property. This can be done by recording a video on your phone soon after the incident while it is fresh in your memory.
Identify potential causes of the accident, such as poor lighting, spilled liquids, improperly maintained walkways or steps, debris at a worksite, or other factors that led to your slip and fall.
Inform the property owner or any other parties involved. They may have procedures and forms to fill out to document the incident for their insurance.
Contact witnesses if anyone saw the slip and fall or saw the conditions which led to it, get their contact information and their account of the events, as well as any photos, videos, or other evidence that they may have; and
Call a Boca Raton slip and fall attorney. Often, insurance companies and negligent parties will be quick to offer a slip and fall settlement that will not adequately cover the full losses experienced by an injured party–but may look good at the time of the offer. The more expensive the injury, the more likely the other party, will be to push a fast settlement or fight liability.
Evidence Required in a Slip and Fall Case

In slip and fall cases, the two most essential issues to prove negligence is a breach of duty and causation. Breach of duty falls on the property owner, business renting the property, or the government. For example, if you slipped on a spilled drink in a food court—much will depend on how long the spill was allowed to remain–thus creating a hazard.
Demonstrating a breach of duty involves proving that the party responsible for maintaining the premises did not exercise reasonable caution. Again, using the example above—if the pool of spilled soda remained for several hours, then management would be in breach of their duty. Evidence can include testimony from witnesses or photos or videos of the scene. Once a breach is established, the court will then analyze causation.
What is Causation?

Causation consists of two types: the actual cause of an accident, known as the "but for" cause, and the proximate cause. The test for actual cause in a slip and fall is "but for the defendant's conduct (allowing a hazardous condition on their premises) would you have been injured?" If the answer is no, they are liable. To establish negligence, a defendant's actions must be both the actual and proximate cause of an injury. Proximate cause, also known as "legal cause" or "direct cause," requires proof that the defendant was a substantial factor in bringing about the result (your injuries).
Proving Damages in a Slip and Fall Case

Further, proving damages can be nuanced. Some economic damages are relatively straightforward, such as the medical bills or the value of property damaged in the fall. These can be established by the billing from a medical facility or the cost of replacing a laptop damaged when you fell on it. Future medical and rehabilitative treatment bills can require more evidence–the opposing side may claim they are unnecessary. However, testimony from a medical expert or peer-reviewed medical journals may substantiate the necessity of such treatment.
Non-economic damages require more argument and supporting evidence because they are not as easily quantifiable. For example, an accomplished athlete fell and sustained a spinal injury. This means that even though they spent their life training, they can no longer engage in their passion. It leads to a drastic loss of enjoyment in their lives. An attorney can argue that the ensuing depression represents pain and suffering; thus, they should be eligible for non-economic damages.
Finally, punitive damages require reasonably demonstrating through evidence that the defendant acted with intentional misconduct or gross negligence. As per Florida law, intentional misconduct is action by a party with actual knowledge of the wrongfulness of their conduct, and the high probability of injury or damage to another party would result. Florida's definition of gross negligence is conduct so reckless or wanting in care that it constitutes a conscious disregard or indifference to the life, safety, or rights of those exposed to it.
Statute of Limitations on Slip and Fall Claims in Florida

Most causes of action for slip and fall injuries will be negligence. In Florida, the statute of limitations for negligence is two years from the date of the accident. Therefore, if a lawsuit is filed more than two years after, it will likely be dismissed by the court. This will also affect any insurance claims, as losing the ability to file a lawsuit will result in having little to no leverage over an insurance company to force a settlement. However, it is always best to speak with an attorney if you are unsure about this deadline since there are exceptions.
Though filing a lawsuit or insurance claim years after the injury is possible, it is highly recommended to begin your claim as soon as possible. This is because photos and videos can be lost, and witnesses may move or no longer remember what they saw. Further, other evidence may disappear or become otherwise unavailable. Additionally, diligently pursuing your claims within a reasonable timeframe will show both the opposing party and court that you are taking the exercise of your rights seriously.
Contacting An Attorney

If you have been injured in a slip and fall accident, a skilled injury lawyer will protect your rights and interests, ensuring you receive the maximum compensation from the negligent party who is responsible for your injuries and losses. Regardless of where the accident occurred, the Boca Raton slip and fall attorneys at Kogan & DiSalvo will help you. The attorneys at our law firm will aggressively pursue the maximum compensation you deserve for your injuries, pain, and suffering, lost wages, or even the wrongful death of a loved one due to a slip/trip and fall accident.