The spinal cord is one of the most important parts of the body. Without this bundle of nerves functioning properly, the brain is unable to send signals to other vital organs and muscles. An injury to the spinal cord may result in reduced function in the extremities, organ failure, paralysis, or even death.
Even with these potentially catastrophic consequences, you are not guaranteed compensation if you pursue a personal injury claim after suffering a spinal cord injury. You and your attorney must prove that one or more defendants were liable for the incident that resulted in your injuries. In these claims, the defendant also may try to argue that you were responsible for their own losses.
The spinal cord injury lawyers at Kogan & DiSalvo have decades of experience helping spine injury victims pursue the compensation they need and deserve. We fully measure your losses, investigate the incident that caused your injury, and demand full payments from all at-fault parties.
Please call (561) 375-9500 today for a free case review. Our catastrophic injury lawyers serve clients throughout Florida, including Boca Raton, Boynton Beach, Stuart, Fort Lauderdale, Delray Beach, West Palm Beach, and other areas.
Types of Spine Injuries

There are four areas of spinal cord trauma:
Cervical: Injury to the spinal cord in the neck, affecting the body below the head.
Thoracic: Injury to the spinal cord in the upper back, affecting the body from the trunk downward.
Lumbar: Injury to the spinal cord in the lower back, affecting mobility and bodily function below the waist.
Sacral: Injury to the bottom-most portion of the spine. Damage to this area of the spinal cord generally does not result in paralysis, but sensation and bodily functions in and around the hips may be affected.
If the spinal cord is severed, the injury is classified as catastrophic, meaning the victim suffers a loss of motion and sensation from the point of injury below. A complete spinal cord injury is defined by Florida law as a "permanent impairment" and in medical terms as "complete."
A partially severed spinal cord is said to be "incomplete." Only some motion may be lost, and rehabilitation (generally a mixture of physical therapy, skill-building exercises, emotional support, and electrical stimulation of the nerves) may restore certain functions such as breathing, coughing, and bladder control. Even with treatment, however, the impairment of an incomplete spinal cord injury may be permanent.
What Are the Causes of Spinal Cord Injury?

The majority of spinal cord injuries are caused by automotive wrecks. Many different types of vehicles may be involved. Our attorneys have handled spinal cord injuries stemming from:
Falls are another leading cause of spinal cord damage. If you injured your spine in a slip and fall accident, you may be able to recover compensation from the negligent owner or occupant of the property.
Spinal cord injuries may also occur due to physical abuse and assault. Depending on the circumstances, you and your family may have multiple options for legal recourse if a violent attack resulted in a spinal cord injury.
For example, you may have a premises liability claim against a negligent property owner who failed to implement adequate security measures. If the lack of security resulted in an assault that led to your spinal injury, you may be able to recover damages from both the perpetrator (if caught) and the person responsible for the property.
Similarly, in cases of nursing home abuse both the negligent caregivers and the facility itself may be liable for damages if an elderly resident suffers a spinal cord injury due to neglect or mistreatment.
The Effects of Spinal Cord Injury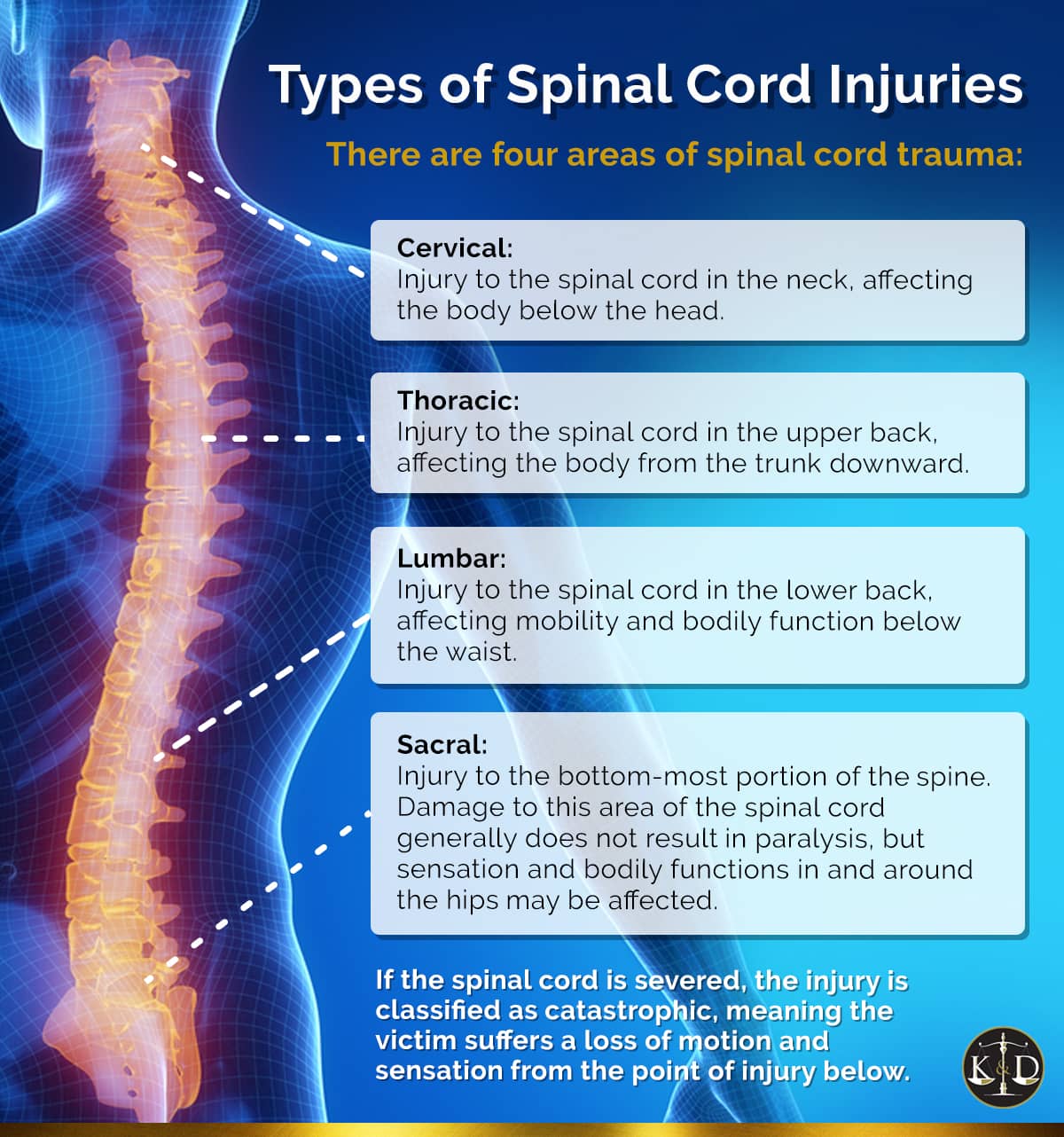 Spinal cord injuries are one example of a catastrophic injury. The most extreme cases typically involve paraplegia (paralysis of the lower body) or quadriplegia (paralysis of the upper body and below).
The losses you may experience as a result of this type of injury could have a significant impact on how you live your life – sometimes permanently. If you suffer a spinal cord injury, you may experience:
Loss of mobility at and below the site of the injury
Loss of feeling
Inability to control the bladder and/or bowels
Muscle spasms
Impaired breathing
Nerve pain
Sexual dysfunction
The damages that result from a spinal cord injury are usually astronomical. Most personal injury claims center around the physical losses that a plaintiff experiences. Because the spinal cord is unable to regenerate on its own, and may never fully heal, these injuries can be permanent and require medical attention for the rest of a person's life. The costs of these medical treatments form a substantial part of claims for damages.
The National Spinal Cord Injury Statistical Center reports that long-term medical and therapeutic care can cost from $1.1 million to $4.7 million over a lifetime. The only way an average family can afford that is to sue for damages with the help of a spinal cord injury lawyer.
Additionally, it is important to evaluate how a spine injury affects other parts of your life. If the injury is severe enough to keep you out of work, your attorney will estimate how much income you have lost and will lose in the future because of your injury. Defendants who cause spinal cord injuries that result in permanent impairment are liable to provide full payments for that lost economic potential.
Finally, many spinal cord injuries are the result of traumatic events. It follows that you may experience substantial emotional trauma that affects your quality of life. A Florida attorney can evaluate the total losses you have sustained because of your spinal cord injury and demand that at-fault defendants provide full compensation.
Building Your Spinal Cord Injury Claim

A spinal cord injury lawyer begins preparing your case by thoroughly investigating the accident and collecting physical, documentary, and testimonial evidence to use at trial. Medical records are crucial in spinal injury claims because they document your condition and the symptoms you experience, as well as the course of treatment in your case.
Other forms of evidence your lawyer will collect include bills, photographs, medical imaging, etc. In the event that your case goes to trial, your attorney can introduce these as exhibits that establish the severity of your spinal cord injury and the losses you have sustained.
You may need to testify at trial in order to establish how the accident happened, show who was at fault, and describe. The services of an expert witness will likely be needed as well to testify about the injury.
To recover damages in a spinal cord injury claim, your lawyer will need to prove that the at-fault party was negligent, and that this negligence resulted in your injuries. The following elements must be satisfied in order to prove negligence in your claim:
Duty of care: A person has a legal obligation to act in a manner that does not cause injury or property damage to another
Breach: A person's act, or an omission of a proper action, violates the duty of care
Causation in fact: The breach caused the injury or property damage
Proximate cause: The act caused a particular and foreseeable result
Damages: Actual monetary loss occurred
In some cases the parties will negotiate a settlement, in which case the need for a trial is averted. Should your case proceed to court, however, it is crucial to work with an experienced trial lawyer who can advocate for the full compensation you deserve.
What to Do If You Suffer a Spinal Cord Injury

An injury to the spine or spinal cord is typically incapacitating. It is in your best interest to contact an attorney as soon as possible for assistance with the legal aspects of your claim.
However, there are certain steps you can take to protect your rights and improve the likelihood of a favorable settlement or trial result:
Importance of Seeking Medical Attention
If you suffer an injury to the neck or back, you should immediately seek treatment in a Level I trauma center or a hospital. It is important to seek medical treatment even if you feel fine after an accident.
Not all injuries are visible or detectable immediately. Internal bleeding, swelling, and other injuries can have catastrophic effects if not addressed right away.
Taking Notes About the Accident
In addition to seeking medical treatment following a spinal cord injury, you should document all details pertinent to the situation that led to the injury. You should also record information for any possible witnesses. Save your clothing and footwear, and if applicable have friends and family take photos of your injuries.
Follow Your Doctor's Orders
After a spinal cord injury, you should avoid doing anything contraindicated by your medical care professionals. Once your injury has stabilized, it is especially important to undergo the course of therapy recommended by your doctor. Rehabilitation can be key for restoring mobility and function.
Know Your Rights
Do not speak with any insurance company representative of the at-fault party or the at-fault party's legal representative. You are under no obligation to communicate with these parties, and doing so may harm your case.
Insurance adjusters and lawyers for the at-fault party are looking for inconsistencies in your story that may absolve their client of liability. They will ask you to make statements, answer questions, and provide disclosures that are against your best interest.
A lawyer can handle these communications on your behalf. When you hire an attorney, you will have someone on your side to protect your rights and interests.
Hire a Lawyer
For your spinal cord injury claim to be successful, you need to be able to prove liability, that someone else is at fault, and what are your damages. Although you can represent yourself in legal proceedings, it is best to seek legal representation for your case.
A spinal cord injury is a life-altering experience that typically comes with many challenges. You should focus on healing, not gathering evidence and interviewing witnesses. Our experienced attorneys can build a strong case on your behalf while you and your family work to take back your lives.
Damages in a Spinal Cord Injury Claim

Florida law allows for two types of damages to be recovered in spinal cord injury cases: economic and non-economic.
Rehabilitation for paralysis can be extremely expensive, encompassing a wide variety of treatments, therapies, and assistive technology. Common economic damages of spinal cord injuries include:
Medical care and surgeries
Hospitalization
Home care
Therapeutic care and equipment
Loss of income – both present and future
Property damage
A jury or court determines the amount of damages to be awarded based on the evidence provided. As non-economic damages are difficult to monetize, it is important for you to keep a diary detailing how you are feeling in order to accurately capture and catalog your experience for the jury. Non-economic damages may include:
Pain and suffering
Emotional distress
Mental anguish
Loss of consortium
Loss of companionship
The spouse of the person who has suffered a spinal cord injury may be entitled to damages for loss of consortium. Loss of consortium damages include loss of companionship, emotional care and support, affection, sexual intimacy, and the injured spouse's inability to assist in household chores and other duties.
Additionally, pursuant to Florida Statute 768.0415, a dependent child may be entitled to damages if the parent is permanently injured. The types of damages available are for the permanent loss of services, comfort, companionship, and society.
If the negligence that resulted in a spinal cord injury was an egregious act, the court may award punitive damages to further punish the defendant.
In cases in which the injured person dies, the case is filed as a wrongful death suit. You and your family may be able to recover compensation for losses such as funeral and burial expenses, medical expenses prior to death, lost income and benefits, loss of consortium, and more.
How Long Do I Have to File a Spine Injury Claim?

Florida law generally allows two years from the date of the injury to begin legal action. This is known as the statute of limitations.
If you miss the deadline, you will not be able to bring a lawsuit in your case.
Comparative Fault in Florida Spine Injury Cases

No matter how severe your losses may be, even if they are permanent, you and your attorney bear the burden of proving another party's liability. However, the defending party may try to mitigate their fault in the accident by claiming that you are partially liable for your spine injury.
Under Florida Statute §768.81, courts must evaluate the actions of all parties and assign blame accordingly. As a result, if a plaintiff shares a certain percentage of fault for an accident, the court may reduce the award at trial by this percentage.
Comparative fault could play a significant role in spinal cord injury claims that result from accidents. Therefore, you have to prove that not only was a defendant responsible for the incident, but also that your own actions in no way contributed to your losses. Our Florida lawyers can help you build your case and pursue full compensation for the spinal cord damage you have suffered.
Speak with a Florida Spinal Cord Injury Lawyer

A spinal cord injury is a serious loss. If you have suffered this type of bodily harm, it is important to evaluate your legal rights. Any party who is liable for an incident that results in spinal injuries has the obligation to provide compensation.
Our Florida spinal cord injury lawyers can help pursue these claims. The attorneys at Kogan & DiSalvo can evaluate the impact that the injury had on your life as well as gather the evidence needed to prepare your claim. Using this evidence, we can prepare a demand package designed to protect your rights while aiming to bring fair compensation.
To get started on your case, schedule a free consultation by calling (561) 375-9500 today. Our attorneys serve clients in Boca Raton, Fort Lauderdale, Boynton Beach, Stuart, West Palm Beach, Delray Beach, and all of Florida.