Being injured at work can have a major impact on multiple aspects of your life. The injury can limit or prevent you from doing your job, making it difficult to pay your bills. In addition, physical pain and impairment from the injury can lead to a wide range of personal and professional challenges.
Workers' compensation is an insurance program that covers certain expenses incurred by employees after a work-related injury. Although workers' comp operates on a no-fault basis (i.e., you do not have to prove that your employer was negligent to qualify for benefits), getting the benefits you deserve is not always easy.
If you have been hurt on the job or your loved one was killed in a workplace accident, Kogan & DiSalvo can help. Contact our workers' compensation attorneys today, or by calling (561) 375-9500 today for your free consultation. Our attorneys serve clients throughout Florida.
Who Is Covered by Workers' Compensation in Florida?

Most employers in Florida are required to carry workers' compensation insurance. This includes:
Employers in the construction industry with at least 1 employee
Employers in other industries with 4 or more employees
Employers in the agricultural industry with "6 regular employees and/or 12 seasonal workers who work more than 30 days during a season but no more than a total of 45 days in a calendar year"
Some workers, such as domestic servants, are not considered employees and are therefore not entitled to workers' comp benefits. Others – such as railroad workers, maritime workers, and more – are covered by federal workers' compensation programs and are not entitled to benefits from the state.
Employee classification can be confusing for workers who get injured on the job. It is especially challenging if your employer wrongly classifies you as an independent contractor. Workers' compensation does not cover independent contractors, which means your claim after a work injury would be denied.
Workers' comp attorneys at Kogan & DiSalvo can examine the terms and nature of your employment. In the event of misclassification, our lawyers can dispute the denial of your workers' compensation claim.
What Injuries Does Workers' Compensation Cover?

Any type of work-related injury or occupational illness is covered under workers' comp. Some of the most common injuries and complaints for which employees file workers' compensation claims include:
Repetitive stress injuries, including sprains and strains of the back, hands, wrists, shoulders, and knees
Lacerations and puncture wounds
Bone fractures
Neck injuries
Back injuries
Amputation injuries
Nerve damage
Eye injuries
Hearing loss
Exposure to toxic materials
Some injuries occur as a result of accidents in the workplace. Others, however, may only become apparent over time.
Your health is precious. You should see a doctor as soon as possible if you have been injured on the job or you suspect that you have fallen ill as a result of your employment.
How Do I File a Workers' Compensation Claim?

As with any insurance claim, there are a number of steps you need to take for your injury to be covered by workers' comp. The process of filing for workers' compensation includes:
1. Seeking Medical Attention
Getting proper diagnosis and treatment for your injuries is the first priority. If you are seriously injured, you should go to the nearest hospital or emergency room.
Your employer or your employer's workers' comp insurance carrier will designate the physician you need to see for subsequent treatment of your injuries. It is crucial to keep all doctor's appointments, physical therapy sessions, and other scheduled care. Failure to do so can result in termination of your workers' compensation benefits.
2. Notify Your Employer of the Injury
Workers have 30 days to notify an employer of a workplace injury or accident. If you do not report the injury within this time limit, you will almost certainly be denied benefits.
Once you report the work injury, your employer must file a claim with its workers' compensation insurer within 7 days. The carrier then has 14 days to report the claim to the Florida Division of Workers' Compensation.
If your employer fails to report your injury to the insurer or refuses to do so, you may need to file a claim with the insurance company directly. Generally, it is in your best interest to speak to an attorney before trying to handle the claim on your own.
3. Know Your Rights
After receiving notice of a workplace injury, workers' comp insurers are required to send a brochure outlining the employee's rights and responsibilities under workers' compensation. You should receive this brochure within 3 days of when the claim is filed.
Understanding your rights and obligations, the benefits you may be entitled to, and the procedures involved is of the utmost importance. Read the brochure closely to make sure you know what is covered by workers' compensation, the terms of eligibility, and other key details.
Although the brochure is supposed to be written in clear and understandable language, it is natural to have questions and concerns about workers' comp. With your benefits on the line, it is in your best interest to consult a workers' compensation attorney as soon as possible.
Kogan & DiSalvo can help. We understand the enormous difference workers' comp can make in the lives of injured workers, and we will do everything possible to protect your rights and ensure you receive the benefits you deserve.
What Do Workers' Compensation Benefits Cover?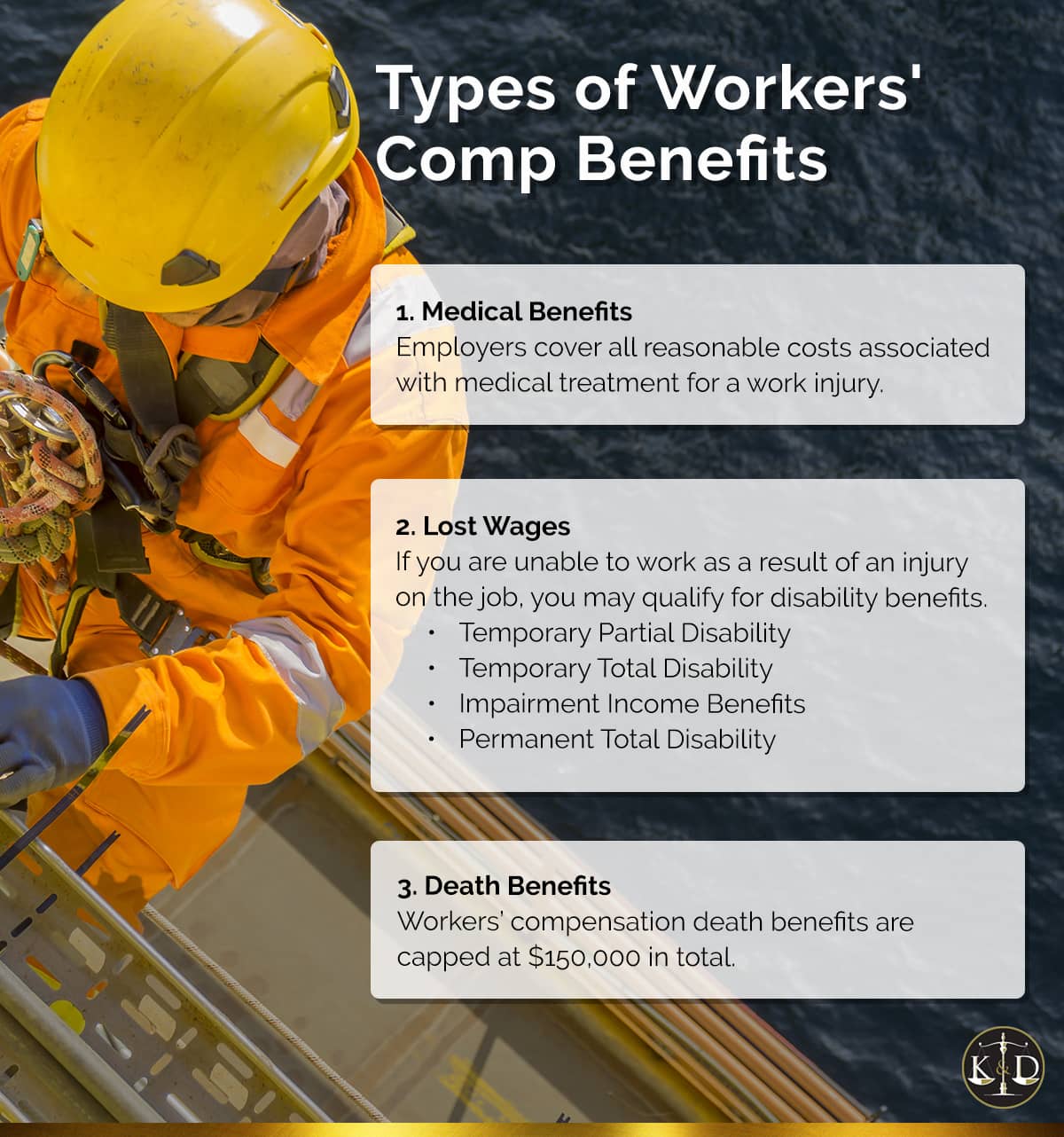 Two of the biggest challenges facing workers who are hurt on the job are (1) medical bills and (2) loss of income. Workers' compensation benefits help to remedy these losses, as well as those faced by families when a worker is killed on the job.
Depending on the circumstances of your work injury, you may be entitled to the following benefits:
Medical Benefits
Employers cover all reasonable costs associated with medical treatment for a work injury. This includes:
Appointments with a primary care physician
Visits to medical specialists for diagnosis and treatment
Hospital care
Diagnostic services (e.g., medical imaging, laboratory tests, etc.)
Physical therapy and rehabilitation
Prescription medications
Prosthetic devices
Attendant care (i.e., services to help with household tasks you cannot perform on your own)
Workers' compensation also reimburses you for travel to and from appointments with authorized physicians and pharmacies.
Lost Wages
If you are unable to work as a result of an injury on the job, you may qualify for disability benefits. These benefits become payable after the eighth day of disability.
Several types of disability benefits are available to injured workers:
Temporary Partial Disability (TPD): If you are able to return to work in a restricted capacity that prevents you from earning 80% or more of your prior wages, TPD benefits can help make up the difference.
Temporary Total Disability (TTD): If your doctor determines that you are unable to work while recovering from an injury, TTD benefits cover two-thirds of your regular wages from prior to the accident. You may be entitled to disability benefits covering 80% of your lost wages for up to 6 months if you suffer certain catastrophic injuries (such as a spinal cord injury).
Impairment Income Benefits (IIB): "Maximum medical improvement" is a term used to describe the state at which a worker's injury is considered unlikely to get better with further treatment. If a doctor determines that you have reached maximum medical improvement and your ability to work is still restricted, you may be entitled to IIB. The amount of your benefits is based on an impairment rating schedule that quantifies the percentage of your whole body that is affected by the disability.
Permanent Total Disability (PTD): In extreme cases, a work injury may be so severe that you will not be able to return to your job. PTD benefits pay two-thirds of your average weekly wages for the duration of the disability (typically the rest of the worker's life).
Disability benefits are subject to change, with workers often getting caught off-guard by a reduction or termination of their benefits. The Florida workers' compensation attorneys at Kogan & DiSalvo can determine what benefits you may qualify for and challenge any adverse decisions.
Death Benefits
Workers' compensation death benefits are capped at $150,000 in total for the following:
Funeral expenses (subject to a cap of $7,500)
Payments to surviving dependents
Benefits to help the surviving spouse pay expenses related to education
Dependent spouses, children, parents, siblings, and grandchildren may be entitled to death benefits payments if a worker is killed on the job. The amount of compensation payable to each party will depend on the number of eligible dependents and their relation to the deceased worker.
What If My Workers' Compensation Claim Is Denied?

Your employer and/or its insurance company may deny a workers' compensation claim for a number of reasons. Some of the most common arguments employers and insurers use to justify denials include:
The injury or illness did not occur in the workplace or in the course of the employee's job responsibilities
The worker has a pre-existing condition unrelated to his or her employment
The injury occurred as a result of the employee's disregard for safety, horseplay, or intoxication
The employee's injury was intentional and self-inflicted
If your workers' comp claim is denied, we strongly advise you to contact Kogan & DiSalvo as soon as possible. Our workers' compensation attorneys will assess your case and advise you of your options for disputing the decision.
How Do I Appeal a Workers' Comp Denial in Florida?

The first step is trying to negotiate a favorable resolution of your workers' compensation claim. Our attorneys are skilled and experienced negotiators, and we may be able to secure payment of benefits without having to file a formal appeal.
If negotiations are unsuccessful, the next step is to file a petition for benefits with the Office of the Judges of Compensation Claims. Petitions must contain detailed information concerning:
The nature of your work injury and how it happened
Your work duties prior to the injury
The medical care you have received
The benefits you are owed
The nature of any disability related to your work injury
Details of the dispute
Failure to provide all necessary information in the petition for benefits may result in dismissal of your claim. It is in your best interest to consult a knowledgeable workers' compensation attorney who can complete the petition on your behalf.
If the insurance carrier continues to dispute payment of your workers' compensation benefits, your claim will proceed to mediation. The mediation conference represents another opportunity to settle your case without going to court. If mediation is unsuccessful, representatives for both parties will argue the case before a judge; the judge will make the final ruling on your workers' comp benefits.
Is Workers' Compensation My Only Option for a Work Injury Claim?

The workers' comp system is designed to be the sole legal remedy for employees who suffer injuries when they are on the job. In the vast majority of cases, workers are barred from suing their employers. Although this spares workers the burden of having to prove that their employer's negligence caused the workplace accident, it also limits their recovery to the benefits available through workers' comp.
Depending on the circumstances of your work injury, however, workers' compensation might not be your only option. You may have one or more additional claims if a negligent third party contributed to the accident.
Potential examples of liable parties in a work injury lawsuit separate from workers' comp include:
The manufacturer of a defective tool, machine, or other product you use on the job
A negligent contractor or subcontractor operating unsafely in your workplace
Oftentimes workers are unaware of their right to file claims against negligent third parties. Kogan & DiSalvo will fully investigate the workplace accident to determine who is at fault. We can assist you with your workers' compensation claim, as well as take action against any parties that harmed you through negligence.
Contact a Florida Workers' Compensation Attorney Today

Insurance companies often don't fight fair. Even in a no-fault system like workers' compensation, claims are often unjustly denied and workers may not get the full benefits they deserve.
Work injury claims are complex. The lawyers at Kogan & DiSalvo have the experience to help you navigate the workers' compensation system and identify additional options for pursuing damages. We strive to stop the insurance companies from taking advantage of you and maximizing your benefits and other compensation.
Our workers' compensation attorneys serve clients throughout Florida from the following offices:
At Kogan & DiSalvo, we know that a legal matter is more than just a case. It's your life, and our team will take the time to help you navigate each aspect of the unique challenges involved in recovering from a workplace injury.
To discuss your case with a knowledgeable workers' comp attorney, please call (561) 375-9500 today. Your initial consultation is free, and you don't pay anything unless we achieve a favorable outcome.