Kogan & DiSalvo – Boynton Beach
3615 Boynton Beach Blvd
Boynton Beach, FL 33436
Phone: (561) 944-2441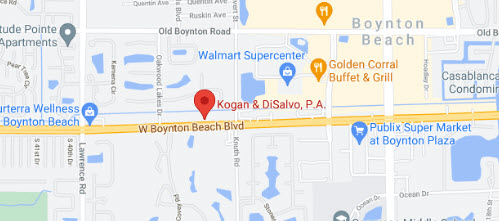 Personal injury law is an area of the law that protects individuals who have been injured in an accident that was caused by someone else's negligence or carelessness. These types of injuries can range from minor to severe, and in some cases, even a permanent disability or death.
Compensation for personal injuries is possible, but the process can be very lengthy and quite complicated, so it is important that you hire an experienced and aggressive Boynton Beach personal injury lawyer to help you through it.
Types of Personal Injury Cases in Boynton Beach
Personal injuries are nothing if not unpredictable. They can happen anywhere and at any time, and because of this, there are varying types of personal injury cases. The most common that warrant the attention of a Boynton Beach personal injury attorney are:
What Are The Most Common Injuries?

Of course, with any accident often comes at least one injury. Most often individuals can escape an accident with just a few cuts and bruises. However, in some cases, the injuries from an accident can be devastating and last a lifetime. Some of the most common injuries resulting from accidents are:
Traumatic brain injuries, including concussions
Neck injuries, such as whiplash
Back injuries
Spine injuries, including full or partial paralysis
Broken bones
Internal bleeding or bruising
After an accident, some injuries do not present themselves right away but start to show up over a period of time. Because of this, it is important to find a qualified personal injury lawyer in Boynton Beach who knows what to watch for and the steps to take after a personal injury.
What Do I Do After an Accident?

After an accident, it is normal to feel a little shaken up, be in shock, and not know exactly how to proceed. However, taking the right steps after an injury is of the utmost importance, as what happens immediately after the accident can directly affect the personal injury claim in the future.

Get medical attention. Getting medical attention is the most important step after any accident. Not only do injuries need to be treated right away, but they also need to be documented by a professional medical expert. This documentation will be used in the personal injury claim.
Report the accident. Reporting an accident may be obvious after a car crash, but with personal injuries caused by things like slip and falls, they may not be as apparent. When in an accident, it is important to report it to anyone that will be involved in the case in the future. This can be the landlord, the police, the owner of a store, and anyone else that may be to blame for the accident.
Collect information. When reporting the accident, also remember it is just as important to collect any contact information necessary including names, addresses, and phone numbers.
Take pictures. These will help prove any personal injury claim in the future.
Contact a Boynton Beach personal injury lawyer. Personal injury cases can be long and complicated, and a qualified personal injury lawyer can help their clients through the entire process.
Speak With Our Boynton Beach Personal Injury Lawyers Today

Personal injury cases are difficult. There is a lot of paperwork involved, most often complex, and the court process can be lengthy and difficult to maneuver. You do not want to deal with this at a time when you are injured, in pain, and struggling to get onto the road of recovery.
If you have been involved in an accident and sustained injuries due to someone else's negligence, contact a professional and qualified Boynton Beach personal injury lawyer today. You might be able to receive compensation for your injuries, but it will be a battle you do not want to face on your own.