The aftermath of a car accident can not only be devastating; it can also be unjust. For instance, sometimes the driver whose negligence or recklessness caused the accident does not want to admit fault. In other cases, the at-fault driver's insurance company may not want to pay a fair amount.
While you are recovering from the aftermath of your motor vehicle collision, the Boynton Beach car accident lawyers at Kogan & DiSalvo could fight for your rights. Contact our experienced injury attorneys right away to begin your case for compensation while you focus on your recovery.

Steps to Take After a Car Accident
The advice of an attorney can be helpful right away after an accident. There are critical steps to take after a car accident. It is important for someone to be careful about what they say to the other driver in the moments after an accident. After ensuring the police are on the scene and emergency medical treatment is rendered for those injured in the accident, the next step should be to call Boynton Beach car accident attorney for advice.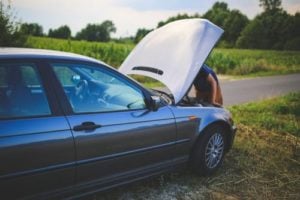 It is particularly important not to speak with an insurance company or give a statement without consulting an attorney. Any information someone gives to an insurance company could damage their future insurance claim or personal injury case. It is important to find an attorney who is experienced, dedicated, and who responds effectively to client communications following an accident.

Should an Injured Party Go to the Hospital After a Car Crash?
Immediately following a car wreck, an injured party may feel fine. However, it is still important to go to the hospital after a motor vehicle accident. Shock from an accident can cause someone's body to release adrenaline, which may distort their perception of the injuries they may have sustained. Head, back, and soft tissue are common injuries that may not become apparent to someone until much later. Each of these types of bodily harm can have severe and long-term effects.
Seeking medical attention also is important for insurance and civil claim purposes. Some insurance companies want to pay as little as possible when settling claims. If someone delays in seeking medical attention, an insurance company may try and use this against the claimant. An insurance company may argue that because someone did not see a doctor immediately after a crash, their injuries are not as bad as they claim to be. As a result, a claimant may not be able to pursue their case for all of their losses.

What are the Most Common Causes of Auto Wrecks in Boynton Beach?
There are many different types of negligent behavior that may cause a car accident. In Boynton Beach, some of the causes of auto wrecks may be more common than others.
Distracted Driving
Texting while driving is illegal and puts everyone on the road at risk, but many drivers still do it. Other types of distracted driving may lead to a collision as well. These may include eating, listening to loud music, and rowdy passengers.
Impaired Driving
Motorists that drive under the influence of drugs or alcohol pose a major hazard to others on the road. Their reaction time slows down, they cannot focus on the road, and they can easily lose control of their vehicle.
Reckless Driving
The crowded streets in Boynton Beach can easily cause drivers to lose their patience. This frustration may turn into dangerous driving behavior such as tailgating, weaving in and out of lanes, and speeding.
Ignoring Traffic Rules
State traffic laws are put in place to protect everyone on the road. When drivers ignore them, they put the safety of others at risk and may cause a devastating motor vehicle wreck. After a car crash, an attorney in Boynton Beach may try to determine the cause of the accident. This helps determine liability and secure compensation for injuries and other losses.

What is No-Fault Insurance?
Florida is a no-fault auto insurance state. This means that when people, including drivers and passengers, are hurt in an accident, they must first file a claim with their own insurance company to pay for the treatment of their injuries.
Insurance Claims Investigation
When a client hires an attorney in Boynton Beach to represent them in a car accident case, the attorney will need information such as accident reports, medical records, client information, and witness contact information. The attorney will also ask for photographs of the scene of the accident, the cars involved, and the resulting injuries.
The attorney will then begin the process of investigation, which might include taking photographs, taking witness statements, ordering and examining medical records, and if necessary, finding expert witnesses. The investigation can sometimes determine who is at fault and if distracted driving caused the accident.
Once enough information about the accident and the client's injuries has been provided to the insurance company of the driver at fault, the attorney and insurance company will begin negotiations. If the insurance company does not reach a final offer that the attorney and client determine is fair, the attorney may advise the client to file a lawsuit.

Filing a Lawsuit
Once a lawsuit has been filed, both the plaintiff and defendant will request information from each other. They will exchange the evidence collected by the attorneys up to that point in the case. Additionally, both sides will take depositions of parties to the lawsuit and witnesses.
An experienced, dedicated trial attorney in Boynton Beach will be ready to fight for their client in court. If the jury finds in favor of the plaintiff, they will typically award monetary damages.
Damages might compensate the plaintiff for a variety of things caused by the accident, including:
Medical bills
Other expenses caused by the accident
Lost wages
Future lost wages
Pain and suffering
Wrongful death

How Long Does It Take to Settle an Auto Wreck Claim?
The time it takes to settle a car accident claim varies in Boynton Beach. There are multiple factors that may affect the length of settlement negotiations. Some of these factors may include how long it takes for the claimant to recover, the evidence available, and the percentage of liability for which each party may be responsible.
Some insurance companies try to settle claims as quickly and as cheaply as possible. For this reason, initial settlement offers may be significantly lower than the total amount a claimant may be able to pursue. This offer may seem tempting at first, but it is best to consult with our experienced Boynton Beach automobile accident attorneys before responding.

Contacting a Boynton Beach Car Accident Attorney
Car accidents can cause a wide range of damage, from minor injuries to loss of life. If you have experienced pain and loss from a car accident, you need the help of a compassionate and dedicated attorney. Contact a Boynton Beach car accident lawyer at Kogan & DiSalvo today and schedule your free case consultation.