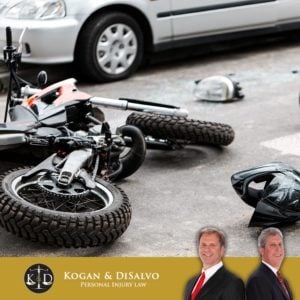 There are many advantages to riding motorcycles. Motorcycles are a mode of transportation that helps cyclists save money on gas and are easy to maintain. Another great feature is that motorcycles are easy to park and help the rider avoid traffic congestion conditions.
The disadvantages, on the other hand, involve safety. While riding is enjoyable because the motorcyclist is one with the road, they are exposed to the weather and can be severely injured following a motorcycle accident. Accidents can cause serious injuries and long periods of expensive recovery.
If you have been in a motorcycle accident in Boca Raton, it is important for you to fight for your right to compensation with the help of a skilled injury attorney. Call our Boca Raton motorcycle accident lawyers at (561) 375-9500 today to help you with your claim right away.
En Español. 

What Are Some Common Causes of Collisions?
The National Highway Traffic Safety Administration has identified Florida as the state with the most motorcycle fatalities. Even though motorcyclists only represent 7% of all motorists in Florida, they account for 19% of all fatal traffic accidents.
A common type of accident that a Boca Raton motorcycle accident lawyer sees occurs when a motorcycle traveling straight through an intersection is struck by an automobile attempting to make a left-hand turn.
Motorcyclists have to be mindful of the road conditions and pay attention to other vehicles because they are more susceptible to injury because there is no barrier between the motorcyclist and another vehicle. Florida did away with its helmet laws, no longer requiring motorcyclists to wear one when riding. Motorcyclists, however, should wear helmets, a face shield, glasses, boots, gloves, a jacket or protective armor vest to help protect themselves.
Avoiding Accident Injuries
Motorcycle accident injuries can be minimized if the motorcyclist wears a helmet, face shield, glasses, boots, gloves, and jacket. Safety equipment and gear help prevent common motorcycle accident injuries, including:
Head Injuries – injuries to the head including concussion, skull fracture, brain damage, swelling, or hematomas
Neck Injuries – injuries which may cause paralysis
Road Rash – motorcyclists thrown off the bike slide across the pavement or roadway, scraping off layers of skin, even if fully clothed. Skin infections and nerve damage may result and skin grafting may be necessary to treat injuries. Additionally, muscle damage is possible
Biker's Arm – a common reaction to being thrown off a motorcycle is to raise hand and arm to protect the face. Motorcyclists are injured because the arm absorbs the full force of the impact causing broken bones and severe nerve, muscle, and tissue damage
Knee and Leg Injures – fractured and broken bones are common injuries
Potential Compensation
A Boca Raton motorcycle accident lawyer helps individuals injured following a motorcycle accident to deal with their insurance companies and to receive compensation for personal injuries, including economic damages like medical care and treatment and noneconomic damages, like pain and suffering.
Because many motorcycle collisions could involve the death of the motorcyclist, a Boca Raton motorcycle accident lawyer can help survivors file wrongful death claims following a motorcycle accident fatality.
Contact Our Boca Raton Motorcycle Accident Attorneys Today
Riders injured in motorcycle accidents and their families can receive compensation for their injuries, including economic damages like lost wages, medical care and treatment, and non-economic damages like pain and suffering and emotional damages. Pursuing damages is not always easy but the experienced Boca Raton motorcycle accident attorneys at Kogan & DiSalvo can help.
There are no upfront costs to meet with an attorney to discuss your claim and no fee unless your case is accepted and compensation is recovered. Contact our Boca Raton motorcycle accident lawyer to schedule an initial consultation right away.