Tips for Sharing the Road with Motorcycles
Categories: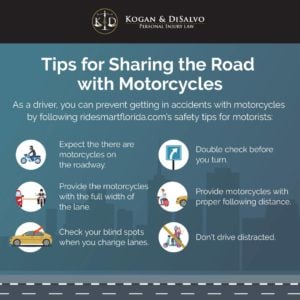 Motorcycles, cars, trucks and all other types of vehicles need to share the road responsibly. While motorcycle riders often have to deal with a reputation for reckless driving, motorists in passenger vehicles are in fact frequently the cause of car vs. motorcycle accidents. As a driver, you can prevent getting in accidents with motorcycles by following ridesmartflorida.com's safety tips for motorists:
Expect that there are motorcycles on the roadway. Anticipating their presence is a good way to avoid being surprised.
Provide the motorcycle with the full width of the lane. Even though they don't take up the whole lane, they have a right to it. If you're passing a motorcycle, don't try to share their lane. Doing so is dangerous and they probably won't be expecting it.
Check your blind spots when you change lanes. It's a fact: motorcycles can be hard to spot. They can easily be out of view in your blind spot. Check over your shoulder to make sure it's clear.
Double check before you turn. At intersections, stop signs and especially when making a left turn across oncoming traffic, make sure to double check for motorcycles.
Provide motorcycles with proper following distance. Just like with other vehicles, tailgating a motorcycle can be dangerous. Allow a four-second following distance.
Don't drive distracted. Using a phone, texting and looking away from the roadway can lead to a severe accident. Distracted driving is a major source of accidents these days.
Contact The Motorcycle Accident Lawyers at Kogan & DiSalvo Today

By exercising proper care and being attentive drivers, we can all do our part to prevent motorcycle accidents and the devastating injuries they cause.
If you or a loved one has been injured in a motorcycle accident in the state of Florida, please contact the injury lawyers at Kogan & DiSalvo for a free case evaluation, or call (561) 375-9500 to learn more about our experienced Florida motorcycle accident attorneys.