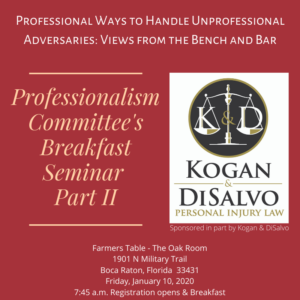 Are you a lawyer, judge, or member of the South Palm Beach County Bar Association interested in learning how to professionally handle unprofessional adversaries? Come out on Friday, January 10th, for the Professionalism Committee's Breakfast Seminar. 
Enjoy a continental breakfast buffet while listening to panelists discuss local and state grievance procedures and how to ethically approach dealing with and reporting unprofessional conduct. The panelists will include Judge Jessica Ticktin, Bar Counsel Navin Ramnath and Kara Berard Rockenbach, recipient of the Sid Stubbs Professionalism Award; Past Chair of the PBCBA's Professionalism Committee; and Past Chair of the Judicial Nominating Commission, Fourth District Court of Appeal.
This year's event is hosted by the South Palm Beach County Bar Association and is supported by many local sponsors, including personal injury lawyers Kogan & DiSalvo. Registration for this event will begin at 7:45 am at Farmers Table (The Oak Room), 1901 N Military Trail, Boca Raton, Florida  33431. Breakfast will be served and the panel discussion will be from 8:10 to 9:10. Online registration closes at noon on January 9th. The cost for this event is $25 for Members and $30 for Non-members. An additional $10 for walk-ins. If you'd like to sign up, you can register here.