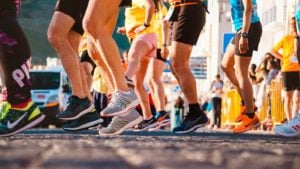 In continuing our commitment to the local community, Kogan & Disalvo has chosen to sponsor the 9th Annual Run for the Ribbons 5K and 1-Mile run on August 30, 2020.
In previous years, participants would enjoy a scenic run together through the Old Floresta neighborhood. However, due to COVID-19 and social distancing, this year's run will be conducted virtually. We are excited to have an alternative method of participation and an opportunity to get active on our own, all the while benefiting the Lynn Cancer Institute's League of Ribbons. Dedicated to supporting the Lynn Cancer Institutes' mission to take a united and empowered stand against cancer, the League of Ribbons has helped those fighting cancer cope with the difficulties they face since 2012.
The Run for the Ribbons 5K and 1-Mile run is brought to you by the Runner's Edge Foundation. Special awards will be presented to the top three overall runners, first overall in each of the five age groups, and the top three male and female staff members of Boca Raton Regional Hospital.
Help us support this great cause and sign up for the Run for the Ribbons 5K and 1-Mile run by visiting the registration page here!
Thank you for standing with the League of Ribbons!
Sponsors for this opportunity: