2021 Kogan & DiSalvo Scholarship Award Winners Announced
Categories:
Kogan & DiSalvo is pleased to announce the recipients of this year's scholarship awards. Two high school seniors, Jess Lerner and Kyle Ramos, have each won a $1000 award to go toward furthering their education. We are extremely proud of these two bright students, who join a roster of previous Kogan & DiSalvo scholarship winners.
2021 Scholarship Recipients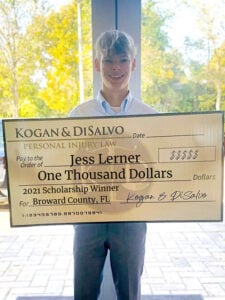 This year's scholarship topic was focused on The Jury System as Protector of Rights. Applicants were asked to submit an original essay describing how the civil jury system protects citizen rights, its importance for future generations, and how it is being threatened in our country.
This year we received hundreds of impressive applications, but after careful review, we selected Kyle Ramos and Jess Lerner as 2021 awardees! Ramos, who has already been accepted as an Ethics, Politics, and Economics major at Yale University, says he will use this scholarship money to help cover tuition. We wish both young students continued successes in the coming years as they pursue higher education degrees.
Supporting Continuing Education for Future Generations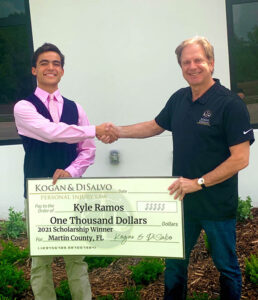 The Kogan & DiSalvo scholarship program was created to provide high school and undergraduate students with much-needed monetary support to continue their education. Our veteran legal team recognizes the importance of helping future generations reach their potential with the benefit of a solid education.
We have been providing this scholarship opportunity to students in Broward County, Palm Beach County, Martin County, and St. Lucie County since 2018, and send out a heartfelt congratulations to both past and present winners.
Kogan & DiSalvo is a respected Florida personal injury law firm that helps clients overcome life's toughest challenges with compassion, honesty, and integrity. Our firm is composed of many award-winning trial attorneys who have procured millions in damages in complex injury claims. Our attorneys and support staff remain dedicated to giving back to the local communities we serve, and supporting the dreams of deserving students.
Keep an eye out for upcoming details on the 2022 Kogan & DiSalvo Scholarship Award.