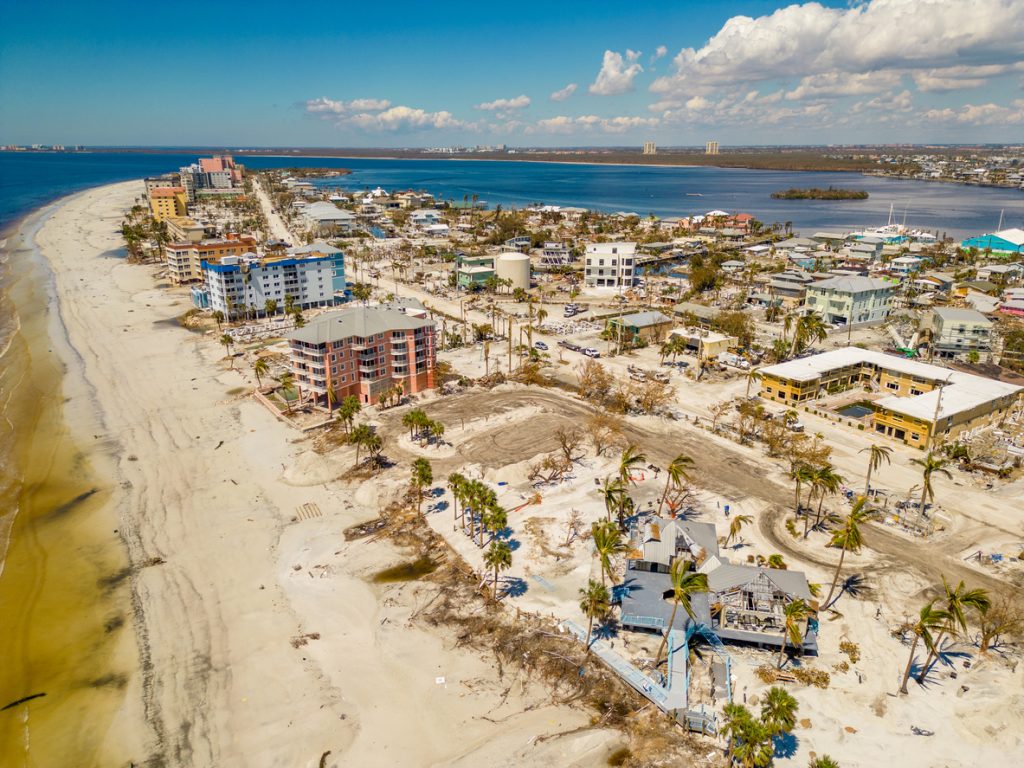 Hurricane Ian hit the Gulf Coast communities, damaging and destroying businesses, vehicles, and homes. As with most disaster recovery, insurance payments have been essential to helping entire towns and economies get back on their feet.
If your claim has been refused or minimized, the Lee County Hurricane Ian damage lawyers at Kogan & DiSalvo are ready to take a second look. We will analyze the losses on your claim, negotiate with insurance to push past lowball offers, and work toward the highest settlement possible. Contact us today for a free case analysis.
What Does Insurance Cover?
In Florida, homeowners are required to carry hurricane insurance if they live in an area often hit by hurricanes. However, these policies offer different coverage for a broad range of property damage. Additional policies can provide other types of coverage related to the hurricane, such as auto insurance for a car damaged by storm surge or health insurance for an injured individual.
Some of the damages and repairs that can be included in insurance claims include:
Roofing repairs
Repairs for damage to decks, sheds, and fences
Damage to the foundation
Pet fostering
Temporary housing, i.e., hotels or Airbnb, while your home is repaired
Loss of use of property
Repair or replacement of furniture, appliances, and other personal property
Out-of-pocket expenses for relocation.
Negotiating with Insurance
Like every business, insurance companies have a bottom line and practical limitations. These limitations include employees who make honest mistakes, difficulty handling the rush of applications that natural disasters bring, and not properly analyzing the compensation a policyholder is due. In addition, an insurer's bottom line and a profit motive often incentivize delaying, denying, and minimizing claims. All of this can place their interests in opposition to policyholders receiving full compensation.
Therefore, it makes sense to have a dedicated professional who understands insurance law reviewing your claim. They can appeal if it was denied and ensure that you receive every bit of the coverage you paid for from the first day of filing.
Perhaps the most important quality of a Hurricane Ian damage claims attorney is experience. It assists them at every stage of negotiation and often includes pursuing or appealing claims for other hurricanes, such as those from Hurricane Nicole.
What To Do for a Hurricane Damage Claim
Proving the extent of a hurricane damage claim requires evidence and proof that the property owner took reasonable actions to prevent further damage.
Actions you can take to help protect and pursue your claim include:
Taking videos and photos of the property damage after the hurricane and continuing to document additional damage that may develop.
Documenting the reasonable steps you took to prevent further property damage as you wait for your claim to provide more permanent repairs. This can include draining standing water, replacing or boarding up broken windows, or providing temporary fixes, e.g., placing a tarp over holes in the roof.
Making an inventory of all damaged, destroyed, or lost property.
Contact your insurance company, which will likely send an adjuster to inspect the damage and prepare a report for the insurer.
Schedule a free consultation with an insurance claims attorney.
Statute of Limitations
The statute of limitations for hurricane damage claims is typically three years from the date of the storm. Should it be filed later than this deadline, the claim will typically be denied unless an exception applies.
Hurricane damage claims are often extensive, requiring time to analyze the full price of the destruction of your property and repairs due under a policy. Consulting with a hurricane damage lawyer early will help address any issues that may delay or minimize your claim, such as receiving advice on properly mitigating losses or locating relevant experts.
How a Hurricane Ian Insurance Claims Attorney Can Help
Hurricanes are a fact of life in Florida. After Ian, many Floridians did not expect a denial from their insurance policy that they had paid for years.
However, an insurance claims attorney can review your policy, consult with experts, and analyze your claim. Schedule a free consultation with a dedicated Hurricane Ian insurance claims attorney at Kogan & DiSalvo. We can help you file your claim correctly the first time, maximize the amount, stay on top of filing deadlines, and press your insurer to respond in a timely and reasonable manner.