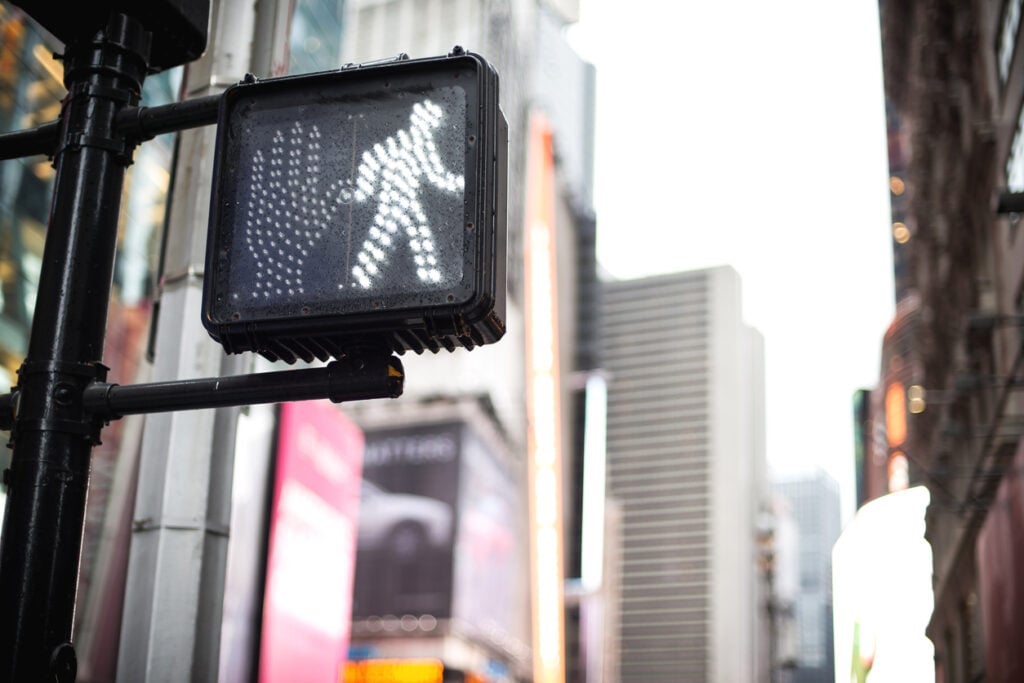 Florida's year-round warm weather and ever-present sunshine make it an ideal place for walking, whether for pleasure or shopping and other errands. Unfortunately, however, Florida ranks high among states with the largest numbers of pedestrian accidents each year, and the current rates are only increasing.
Nine of the nation's 20 most dangerous metropolitan areas for pedestrians are in Florida, with Miami-Fort Lauderdale-West Palm Beach ranking 13th. Throughout Florida, there were 9,524 pedestrian crashes and 838 pedestrians killed in accidents in the last two months of 2021 alone, according the Florida's Department of Highway Safety and Motor Vehicles (FLHSMV).
If you have been in a pedestrian accident and wish to recover damages for the injuries you have suffered, you should contact an experienced Fort Lauderdale personal injury lawyer right away. Between complicated negligence laws and insurance guidelines, victims need the best professional advice available about navigating their claims. One of our pedestrian accident lawyers at Kogan & DiSalvo can discuss your case with you and help you move your claim forward.
Most Common Causes of Pedestrian Accidents

Walking in Fort Lauderdale can be risky in many areas, including the intersections of A1A and Las Olas Boulevard, Oakland Park Boulevard and Powerline Road, Sunrise Boulevard, and Northwest 31st Street.
In addition to major boulevards and highways, other common locations where pedestrians are hit by motor vehicles include commercial parking lots, residential and business parking garages, smaller streets in residential neighborhoods, bicycle lanes, and sidewalks running parallel to roadways. Accidents can be serious because of the lack of protection a pedestrian has against a motor vehicle or bicycle that they come in contact with.
Drivers hit pedestrians because they are inattentive or distracted, speeding and not able to stop safely in time, intoxicated or under the influence of drugs, rolling through stop signs or running red lights, or because of poor visibility. Pedestrians are more likely to be hit after dark due to visibility issues. Between September and February, particularly once Daylight Savings Time ends, the risks for pedestrians increase. In fact, more than 30 percent of pedestrian fatalities occurring between 6 pm and 9 pm are due to reduced visibility, according to FLHSMV.
However, distracted driving remains one of the leading causes of motor vehicle accidents involving pedestrians. In 2021, FLHSMV recorded 56,425 crashes, 2,723 serious bodily injuries, and 333 fatalities resulting from distracted driving, including texting and other wireless devices while driving
Florida's Wireless Communications While Driving Law (Florida Statutes, Section 316.305), which took effect in July 2019, bans texting or other cellphone use while driving. But the new law has not proved to be a deterrent, with a $30 fine for first-time offenders, which routinely rises to $100 for repeat offenders. Other causes of pedestrian accidents include a driver turning at an intersection without first looking both ways and municipal design defects in crosswalk locations that may fail to account for upstream and downstream traffic flows.
Pedestrians cause accidents, too, by failing to use a crosswalk, disobeying the green walk sign, darting into traffic, or not wearing bright clothing during the day or reflective clothing at night.
How Street Design Contributes to Pedestrian Accidents

Smart Growth America's report, Dangerous by Design 2021, shows that people die while walking at much higher rates in lower-income communities versus higher-income neighborhoods. Low-income communities are less likely to have sidewalks, marked crosswalks, street lights, and street designs that support safer, slower speeds.
Moreover, instead of blaming victims of motor vehicle crashes, state and local policymakers should acknowledge that their approach to building and operating streets contribute to deaths and other accidents. Some of the policy choices that Smart Growth America recommends include:
Although reducing speed limits is critical, safer design provides other visual cues to encourage drivers to slow down.
Designing narrower travel lanes naturally slow the speed of traffic.
Many streets lack basic safety essentials such as curb ramps and high-visibility crosswalks. Wide corners, which prioritize cars' ability to make turns without slowing down, create long cross distances that put pedestrians in harm's way for longer than necessary.
High-visibility, signalized crosswalks make drivers more aware of pedestrians, and extended curbs and narrower turns shorten the distance required to cross the street.
Decreasing distances between intersections helps reduce speeds while adding signalized crosswalks in the middle of long blocks slows traffic and provides valuable new connections where people already want to walk.
Eliminating right turn "slip" lanes in favor of right-angle turns encourages slower, safer turns and shorter crossing distances for pedestrians.
In sum, recent research states that road design plays a significant role in curbing the most serious consequences of distracted driving by lowering the severity of crashes. In addition, crashes resulting from distracted driving are less severe in urban areas where street design and other visual cues are more likely to encourage slower speeds and greater awareness of people walking, particularly in states such as Florida.
Statute of Limitations on Filing Claims for Damages

In Fort Lauderdale, an accident victim must file a personal injury claim for damages related to an action founded on negligence within two years, according to Chapter 25, Section 11 of the 2021 Florida Statutes. If someone has died due to a traffic accident, members of the victim's family also must file a claim within two years of the accident. Note that there are factors which can change these deadlines.
Common Pedestrian Injuries

When a car, SUV, bus or other vehicle strikes someone walking or jogging, the impact even at a slow speed, can cause catastrophic and sometimes permanent injuries. The most serious injuries that pedestrian accident attorneys in Ft. Lauderdale see include:
Amputation of an arm or leg
Broken or fractured bones
Scarring and disfigurement
Shoulder injuries
Deep vein thrombosis (DVT)
Damage to internal organs
Various Types of Spinal Cord Injuries

Spinal cord damage is one of the more severe types of injury resulting from pedestrian accidents with motor vehicles. Between 2010 and 2020, vehicular accidents were the leading cause of spinal cord injuries in the United States. They account for 2,956, or more than 38 percent of all such injuries nationwide, according to the National Spinal Cord Injury Statistical Center at the University of Alabama at Birmingham.
Spinal cord injuries can be complete or incomplete. A complete injury is one where there is no sensation below the point in the spinal cord that sustained damage–affecting both sides of the body equally. An incomplete injury consists of only a partial loss of movement or sensation below the point of injury. Victims who have suffered complete injuries may lose the use of all four limbs or just two limbs.
Severe spinal injuries are usually easy to identify, but less serious damage can be more difficult to detect. Among the symptoms of a spinal cord injury are:
Significant pain in the back, neck, or head
Decreased or total loss of sensation in the extremities
Partial or complete loss of control over any part of the body
Loss of balance
Loss of movement
Muscle spasms, weakness, or paralysis
Sexual dysfunction
Incontinence
Compromised breathing
One of Kogan & DiSalvo's pedestrian accident lawyers can help you consider your legal options and advise you on how to best pursue a pedestrian injury claim to receive the maximum compensation.
Safety Tips to Reduce Pedestrian Accidents

The severity of pedestrian accident injuries should serve as a powerful incentive for pedestrians in the Sunshine State to take extra precautions when getting around by foot. FLHSMV's safety tips and rules for pedestrians include:
Walk on sidewalks whenever they are available. If there is no sidewalk available, walk facing traffic and as far from traffic as possible.
Pay attention and keep alert at all times. Avoid wearing headphones to hear the traffic and pedestrians around you. Never text or look at your cell phone when crossing the street.
Whenever possible, cross streets at crosswalks or intersections, where drivers expect pedestrians, and look for cars in all directions, including those turning. If neither is available, locate a well-lit area where you have the best view of traffic. Wait for a gap in traffic that allows enough time to cross safely and watch for traffic as you cross.
Never enter the street from between parked cars. If crossing mid-block cannot be avoided, pedestrians must yield right of way to vehicles on the roadway.
Do not cross an intersection diagonally except when crossing is authorized by official traffic control devices.
Watch for cars entering or exiting driveways or backing up in parking lots.
Make sure you are visible at all times. Wear bright clothing during the day and wear reflective materials or use a flashlight at night. Never assume a driver sees you. Make eye contact with drivers as they approach to ensure you are seen.
What to Do After an Accident

If you are involved in an accident with a car or another vehicle, you should go to a hospital emergency room as soon as possible, even if you aren't sure you were injured. Many injuries don't become apparent until days or even weeks later. Avoiding an immediate medical examination threatens your health and can make it harder for you to file a personal injury lawsuit. By not seeking prompt medical attention, accident victims make it easier for the driver's insurance company and their lawyers to claim the victim's injuries were not serious. The insurance provider could even allege that your injuries were not caused by the impact but from another incident.
It's also advisable to call the police after an accident and file a report. If your injuries make it difficult for you to call the police while at the accident scene, ask someone to call for you. Filing an accident report can become an essential piece of evidence that your lawyer will later use to argue your case.
If your injuries don't appear to be serious enough to require immediate medical attention, take a few minutes to document the scene, including getting contact details from the driver, any passengers that may have been in the vehicle, and other eyewitnesses who saw what happened. Try to take pictures of the car and your injuries. Documenting the scene as best you can—will help your lawyer build your case for compensation. You should also contact your insurance company to report the accident.
After receiving initial medical treatment for your injuries, it's also important to keep detailed records of your medical expenses related to treatment and rehabilitation therapy. In addition, it is wise also to include records of any time missed at work and wages lost as a result of your injuries.
Florida Laws Regarding Negligence

Drivers have a duty toward pedestrians under Florida's comparative negligence law, which assigns a percentage of blame in accident cases according to actions taken by the driver and the pedestrian that contributed to the accident, allowing both driver and pedestrian to share the fault. Negligence consists of four elements and all four must be proven in order for a victim to be awarded damages:
Duty of care: Drivers have a legal obligation not to cause harm to another person
Breach: An act, or failure to act, that violates the duty of care
Causation: The breach of duty caused the accident
Damages: Injury or property damage happened
In Florida, drivers have a heightened duty of care with regard to pedestrians under the age of 18. Children are smaller and therefore harder for drivers to see when crossing the street. Most children also tend to have less experience crossing at intersections and may be less careful about looking both ways and taking other precautions.When a motorist knew or should have known that children were on or near a street close to a school or other places where children gather, jurors receive special instructions that the motorist has a higher duty of care.
Understanding How Pedestrian Accident Claims Are Won

As in many other states, Florida's comparative negligence law allows pedestrians to recover compensation for their injuries even if they bear some responsibility for being hit. For example, a jury finds you to be 30 percent responsible for the accident because you were crossing while the "Do Not Walk" sign was flashing, and the driver was unable to brake in time because of distracted driving. You would still be able to recover compensation for your injuries. In cases of comparative negligence, your settlement may be reduced by the percentage of your fault. If you are found to be 30 percent responsible, you would receive 70 percent of the final settlement amount.
Even when you can prove that a driver violated their duty while driving, you cannot obtain compensation unless you can show, through the weight of the evidence presented, that the defendant's actions directly caused or contributed to the accident. Other factors may make it more difficult for a pedestrian accident victim to obtain full and fair financial compensation. First, roughly 25 percent of pedestrian cases in Florida involve a hit-and-run driver–the driver who caused the crash has fled the scene and cannot be identified. Second, even when the driver remains at the scene, 20 percent don't have insurance–despite laws requiring it.
And lastly, in a no-fault car insurance state such as Florida, a crash victim's own insurer covers up to $10,000 in damages. Victims with serious injuries that require greater compensation must sue for damages. Pedestrians are not required to have personal injury protection (PIP) coverage, but they can use it if they or another household member has it. Pedestrian accident victims without access to PIP coverage will probably be able to get coverage through the driver's PIP.
Process of Claiming Damages

To recover damages, the injured person or the family of the deceased must bring a legal cause of action. A Fort Lauderdale pedestrian accident lawyer will send a letter to the responsible party demanding damages, and if unsuccessful, a lawsuit is filed in state court seeking damages, including for medical and rehabilitation therapy treatments, loss of income, pain and suffering, and other types of loss that may apply.
How a Pedestrian Accident Attorney Can Help

The skilled Fort Lauderdale pedestrian accident lawyers at Kogan & DiSalvo will reconstruct the accident as part of a thorough independent investigation that also includes interviewing the other party and witnesses under oath to discover facts that will be beneficial to the case. They will then file the necessary motions with the court.
Many civil cases are settled out of court, so Kogan & DiSalvo's pedestrian accident lawyer will negotiate with the defendant's insurance carrier to reach a settlement that is beneficial to our client. Legal fees are subtracted from the settlement. Should the lawyer not succeed in winning damages, the client is not billed for attorney fees. To make sure you get the full amount of what you are due for the damages caused by your injuries, don't hesitate to enlist the expertise of our personal injury lawyers. Let the skilled attorneys at Kogan & DiSalvo fight on your behalf for the full compensation you deserve.