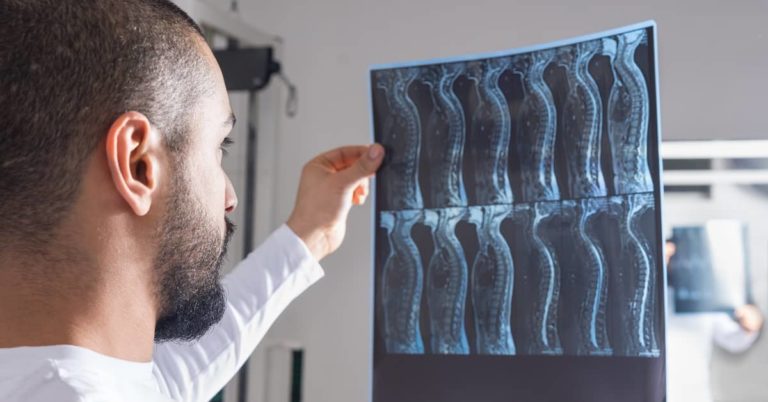 Recovering Compensation for a Spinal Cord Injury
Categories:
The spinal cord is a network of nerves that transmit messages to the entire body. It regulates movement, sensation, internal processes, and much more. Unfortunately, the spinal cord is susceptible to injury from a variety of different causes.
Damage to the spinal cord is often devastating, resulting in permanent, life-altering changes and complications. If you or a loved one suffered a spine injury due to someone else's negligence, you may be entitled to compensation for your present and future losses.
An experienced spinal cord injury lawyer can evaluate your case and advise you how much you may be able to recover. Please call Kogan & DiSalvo at (561) 375-9500 today for a free case evaluation. Our attorneys serve clients in Boca Raton, Boynton Beach, Delray Beach, Fort Lauderdale, Stuart, Port Saint Lucie, Fort Pierce, West Palm Beach, and throughout Florida.
The Severity of Your Spinal Cord Injury

Broadly speaking, two factors will determine how serious a spinal cord injury is. The first factor is the location of the injury (i.e., where on the spine the injury occurs). The second factor is the extent of the damage to the nerves, nerve roots, nerve fibers, and other components of the spinal cord.
A spinal cord injury may be classified as "complete" or "incomplete."
With a complete spinal cord injury, patients have little to no control or sensation in parts of the body below the site of the injury.
With an incomplete spinal cord injury, the patient may have some sensation and control in the area beneath the injury.
The most extreme instances of a complete spinal cord injury can result in total paralysis of the lower body (paraplegia) or total paralysis of the upper and lower body (quadriplegia). Incomplete spinal cord injuries, meanwhile, may result in varying degrees of reduced mobility, lack of motor control and reflexes, loss of sensation, inability to control bodily functions, nerve pain, sexual dysfunction, and more.
Damages in Your Spinal Cord Injury Case

As you can see, the effects of a spinal cord injury are wide-ranging. When they result in severe, permanent disability, trauma to the spine qualifies as a catastrophic injury.
Catastrophic injury claims frequently involve significant damages. Because the injury affects the victim for the rest of his or her life, our attorneys pursue compensation for losses such as:
Medical expenses for emergency treatment, hospitalization, surgery, rehabilitation, medications, and more
Lost wages and loss of future income
The cost of adaptive devices, home and vehicle modifications, home healthcare services, and other related expenses
Pain and suffering
Disability
Loss of consortium
Loss of enjoyment of life
Every claim, however, is different. The damages you may be able to recover in your case will depend on the severity of the spinal cord injury and the losses you and your family endure.
Our attorneys will work closely with you and your loved ones to understand how the spinal cord injury affects all of your lives. To recover the compensation you deserve, we will fully investigate the accident that caused your injury and build a strong case against those responsible.
How We Build Your Spinal Cord Injury Claim

Preparation is the key to recovering fair compensation for any catastrophic injury. Using extensive knowledge we have gained through years of handling these claims, our spinal cord injury lawyers develop creative legal strategies to determine the cause of your injury, the losses you have suffered as a result, and who is at fault.
Steps our attorneys will take in building your case include:
Investigating why the injury occurred: The investigative steps we take will depend on what caused the spinal cord injury. If you were injured in a car accident, we will collect evidence at the scene and investigate the driver's actions leading up to the crash. If you damaged your spine in a fall or other incident on dangerous premises, we will investigate hazardous conditions on the property.
Determining the liable party (or parties): Based on the evidence we gather at the scene, our team will identify who is at fault for your spinal cord injury. Our investigation may reveal negligence on the part of an individual (ex: a careless driver) or of multiple parties (ex: a business and its employees). We will account for all of the liable parties in building your case.
Collaborating with your doctors: We will request records and speak to your medical team about the nature and extent of the spinal cord injury, as well as your prognosis. Our lawyers may hire additional medical experts to assess your condition and provide testimony.
Calculating your damages: Evaluating the amount of compensation you may be entitled to in your spinal cord injury claim involves adding up your present expenses as well as assessing the financial and other costs you may face in the future. Expert testimony is often required to assist with these calculations.
Our attorneys will file a claim on your behalf against the negligent party. The at-fault party's insurance carrier may offer a settlement that is generally less than your claim is worth, or they may deny the claim. Our lawyers will try to negotiate a fair settlement on your behalf. If this is unsuccessful, we will pursue a lawsuit to win the compensation you deserve.
We are committed not only to the success of your claim but your long-term well-being. Our team has built relationships with leading spinal cord injury specialists in Florida, and we can recommend qualified doctors who can help with your recovery.
Contact Our Spinal Cord Injury Attorneys Today

For more than 25 years, Kogan & DiSalvo has been representing clients who have suffered serious injuries due to the negligence of others. A significant focus of our practice is catastrophic injury. We recognize the immense toll spinal cord injuries and other serious forms of trauma take on victims and their families.
If you or a loved one has suffered a spinal cord injury, our attorneys will handle your case with knowledge, compassion, and dedication to achieving the best outcome. At Kogan & DiSalvo, we raise the bar of personal injury law by providing clients with quality legal guidance and compassionate service that strives to take care of you in every way possible.
For a free consultation, please call Kogan & DiSalvo at (561) 375-9500 today. Our spinal cord injury lawyers have offices in Boca Raton, Boynton Beach, Fort Lauderdale, Delray Beach, Stuart, and West Palm Beach. We will come to you if travel is too difficult.