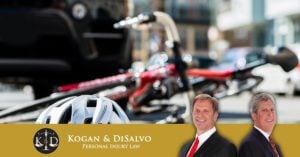 The presence of many bicyclists on the road often translates to a greater potential for bicycle accidents. In fact, Florida ranks number one in bicycle deaths across the United States, with the death rate at more than double the national average. While not all bicycle accidents are fatal, the cyclist's lack of external protection can lead to serious injuries. If you were injured in a bicycle accident that was the result of another person's negligent actions, you could seek compensation for your losses. Contact Port St. Lucie bicycle accident lawyers today to go over your potential legal remedies.
Our dedicated personal injury lawyers at Kogan & DiSalvo could examine the facts of your case and work to establish the negligence of another party. Compensation could help address unexpected costs that are frequently associated with bicycle accidents in St. Lucie County.

Common Causes of Bicycle-Vehicle Accidents
Any type of accident involving a bicyclist and a motor vehicle has the potential to cause severe and long-lasting injuries. Some common causes of these accidents in St. Lucie County include:
Distracted or aggressive drivers
Drivers who fail to obey the rules of the road
Drivers under the influence of alcohol or drugs
An impact with a car, even if it is moving at a lower speed, can cause injuries to the face, head, neck or shoulder injuries, broken bones, brain trauma, paralysis or even death.
Rights of Injured Bicyclists in St. Lucie County
Under Florida Statutes §316.2065, cyclists in Port St. Lucie share the same protections and responsibilities as its drivers. Specifically, when a person gets behind the wheel of a vehicle, they accept the responsibility to take reasonable care not to injure those around them, including cyclists.
If the driver of a vehicle fails to act with reasonable care (i.e. acts negligently) and as a result causes an accident that injures a bicyclist, the bicyclist may be able to collect compensation from the negligent driver.
Another Florida law protects those who are injured in bike crashes by requiring every driver to obtain car insurance with two types of coverage: property damage liability and personal injury protection. Known as the "no-fault law," personal injury protection insurance may pay a claimant up to $10,000 in damages. These can include medical expenses and lost wages resulting from the injury.
It should be noted that there is a statute of limitations in St. Lucie County. An injured bicyclist has up to two years to bring a lawsuit against the negligent driver, according to Florida Statutes §95.11(3)(o). Therefore, it is critical that the injured victim reaches out to a Port St. Lucie bicycle accident attorney at Kogan & DiSalvo as soon as possible.
Comparative Negligence Effects
Florida uses "comparative fault" laws, which may affect the amount of compensation available to an injured bicyclist. According to Florida Statutes § 768.81(2), any negligence of the vehicle driver will be reduced by the amount the injured bicyclist is deemed negligent. If the driver was 60 percent negligent and the bicyclist was 40 percent negligent, the amount of compensation the bicyclist may collect is reduced by 40 percent.
Speak with Port St. Lucie Bicycle Accident Attorneys
Bicycle accidents can cause such severe injuries, so retaining a Port St. Lucie bicycle accident lawyer with experience could have a huge impact on the results of your potential case. Our accomplished attorneys at Kogan & DiSalvo could ensure your rights are protected and help you pursue the compensation you deserve. Call today to set up a free consultation.