Potential At-Fault Parties in a Truck Accident
Categories: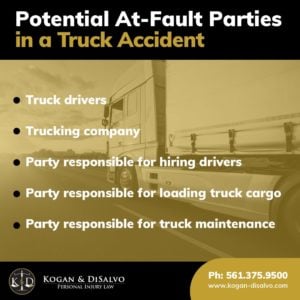 An accident involving a large, heavy tractor-trailer can easily cause life-altering physical injury to the occupants of smaller vehicles. After getting injured in a truck accident, you may be unsure of what to do next to protect yourself and your family from the financial, emotional and physical ramifications of serious injuries. When you contact our attorneys right away, we can begin working aggressively on your behalf, dealing with the trucking company's powerful insurance representatives. Although each case is unique, oftentimes the at-fault party in a truck accident may be one of the following:
Truck drivers
Trucking company
Party responsible for hiring drivers
Party responsible for loading truck cargo
Party responsible for truck maintenance
We work adeptly to identify who likely caused the accident that injured you. Dealing with intimidating insurance companies on your own can be daunting. They may be pressuring you to accept a settlement or they may be trying to deny you any compensation, instead placing the blame with you. Our experienced attorneys are vastly familiar with insurance company tactics, and we will fight tirelessly in pursuit of maximum compensation on your behalf.
If you or a loved one has been injured in a truck accident, please call the experienced truck accident attorneys at Kogan & DiSalvo Personal Injury Law. We serve areas across the state of Florida, including Boca Raton, Stuart and Boynton Beach.