Tips to Prevent Injuries in a Car Accident
Categories:
Car accidents are a major issue in the United States. In fact, car accidents are the leading cause of death in people between the ages of two and thirty four.
The best thing you can do to prevent injury from a car accident is to avoid car accidents. There are many factors on the roadway you cannot control like weather, road conditions, wildlife, other drivers, and pedestrians, but you can still decrease your chance of being in an accident.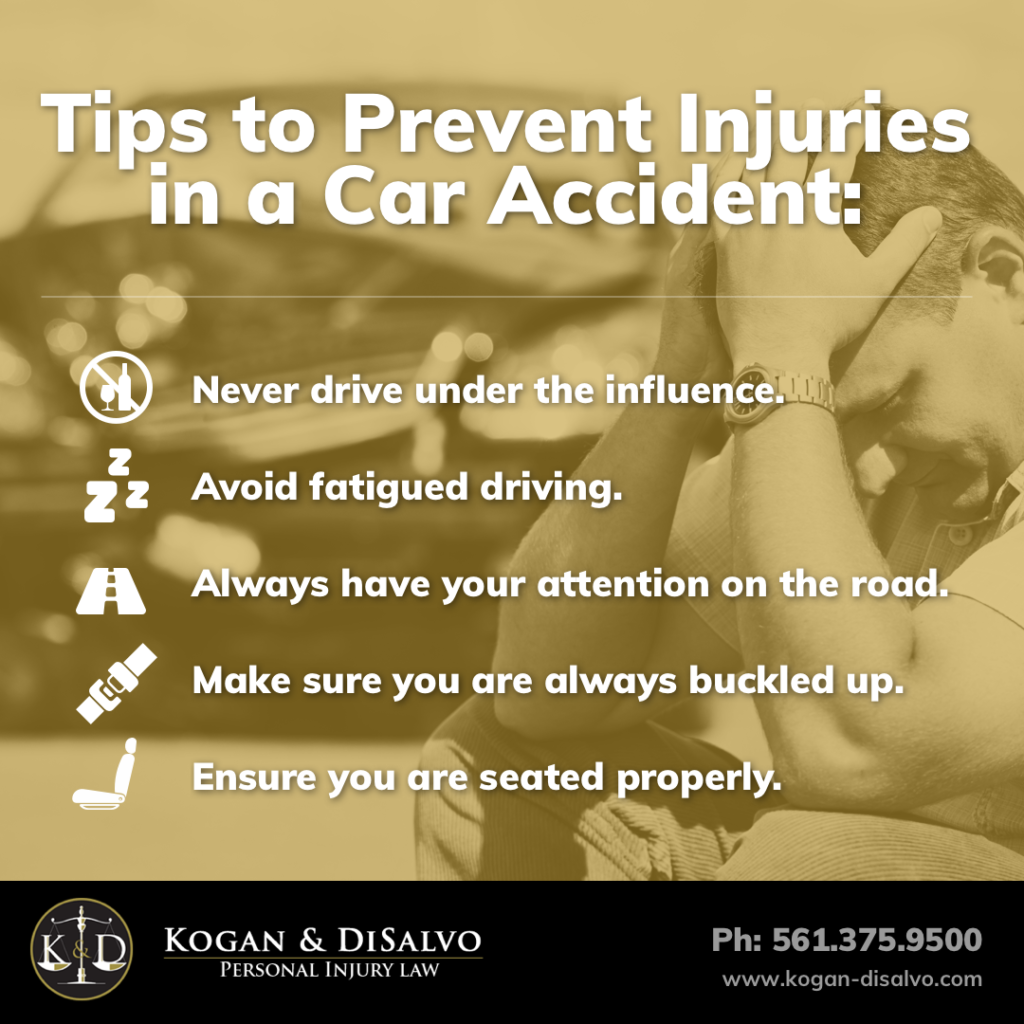 Avoiding Car Accidents in Florida
One of the best ways to avoid car accidents is to obey traffic laws. Many car accidents are the result of negligent driving. Staying within the speed limit, and reducing your speed in adverse conditions will greatly lower your chances of getting in an accident.
Never drive under the influence. The CDC reports* that in 2013, 31% of traffic fatalities were a result of drunk driving accidents.
Also avoid driving when you're tired. Ensuring you're in proper driving condition is an important safety precaution. Keeping your car in proper driving condition is another important safety precaution.
Staying alert and paying attention to the road will also help you stay safe while driving. You cannot control outside factors on the road, but you can give yourself a better chance of avoiding accidents by staying alert for road hazards.
In addition to seeing others, you should make sure they see you. Use daytime running lights, or keep your lights on at all times.
Sometimes accidents are not preventable, but you still may be able to take some precautions to prevent injury. Make sure you and your passengers are buckled up at all times. Seat belts are designed to save lives.
Sit up properly: the car's safety features like seat belts and airbags work best when you are sitting properly in your seat. Don't sit too close to the steering wheel, keep your feet off the dash, and don't hunch over or lean.
Also use the car's storage space to keep loose items stored so they don't become airborne in a crash.
After the crash, put your car in park and turn it off. Call 9-1-1.
Injured? Kogan & DiSalvo Can Help
In the unfortunate event that you're involved in a car accident in the Boca Raton area, please call the Boca Raton car accident lawyers at Kogan & DiSalvo for a free case evaluation.
Source: cdc.gov/motorvehiclesafety/impaired_driving/impaired-drv_factsheet.html