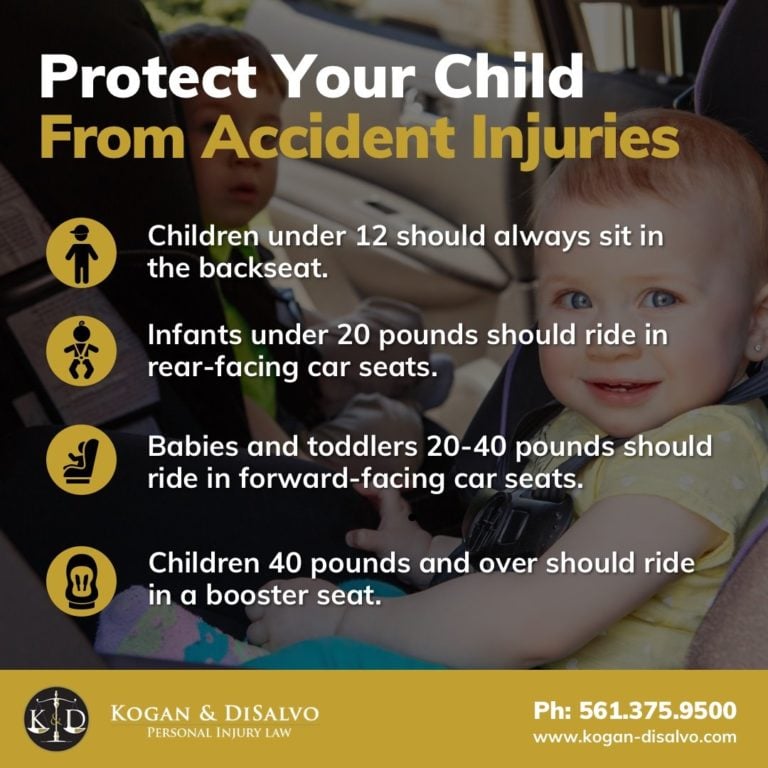 Protecting Your Child From Accident Injuries
Categories:
Did you know that accidents are the leading cause of serious injuries or death for children? More children are seriously injured or die from accidents each year than they do from cancer, disease, or birth defects combined. The most common injuries involve auto accidents, drowning, falls, poisoning, choking, and burns. Preventing these injuries is possible through education and a constant commitment to supervising your children.
Here are some important tips to follow to help keep your children safe from these accidents: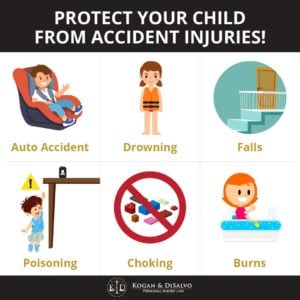 Children under the age of 12 should always sit in the back seat with proper seat belt restraints
Infants at least 12 months old or younger and who weigh less than 20 pounds should ride in rear-facing car seats secured with the car restraint system
Older babies and toddlers, generally 20 to 40 pounds, should ride in forward-facing car seats secured with the car restraint system
Young children 40 pounds and over, around 5-8 years old, should be in booster seats secured with the car restraint system
Drowning
Never leave a child alone near water; including buckets, tubs, showers, toilets, cleaning pails, pools, hot tubs, and natural bodies of water, and always empty containers immediately after use
Install a fence around your pool at least four feet high with self-latching gates and do not leave toys around the pool that will attract children
Install multiple drains in pools, spas and hot tubs with drain covers and teach your children to stay away from all drains, even drains with covers
Teach your children how to swim by enrolling them for swimming lessons when they are toddlers and look for classes that cover emergency water survival techniques
Always wear life jackets that are U.S. Coast Guard approved when participating in water sports or boating
Falls
Install safety gates that attach to the wall at the top and bottom of staircases, and keep stairways and hallways free of clutter
Keep all surfaces in bathrooms non-slip
Secure windows and doors and move furniture away from windows, as well as supervise children around open windows
Do not use baby walkers, they can be especially dangerous around stairs
Teach your children to always look both ways before crossing the street, and to respect all traffic signals and use hand signals when riding a bike
Children should always wear helmets when riding a bike and use knee pads, elbow pads, and wrist guards when skateboarding or riding a scooter
Poisoning
Keep all hazardous products – such as medications, pesticides, cleaners, and cosmetics – locked in a cabinet out of children's reach
All containers should be child-resistent and closed properly
Contact the local poison control center immediately if your child has gotten into a hazardous product
Choking
Keep small objects and plastic bags out of the reach of children
Avoid buying toys with small, removable parts or strings longer than 7 inches which can cause a strangulation hazard
Regularly check your child's toys for damages that create choking hazards; and if it has been damaged, either immediately repair the toy or discard it
Keep pillows and stuffed animals out of babies' cribs
Burns
Securely lock up matches and lighters
Install smoke detectors outside each sleeping area and on every level of your home and keep a fire extinguisher in the kitchen
Always test the bath water before your child bathes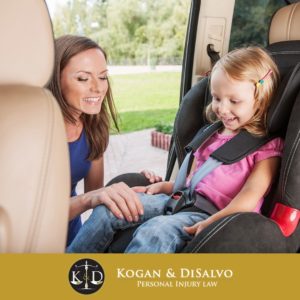 If your child has been injured in an accident due to someone else's negligence, you may be entitled to recover damages. An experienced personal injury attorney can help you to understand if someone else was negligent or if a company has produced a defective product.
While you can never be 100 percent certain your child will always be safe from an injury, you can take the necessary precautions to know that you have done everything possible to ensure the safety of your child. For more detailed information on preventing childhood injuries please visit www.safekids.org.