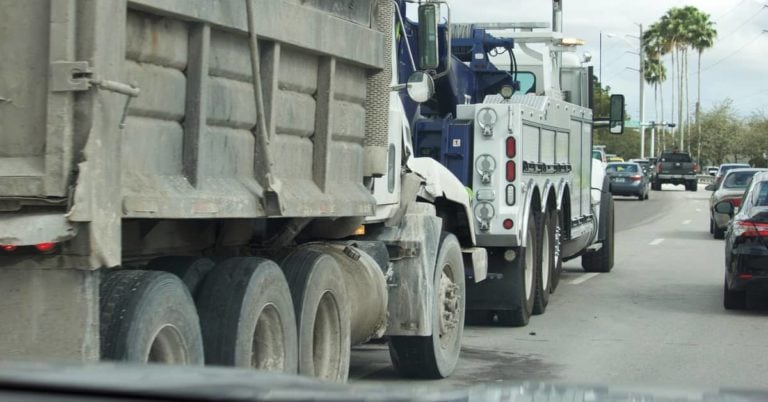 What Compensation Can I Get After a Truck Accident?
Categories:
Accidents involving semi-trucks are devastating events. They frequently involve multiple vehicles. The occupants of these vehicles (especially smaller vehicles such as cars, pickup trucks, vans, motorcycles, etc.) are at a high risk of serious injury and even death.
Truck accident claims often involve significant damages. However, it can be difficult to know how much compensation you can recover for your injuries and the effect they have on your life.
An experienced Florida truck accident attorney can account for all of the damages in your claim and pursue the full compensation you deserve. Please contact Kogan & DiSalvo today for a free consultation.
Types of Compensation in a Truck Accident Claim

In Florida, many accident victims are limited to recovering partial compensation for just some of their losses due to the state's no-fault motor vehicle law. Unless you suffer serious injuries in an accident, you are barred from pursuing a claim against the driver who caused the accident.
Catastrophic injuries are commonplace in truck accidents. As a result, it is important to understand the full extent of damages to which you may be entitled in a fault-based claim against the truck driver and other liable parties:
Economic Damages
As the name suggests, economic damages are the financial losses you experience as a result of an accident. They may include:
Medical expenses: These include the cost of medical care for your injuries so far as well as the anticipated expenses associated with future treatments, therapies, etc.
Lost wages: If you are unable to work while recovering from your injuries, you may be entitled to full compensation for the income you lose.
Loss of earning capacity: If your injuries from the truck accident permanently prevent you from working, you can also pursue compensation for the wages you could have reasonably expected to earn over the course of your life.
Costs you pay out of pocket: The exact nature and amount of these damages vary from case to case. Depending on your circumstances after the accident, you may be entitled to compensation for the following:

Assistive devices such as canes, crutches, wheelchairs, etc.
Hiring professionals to perform housework on your behalf
Hiring home healthcare workers
Travel to and from medical appointments
No-fault accident benefits (provided under your personal injury protection insurance, or PIP) pay for only a percentage of your medical expenses and lost wages. PIP insurance does not cover loss of earning capacity or out-of-pocket expenses.
If you are seriously injured in a truck accident claim, however, you can pursue a claim for all of the compensation you are due from the at-fault driver. This includes all economic damages and non-economic damages.
Non-Economic Damages
Non-economic damages in a truck accident claim encompass the losses that do not have a direct financial component. Although economic damages might make up a significant portion of your claim, non-economic damages tend to be even higher because of the widespread impact of serious injuries on a victim's life.
You may be entitled to compensation for the following non-economic damages after a truck accident:
Pain and suffering: Some injuries lead to chronic pain that can last a lifetime. These damages compensate victims for the physical pain they endure as a result of their injuries (at present and in the future).
Emotional distress: Serious injuries can lead to issues such as depression, anxiety, post-traumatic stress disorder, and more. Compensation may be recoverable in a truck accident claim for the emotional anguish associated with your injuries.
Scarring and disfigurement: Burns, amputations, and other serious injuries can leave scars and cause victims to become disfigured. Such drastic alterations in appearance carry a strong psychological component. If a negligent truck driver and/or other party caused the accident that led to your injuries, you may be entitled to compensation for the adverse mental and emotional effects.
Disability: Brain damage, paralysis, and other injuries in a truck accident can permanently alter the way victims live their lives. Non-economic damages seek to compensate you for the inconvenience, impairment, and other effects of a disability caused by a truck accident injury.
Loss of enjoyment and quality of life: The victims of serious injury may be unable to engage in favorite pastimes and activities that made their lives fulfilling. It is important to account for all of the ways the truck accident has affected your life (including hobbies, the ability to travel, etc.), as you may be entitled to compensation for these losses as well.
PIP no-fault accident benefits make no provision for these and other non-economic damages. However, in a fault-based claim involving serious injuries, there is no limit to the compensation you can pursue. Truck accident claims frequently involve non-economic damages due to the high probability of significant and life-altering injuries, scarring and disfigurement, and death (in the worst-case scenario).
Non-economic losses are more difficult to calculate than economic damages. An experienced truck accident lawyer can review your case and determine how much you may be able to recover.
Punitive Damages
Unlike economic and non-economic damages, punitive damages are not intended to compensate you directly for your losses from a truck accident. Instead, courts award these damages as a means of punishing and making an example of defendants who engage in malicious behavior or egregious misconduct.
In claims for punitive damages, Florida Statutes §768.72(2) "clear and convincing evidence … that the defendant was personally guilty of intentional misconduct or gross negligence." This standard can be difficult to meet, which is why punitive damages are infrequently awarded.
Our truck accident lawyers will thoroughly investigate the crash to determine if the actions of one or more parties constitute gross negligence or intentional misconduct. If your case goes to trial, we will present any and all compelling evidence with the goal of recovering maximum compensation on your behalf.
Contact a Truck Accident Lawyer Today
Although it is helpful to know the types of compensation you can recover in a truck accident claim, the actual losses you have suffered are the most important factor in accurately calculating damages. There is no simple way to determine what your case is worth without knowing the circumstances of the accident and the damages you and your loved ones face as a result.
The attorneys at Kogan & DiSalvo understand the devastating impact of commercial truck accidents on victims and their families. We investigate the crash thoroughly, identify all of the liable parties, calculate the compensation to which you are entitled, and pursue full recovery of all damages in settlement negotiations and – if necessary – at trial.
Please call Kogan & DiSalvo at (561) 375-9500 today for a free case review. Our Florida truck accident lawyers serve clients in West Palm Beach, Boca Raton, Boynton Beach, Stuart, and all of Florida.