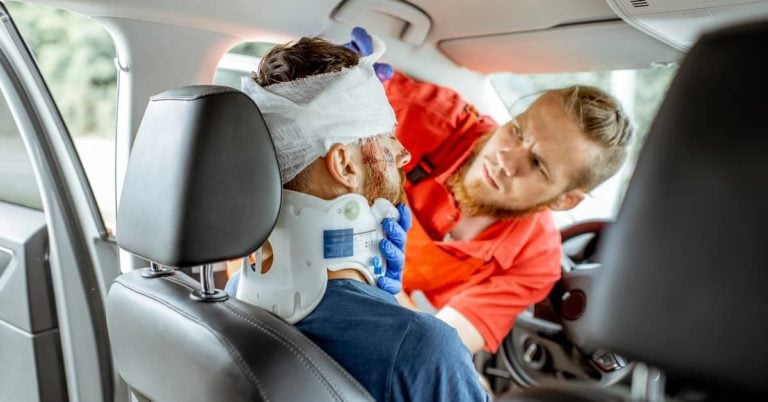 Building a Serious Injury Claim After an Accident
Categories:
For people in most areas of the country, there is no limitation on the ability to sue the at-fault driver after an accident. However, Florida is one of a few states to institute what is known as a "no fault" law governing motor vehicle accident claims.
Implemented as a means of reducing so-called "excessive" litigation in accident cases, the no-fault system significantly reduces both the compensation you can recover after an auto accident as well as your options for recovery. The law does provide an exception, however, in cases of serious and/or permanent injury.
So what is a serious injury, and how does such an event affect your ability to recover compensation after a car accident in Florida? Keep reading for more information about the serious injury exception to Florida's no-fault law, or contact Kogan & DiSalvo for a free case review.
How Does Florida Law Define a 'Serious Injury'?

You might assume that any catastrophic injury would qualify as "serious" under Florida law. Generally, you would be correct. However, the nature of the injury is less important to your case than the extent of the harm you have suffered.
The Florida Motor Vehicle No-Fault Law provides several definitions of what constitutes a serious injury:
As you can see, Florida law leaves significant ambiguity on what is considered a serious injury. Therefore, you cannot simply claim that you have suffered a serious injury without presenting compelling evidence.
How an Attorney Can Help with Your Serious Injury Claim

After any serious injury, it is easy to feel overwhelmed. You may be struggling with the effects of your injuries, facing significant medical expenses, and feeling the pressure of lost income.
Your Florida-mandated personal injury protection (PIP) insurance will cover a portion of your losses (up to certain percentages and not in excess of your policy limits) in a no-fault accident claim. To recover full compensation for your economic losses as well as non-economic damages such as pain and suffering, you will need to file a fault-based claim against the driver who caused the accident.
Our experienced attorneys can assess the evidence in your case and advise you of your options for pursuing a fault-based accident claim. To determine whether or not you meet the threshold for serious injury, your lawyer will evaluate the following:
1. Your Medical Records
Comprehensive documentation of your injuries is essential for establishing your right to full compensation after suffering serious injury in an auto accident. Your medical records should include information regarding:
The nature of your injury or injuries
Symptoms you experience
Lab results
Imaging tests
Treatments performed (i.e., surgeries, medications, therapies, etc.)
Notes on your progress, including challenges, complications, etc.
Referrals to specialists
Recommendations for rehabilitation
A knowledgeable car accident lawyer can review your medical records to determine if you meet the serious injury threshold. Your lawyer can also discuss your condition with your doctor and other members of your medical team to ascertain the seriousness and extent of your injuries.
2. Expert Testimony
Your lawyer may hire one or more expert witnesses to provide testimony in your case. Experts in different fields can testify as to the serious nature of your injuries, strengthening your claim against the at-fault driver.
Experts an attorney may hire to help build your case include:
Medical experts who can testify about the type of injury or injuries you have sustained, your prognosis for improvement, and the anticipated long-term or permanent effects.
Economic experts who can testify as to the financial impact of serious injuries.
Vocational experts who can testify how a serious injury will affect your ability to work in your chosen field, your prospect for reduced or alternate employment, and your wage-earning potential.
Occupational experts who can testify as to how the serious injury affects other areas of your life, including everyday tasks, relationships with family, leisure activities and hobbies, etc.
The testimony of qualified experts can help establish your right to compensation beyond what PIP insurance covers for economic losses (i.e., all medical expenses and lost wages, loss of future income, out-of-pocket expenses, etc.) as well as non-economic damages (such as mental and emotional distress, embarrassment, inconvenience, and more).
What If My Serious Injury Claim Is Disputed?

Given the limited circumstances in which accident victims can bring a fault-based claim, it should come as no surprise that the insurance companies for drivers accused of fault in an accident will scrutinize claims of serious injury. The insurance company may be unwilling to offer a fair settlement, potentially underpaying or even denying your claim.
Your car accident lawyer may be able to negotiate a settlement on your behalf. In the event that the insurer refuses to compensate you fairly, it may be necessary to take your case to court.
Should your case go to trial, the Florida Motor Vehicle No-Fault Law gives the defendant (in this case the insurance company for the at-fault driver) the option to file a motion to "ascertain whether the plaintiff will be able to submit some evidence that the plaintiff will meet the requirements" of the serious injury threshold. The court will review the initial pleadings and evidence to determine if the plaintiff will be able to present sufficient evidence within 30 days of the trial date or pre-trial hearing (whichever comes sooner).
With this in mind, it is important to contact an experienced lawyer as soon as possible after an accident. An attorney skilled in serious injury and fault-based claims can build a strong case on your behalf and anticipate the challenges presented by the at-fault driver's insurance company.
Get Help with Your Serious Injury Accident Claim

The complexities of Florida's no fault law can make it difficult for accident victims to know what compensation they may be able to recover. Serious injury victims may be entitled to damages beyond what they can recover with a PIP claim alone, but there is no guarantee that your case against the at-fault driver will end in a favorable result.
The law firm of Kogan & DiSalvo has been serving clients throughout Florida for over 25 years. We have handled many cases involving serious injury in auto accidents, and we pursue the full compensation our clients deserve through settlement negotiations and going to trial.
Please call (561) 375-9500 today for a free case review. Our car accident lawyers serve clients in Boca Raton, Boynton Beach, Fort Lauderdale, West Palm Beach, Stuart, Delray Beach, and other areas.