Over a two-year period, Martin County reported a total of 8,113 auto accidents. Nearly 50 of these crashes were fatal, while more than 2,000 resulted in injury.
According to the latest edition of the Martin County Crash Surveillance Report, four of the top five most dangerous intersections in Martin County are located in Stuart. These areas accounted for 99 accidents, with an average crash severity rating of 2.71. (The crash severity rating assesses how dangerous an intersection is based on the number of fatal accidents and accidents involving injuries.)

Being involved in a car accident can turn your life upside down. If someone else was at fault, it is crucial to know your rights and legal options for filing a claim.
For more than 25 years, the car accident lawyers at Kogan & DiSalvo have been representing clients in Stuart, Port St. Lucie, and throughout Martin County. Please call (772) 888-9085 today for a free case evaluation.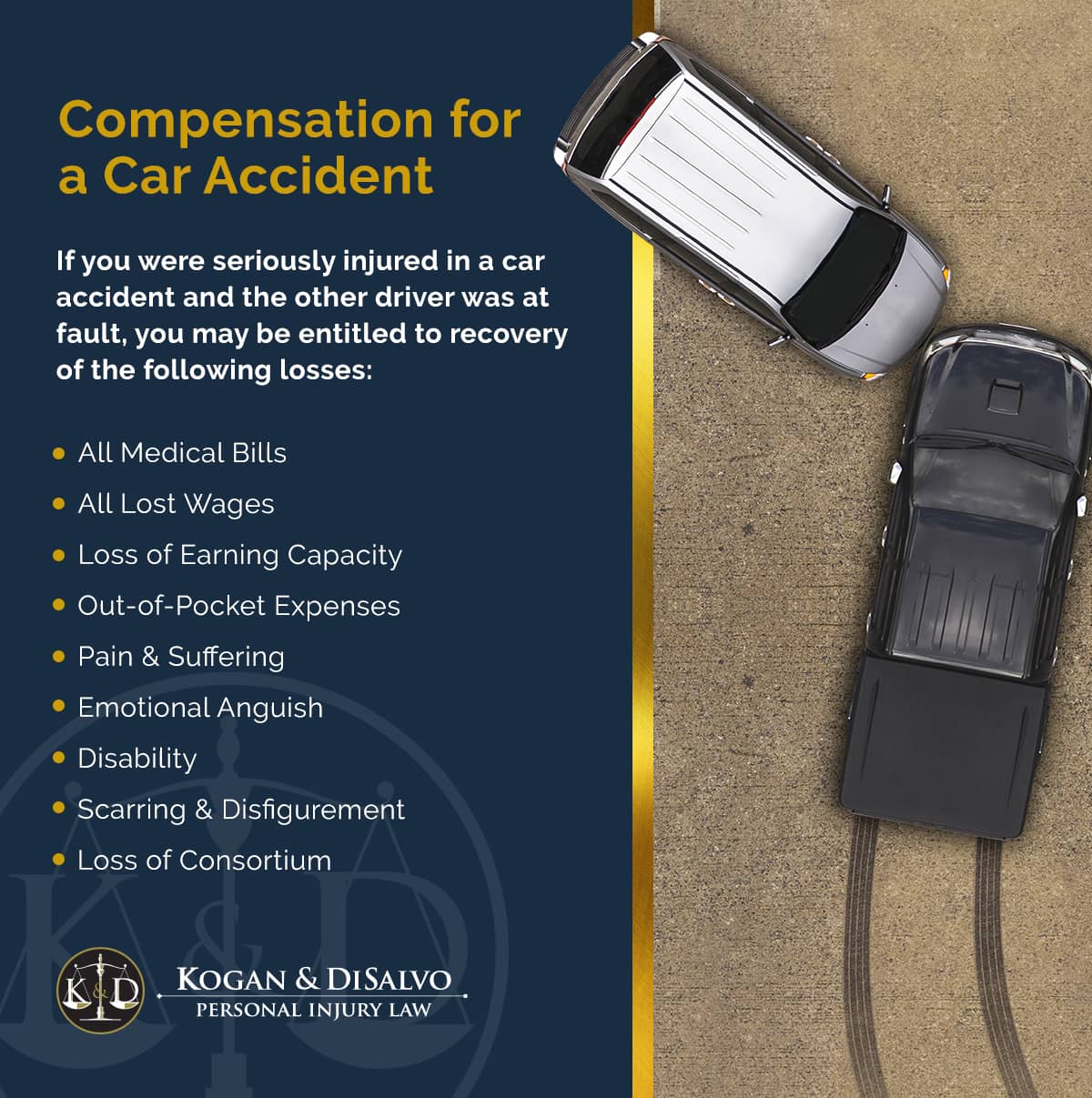 Car Accident Claims Our Attorneys Handle
Our firm handles all types of cases involving motor vehicle collisions. Some of the most common car accident claims our clients bring to us include:
Rear-End Collisions
Rear-end collisions are the most common type of automobile crashes, but that does not mean they are all harmless fender-benders. They can cause serious injuries and even death.
Although the driver in the rear is typically responsible for the accident, there are certain circumstances where the driver in front may be at least partially at fault. No matter the position of your vehicle in the wreck, it is in your best interest to seek legal counsel as soon as possible after a rear-end collision.
Head-On Collisions
The vast majority of head-on collisions occur on rural roads and undivided two-lane highways. Due to the forces involved when two vehicles traveling in different directions crash into each other (usually at high speeds), head-on collisions have a high likelihood of catastrophic injuries and fatalities – especially when occupants are ejected.
Given these tragic outcomes, hiring a car accident lawyer is essential after any head-on collision.
Side-Impact Collisions
The consequences of a side-impact accident can vary. If another driver sideswipes your vehicle, the harm may be confined to property damage. However, if the front of the other driver's vehicle collides with the side of your vehicle (known as a T-bone accident), you and anyone else in the car may be seriously hurt.
As with a rear-end accident, liability for a side-impact crash can be more complicated than it might initially seem. A knowledgeable auto accident lawyer can help you determine your options for pursuing compensation.
Hit-and-Run Accidents
In Florida, leaving the scene of an accident in which someone is hurt or killed is a felony offense. Leaving the scene also exposes the driver to civil liability.
Unfortunately, identifying a driver who hits and runs can be extremely difficult. By hiring an attorney promptly, you can rest assured that a qualified team will fully investigate the accident on your behalf while you focus on recovering from your injuries.

Common Injuries in Car Accidents
Serious and catastrophic injuries are the primary focus of our practice at Kogan & DiSalvo. Our attorneys have extensive experience handling serious injury claims, which enables us to calculate the full extent of damages accurately and pursue maximum compensation on behalf of our clients.
A Stuart car accident lawyer at our firm can help if you have suffered the following injuries:
Broken bones and orthopedic injuries
Injuries to the neck and back
Facial injuries
Lacerations resulting in scarring
Damage to internal organs
Kogan & DiSalvo can also help if a member of your family was tragically killed in a car accident. Our attorneys can pursue compensation on your behalf through a wrongful death claim.

What Are the Most Common Causes of Car Accidents in Stuart?
The majority of car accidents can be traced back squarely to the carelessness of one or more drivers behind the wheel. If this is the case, you may be entitled to compensation for the losses you suffered as a result of the crash.
Some of the most common causes of car accidents in and around Stuart include:
Distracted Driving
Although much of the focus on distracted driving centers on texting behind the wheel, distractions can take a wide range of different forms. Distracted driving accidents may be caused by:
Talking on the phone behind the wheel
Talking to passengers
Playing the radio loud
Eating and drinking
Smoking
These and other distractions increase the risk of accidents in three different ways:
Visual (not watching the road)
Manual (removing hands from the steering wheel)
Mental (thinking about things other than driving).
Some types of distracted driving (such as using an electronic device) may involve a combination of all three distractions.
Driving while distracted and causing a collision is a negligent act. Injuries and property damage from the crash may be the basis for a claim against the driver who is at fault.
Aggressive Driving
Some of the most serious accidents are caused by aggressive drivers. Aggression can lead to a variety of dangerous behaviors, with speeding and tailgating as two of the most common.
Unsurprisingly, excess speed is a major contributor to car accidents. The faster drivers travel, the less time they have to stop. While some drivers speed out of carelessness, others do it as a means of racing around vehicles or intimidating drivers who are going "too slow."
Another common practice of aggressive drivers is deliberately following another driver too closely. Tailgating carries a high risk of a rear-end collision, but many aggressive drivers overlook the danger and leave too little space between vehicles anyway.
Drunk Driving
The legal limit for a driver's blood alcohol content is 0.08. Unfortunately, drivers routinely exceed this limit and cause accidents as a result of their intoxication.
Drinking and driving is a serious offense that commonly leads to crashes in which innocent victims are seriously injured or killed. Drivers who abuse alcohol, prescription drugs, or narcotics before they get behind the wheel can and should be held accountable.
Failure to Yield
Sharing the road is the basic tenet for safety behind the wheel. Yielding the right of way is basic common sense. Drivers who are in a hurry, aggressive, or simply inconsiderate can cause serious crashes when they deny the right of way to others.
The most common violations of Florida's yielding laws occur when:
Turning left
Ignoring traffic yield signs
Running red lights
Advancing toward bicyclists
Failing to yield to emergency vehicles or a school bus
Moving out of a parking space.
Each of these negligent acts may be the basis for a claim against the careless driver if his or her actions result in serious injury or death.

What to Do in an Accident
The first step you should take after being involved in an accident is to assess yourself and any passengers in your vehicle for signs of injury. If you are in pain, have difficulty moving, or discover that you are bleeding, you should stay still and wait for paramedics to arrive. The same is true for the other occupants of the vehicle who have sustained injuries.
Next, you or another party should call 911. Ask for emergency personnel and the police to come to the scene.
Those involved in an accident must stay at the scene until police have gathered the information they need for an accident report. Provide a statement to law enforcement, but be careful not to embellish the facts or say anything to suggest you are at fault.
Exchanging information at the scene of the accident is essential. You should gather the other driver's personal contact information, information about the vehicle (e.g., license plate number; year, make, and model of the vehicle; etc.), and insurance information.
You can also take steps at the scene to start building your accident claim. These include taking photographs from various angles before the cars are removed and getting the names and contact information for any witnesses to the accident.

What Should You Do After an Accident?
If you have been in a car accident, the first thing to do after leaving the scene is to seek medical attention. Serious injuries may not be apparent immediately following the crash, and it is crucial to have a record of the injuries you have sustained, the treatment you have received, and any care recommendations from your doctor.
Florida personal injury protection (PIP) insurance gives accident victims 14 days to seek treatment for their injuries. If you wait more than 14 days, your PIP claim for medical expenses may be denied. You will also need to report the accident to your car insurance carrier as soon as possible to ensure coverage.
Next, you should contact a Stuart car accident lawyer promptly. An experienced attorney can review the facts of your case and discuss your options for recovering compensation.
Finally, if the police were not called to the accident after it happened, you have 10 days to report the accident to law enforcement. You have the option to report a crash online or by mail.

What Compensation Can I Recover for a Car Accident?
Florida is a no-fault state. This rule limits the circumstances when accident victims can bring a claim and file suit against another driver.
After a car accident in Stuart, the only option you might have is to file a claim under your own PIP insurance. PIP insurance will pay 80% of your medical bills and 60% of any income you lose if your injuries make it so you are unable to work (both subject to your insurance policy limits).
The only exception to the no-fault rule applies when (a) the other driver is at fault for the accident and (b) you suffer a serious injury or a loved one is killed. If both of these conditions are met, you can file a claim against the at-fault driver for full recovery of your losses.
You may be entitled to compensation for the following losses in a fault-based car accident claim:
All medical bills, current and in the future
All lost wages
Loss of earning capacity (i.e., the loss of wages you would have earned if not for the car accident injury)
Out-of-pocket expenses for assistive devices, household and vehicle modifications, professional services, etc.
Emotional anguish
Disability
Scarring and disfigurement
Loss of consortium
The damages you may be able to recover after a car accident depend on the specific losses you have sustained. At Kogan & DiSalvo, our Stuart auto accident attorneys carefully assess every dollar of compensation you are due, gather evidence in support of your claim, and aggressively pursue a fair settlement or judgment on your behalf.
Our law firm has achieved millions of dollars in verdicts and settlements on behalf of those who have been seriously injured or lost loved ones in car accidents.

How Is Fault Determined After a Car Accident?
The success of a car accident claim depends on your ability to prove that someone else (usually the driver of the other vehicle) was at fault. Multiple forms of evidence can support your claim, including:
Photos of the damage to your vehicle, your injuries, and the scene of the accident
Eyewitness testimony
Video footage of the accident
Testimony from expert witnesses concerning the injuries you suffered, the facts of the accident, and more
Expert assessment of the vehicles involved in the crash
A skilled Stuart car accident attorney at Kogan & DiSalvo will seek out all available evidence and testimony to build a strong claim on your behalf. Investigation of the accident may reveal that one or more parties are at fault, including the other driver, a vehicle or parts manufacturer (potentially giving rise to a product liability claim), and more.
Our lawyers can also help if you face accusations of causing the accident.
What Is the Comparative Fault Rule?
As of 2023, Florida law dictates that fault is assessed by the modified comparative negligence standard. The comparative fault rule allows only victims who were less than 50% at fault for their accident to recover compensation.
For example, if the plaintiff is determined to be 50% at fault and the defendant is also 50% at fault, the plaintiff will not be able to recover any damages in a lawsuit.
It is of the utmost importance never to admit fault for an accident. Although the comparative negligence standard will still allow you to claim some amount of compensation, you should not have to settle for less than you deserve simply because another driver alleges that you were partially at fault.
The attorneys at Kogan & DiSalvo can help you protect your rights after a car accident. This includes handling liability disputes raised by the at-fault driver and his or her insurance company.

How Long Do I Have to File a Car Accident Lawsuit?
As of 2023, the statute of limitations for personal injury claims is two years from the date that the injury occurs. In the event of wrongful death, surviving family members also have up to two years to file a claim.
The clock starts ticking on your claim as soon as the car accident occurs. Although two years might seem like plenty of time to resolve your case, any delays can prove costly.
It is in your best interest to speak to a car accident attorney in Stuart as soon as possible. The team at Kogan & DiSalvo will get to work on your case immediately to ensure you do not miss the opportunity to obtain the compensation you deserve.

Do I Need a Lawyer After a Car Accident?
Sometimes car accident victims are able to handle claims without hiring an attorney. This is especially true of crashes that result in minor injuries, minimal damages, and are handled strictly through PIP insurance.
However, any accident resulting in serious injuries and/or wrongful death should be handled by an experienced attorney. Without qualified legal guidance, victims are sure to be taken advantage of by the insurance companies.
Our Stuart car accident lawyers will take all steps necessary to advance and protect your best interest. You can count on us to do the following:
Conduct a thorough, independent investigation, which includes interviewing all parties and witnesses under oath – anything said by other parties may be used as evidence
Present any photographs taken at the accident scene as evidence
Develop computer graphics of the scene to reconstruct the accident
Document all medical, therapy, property damage, and other expenses incurred
Calculate damages for pain and suffering, emotional distress, loss of consortium, lost current and future earnings, and other damages
Negotiate a settlement
Prepare the case for trial
The majority of car accident claims are resolved via out-of-court settlement. Although our preliminary focus is negotiating the best possible settlement, we never hesitate to take a case to court if it means achieving a better result.
Filing a lawsuit and going to trial are very different from the usual practice of reaching a settlement. Advanced skills, knowledge, and preparation are essential, as is a commitment to winning.
The majority of the attorneys at Kogan & DiSalvo are board-certified in civil trial law by The Florida Bar. Such a distinction is important because it demonstrates our willingness and ability to go to court on behalf of our clients – something only a small percentage of lawyers in the state can say, let alone have the results and credentials to back it up.

Contact a Stuart Car Accident Lawyer Today
If you have been injured in a car accident or your loved one was tragically killed in a crash, the last thing you should have to think about is the complexity of a legal matter. At Kogan & DiSalvo, we know you are not just a case number – you are a person whose life has been changed radically by the carelessness of another.
Our focus is helping you move forward without additional worries about your finances and other concerns. First, we review your case for free. Second, our car accident attorneys work on contingency. You only pay legal fees when we successfully settle your case or earn a favorable judgment in court.
We take the time to get to know you and your loved ones personally. This compassionate, personable approach enables us to represent you more effectively in negotiations with the insurance company. If the insurer won't offer a fair settlement, you can trust us to take your case to trial and fight for the maximum compensation.
Please call (772) 888-9085 today for a free case review with a Stuart car accident lawyer. Kogan & DiSalvo serves clients in Port St. Lucie, Martin County, and nearby areas of Florida.