In 2021, more than 19,500 motor vehicle accidents were reported in Palm Beach County. According to data from the Florida Department of Highway Safety and Motor Vehicles (FLHSMV), 165 people were killed and more than 12,000 people were injured in these crashes.
It can be difficult to know what to do next if you have been involved in a car crash. Recovering from your injuries is difficult enough without having to worry about dealing with insurance companies and taking legal action.
Kogan & DiSalvo can review the details of your case, protect your rights, and pursue the compensation you deserve. Please call (561) 689-9955 today for a free case evaluation. Our auto accident attorneys serve clients in West Palm Beach, Lake Worth, Palm Beach Gardens, and other areas of Florida.
Is It Worth Getting a Lawyer for a Car Accident?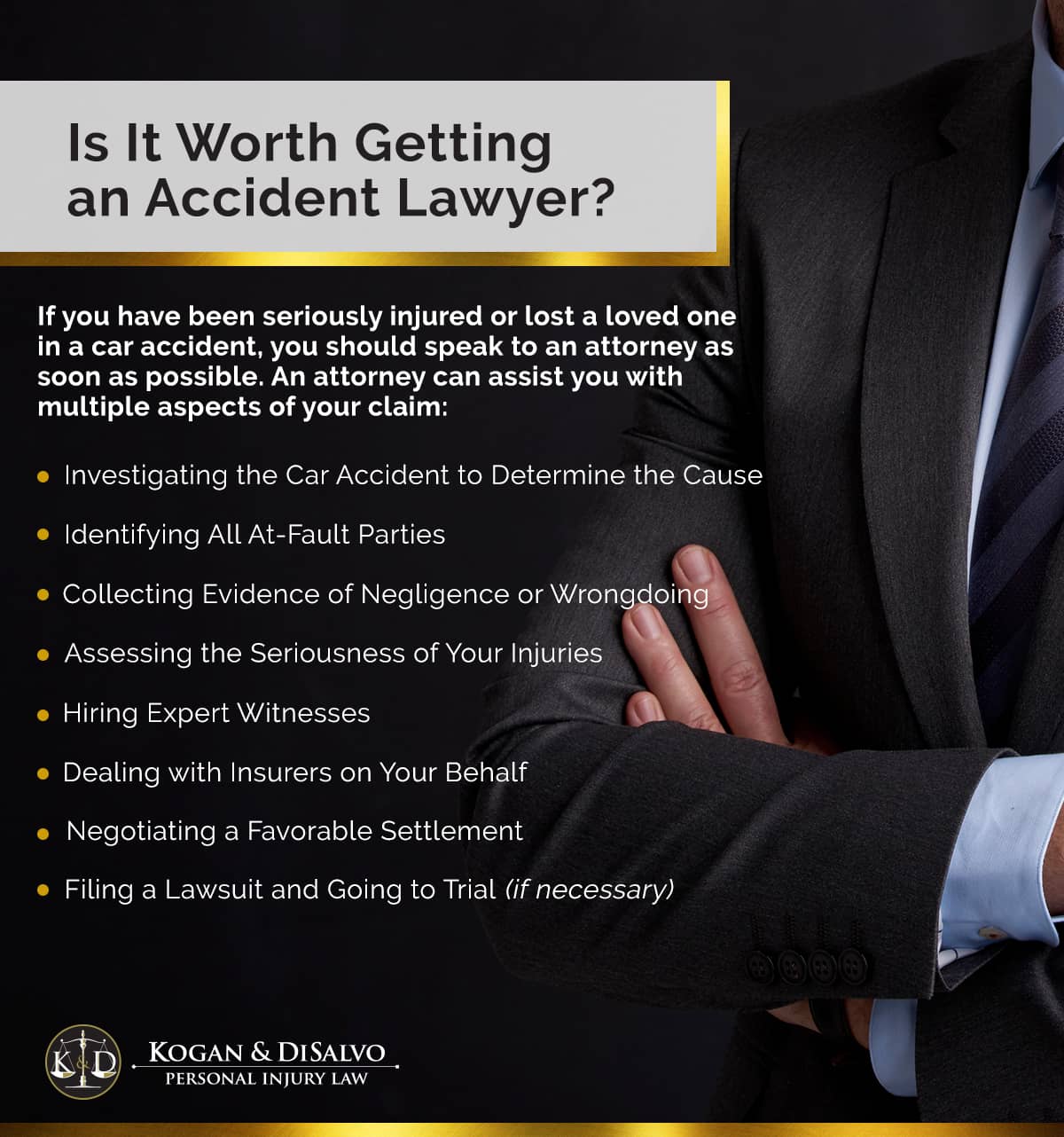 The decision to hire a car accident lawyer should be based on the circumstances of your case. If the crash resulted in property damage only or you suffered only minor injuries, you may be able to handle the matter on your own.
However, if you have been seriously injured in a car accident, you should speak to an attorney as soon as possible. The same is true if you lost a member of your family in a crash.
Serious injuries and/or the death of a loved one significantly change your legal options after a car accident. Attorneys at Kogan & DiSalvo can provide valuable assistance with multiple aspects of your claim, including:
Investigating the car accident to determine what factors led to the collision
Identifying all of the at-fault parties
Collecting evidence of negligence or wrongdoing on the part of those at fault
Reviewing your medical records and consulting with doctors and other experts to assess the seriousness of your injuries
Hiring expert witnesses to review the evidence and provide testimony
Negotiating a favorable settlement
Filing a lawsuit and taking your case to trial (if necessary)
Each of these steps is difficult to handle on your own. A West Palm Beach car accident lawyer at Kogan & DiSalvo can take on the challenges for you so you can focus on moving forward.
Is It Worth It to Sue After a Car Accident?

Before you consider filing a lawsuit for your car accident case, you first need to understand when you are allowed to sue. Florida is a no-fault state. In the majority of cases, this means that the drivers involved turn to their own insurance for coverage of their accident-related losses.
Personal injury protection (PIP) insurance is mandatory in Florida. This insurance coverage serves as a substitute for the economic damages commonly sought in a car accident lawsuit.
Although the no-fault law bars most people from suing after a car accident, there are exceptions. Florida law does allow you to bring a fault-based claim if (a) the other driver caused the accident and (b) the accident results in any of the following:
Significant and permanent loss of an important bodily function
Permanent injury within a reasonable degree of medical probability, other than scarring or disfigurement
Significant and permanent scarring or disfigurement
The death of a loved one
In these scenarios, you are allowed to file suit against the at-fault driver. However, you may not need to sue to recover fair compensation.
The majority of car accident claims settle without going to court. At Kogan & DiSalvo, our lawyers strive to negotiate fair settlements on behalf of our clients so they have the money they need to move on with their lives.
However, we also prepare every case as though it will go to trial. In the event that the insurance company won't play ball, we are ready to file suit and represent you effectively in court.
Our car accident lawyers have the experience, knowledge, and resources to prove that the other driver was at fault and that you suffered a significant and permanent injury as a result of their negligence. We also examine the facts to determine if any other parties are liable. (For example, if a vehicle defect was a factor in the accident, you may be entitled to compensation through a product liability claim.)
How Does PIP Insurance Affect My Car Accident Compensation?

PIP insurance covers some – but not all – of the damages you may incur as a result of a car accident. Benefits are limited up to the following:
80% of medical expenses related to the accident
60% of lost wages, if your injuries prevent you from working
$5,000 death benefit
Your losses in a car accident may very well exceed these limits. If this is the case, you need to present evidence that your injuries meet the threshold for filing a fault-based claim.
What Additional Compensation Can I Recover in a Car Accident Claim?

If you suffer a significant and permanent injury, you may be entitled to compensation for all of your losses related to the car accident. This could include:
All medical expenses, including the cost of future treatments and therapies
All lost wages
Loss of earning capacity (i.e., the income you would have been able to earn in the future were it not for the accident)
Out-of-pocket expenses, including medications and medical equipment, home-based services and assistance, home and vehicle modifications, medical-related travel, etc.
Mental anguish
Inconvenience related to disability
The families of those killed in car accidents can pursue full compensation for the loss of a loved one via a wrongful death claim. Damages you and your relatives may be able to recover include:
Loss of support and services provided by the deceased
Loss of future support and services
Loss of companionship and protection (recoverable by the surviving spouse, if applicable)
Mental pain and suffering experienced by the deceased prior to death (recoverable by the surviving spouse or the parent of a child killed in an accident)
Loss of parental companionship, instruction, and guidance (recoverable by children)
Medical expenses incurred prior to death
Funeral and burial/cremation expenses
Loss of earnings (recoverable by the estate)
No two car accident claims are exactly alike. As such, the attorneys at Kogan & DiSalvo account for all of the damages in your case and develop a custom legal strategy to obtain maximum compensation on your behalf.
When Should I Hire a Car Accident Lawyer?

Seeking prompt legal guidance is crucial after a car accident. Your initial consultation with Kogan & DiSalvo is free, and our lawyers can start helping you protect your rights and understand your legal options immediately.
It is especially important to talk to a car accident lawyer in the following situations:
You are seriously injured: Many accident victims are unaware of the circumstances in which they can bring a claim against the at-fault driver. You have a limited time to take action, and you do not want to miss the opportunity to pursue additional compensation.
Your loved one is killed: Few things in life are more trying than the loss of someone you love. Our car accident lawyers can handle your case while you and your family focus on mourning.
Your PIP benefits are underpaid or unpaid: You pay your car insurance premiums faithfully and expect that your insurance carrier will play fair when you make a claim. Unfortunately, insurance companies may dispute coverage of your medical expenses and lost wages after the accident. Our attorneys can fight for the no-fault benefits you deserve.
The other driver's insurance company contacts you: If the other driver caused the accident, his or her insurer may reach out to you before you even make a claim. The adjuster might ask you to make a statement about the accident or give permission to access your medical records. It is crucial to hire a lawyer who can communicate with the insurer on your behalf. You are not obligated to make a statement or sign a records release, and doing so can undercut your ability to recover compensation.
You are offered a settlement: Accepting the first car accident settlement offer may be tempting. You have bills to pay and you want to get on with your life, so agreeing to settle may seem like a way to address these problems quickly. However, very rarely do insurers offer fair settlements. You only have one opportunity to get the compensation you need and deserve, and having a car accident lawyer on your side is the best way to achieve the maximum recovery.
Hiring an attorney is also essential if the insurance company won't budge on the settlement or refuses to settle. Kogan & DiSalvo can prepare to go to court and present your case at trial.
How to Deal with the Insurance Company After a Car Accident

Most people don't know where to turn after a car accident. The most obvious answer is your auto insurance. And, indeed, under the Florida no-fault law, you may be limited to filing a claim under your own PIP insurance.
You are obligated to report the car accident to your insurance carrier promptly (check your policy for any specific deadlines that may apply). PIP insurance will cover 80% of the costs of necessary medical care related to the accident, as well as 60% of the wages you lose from being unable to work.
In the event that your PIP benefits are not paid promptly or the insurer disputes coverage, it is in your best interest to talk to a lawyer. You should also speak to an attorney prior to filing a claim with the at-fault driver's insurance company.
Despite the cheery advertisements, the insurance company is not your friend or neighbor. It's a business, and accident claims represent a threat to the bottom line. The insurance adjuster handling the case will do everything possible to limit your compensation – including asking leading questions designed to trip you up and get you to make admissions against your interest.
It is always preferable to let a car accident lawyer communicate with the insurance company on your behalf. The attorneys at Kogan & DiSalvo know the tricks insurers use. We will protect your rights and fight to overcome the obstacles put in place by the insurance company.
What Are the Most Common Types of Car Accidents in West Palm Beach?
The attorneys at Kogan & DiSalvo have extensive experience with a wide range of car accident claims. Some of the most common crashes we see involve the following:
Rear-End Collisions

The most common type of car accident, rear-end crashes can lead to serious injuries of the head, neck, and back – especially at high speeds. These accidents are generally the fault of the driver in the back. However, it is important not to assume that you are automatically to blame if you were in the back in a rear-end collision.
Common causes of rear-end accidents where the trailing driver is at fault include tailgating, distracted driving, and excess speed. However, the driver in the front may be at fault if he or she stopped unexpectedly or illegally.
The failure of the brake lights on the car in front could be another potential cause of a rear-end crash. If this is the case, the owner of the vehicle, a mechanic, and/or the manufacturer of the car may be liable for your injuries and damages.
Failure to Yield

According to FLHSMV data, failure to yield the right of way is the second-highest cause of accidents involving injuries and fatalities (after operating a motor vehicle in a careless or negligent manner). Violating the right of way can result in a wide range of crashes, including:
Turning in front of a vehicle that has the right of way
Cutting off another driver when merging into traffic
Collisions with emergency vehicles
Work zone accidents
Drivers and insurance companies often try to dispute accident claims involving failure to yield. It is important to work with a lawyer who can present compelling evidence that you had the right of way and that the other driver caused the accident through negligence.
Head-On Collisions

Only a small percentage of accidents involve vehicles colliding head-on. When they do, however, catastrophic injuries and fatalities are the rule rather than the exception.
Some of the most common causes of head-on collisions include:
Drug and alcohol intoxication
Distracted driving
Swerving to avoid road obstacles and wildlife
Driver fatigue
Speeding
Failure to obey traffic signs
Traveling the wrong way on a road
Errors in passing
Even a seemingly minor error – such as drifting from a lane into oncoming traffic – can lead to a horrific head-on collision accident. If you or a member of your family was involved in one of these devastating wrecks, it is important to seek legal counsel as soon as possible to start building your claim.
Accidents Involving Excess Speed

Excess speed is a common issue in car accidents. However, driving faster than the posted speed limit is not always a factor.
The evidence or police report may show that the at-fault driver was traveling too fast for conditions. This is especially true if the accident occurred in heavy traffic, at night, or in inclement weather.
Prompt investigation of the accident scene can help establish what conditions were like at the time of the crash. Our lawyers will collect all available evidence to show that the driver was moving at an unsafe rate of speed.
Drunk Driving Accidents

In one year, the FLHSMV recorded that a total of 675 drivers killed in car accidents tested positive for alcohol, drugs, or a combination of the two. Driving drunk or under the influence of drugs can be a deadly decision. And yet, many drivers throw caution to the wind and put their safety and the safety of others at risk.
Law enforcement may perform tests after the accident to determine if the driver was under the influence. If the driver's behavior leads you to believe that he or she may have been intoxicated, you should share this information with a lawyer as soon as possible.
Distracted Driving Accidents

Another major factor in car accidents in Florida is distracted driving. The FLHSMV recorded 266 deaths in a single year as a result of accidents where the driver was distracted.
Distraction behind the wheel can take many forms, including:
Talking on the phone
Operating other electronic devices, such as a GPS
Distractions inside the vehicle, such as changing radio stations, adjusting climate control, etc.
Talking to and interacting with passengers
Distractions outside the vehicle, such as looking into other cars, spotting objects on the roadside, rubbernecking, etc.
An attorney can obtain cell phone records to determine if the other driver was distracted by a cell phone at the time of the crash. This evidence can be bolstered by witness testimony, video footage (if available), and more.
Hit-and-Run Accidents

The FLHSMV has recorded more than 5,500 hit and run accidents in Palm Beach County in 2021. These crashes have resulted in more than 1,400 injuries and 18 deaths.
When careless drivers hit and run, seriously injured victims may not get the medical attention they need. This can result in a wide range of potential complications, up to and including death.
Bringing a civil claim against a hit-and-run driver can be incredibly difficult. Evidence at the scene of the accident may be minimal, making identification of the driver impossible. An experienced West Palm Beach car accident lawyer can investigate on your behalf and, if the at-fault driver cannot be found, determine your options for compensation. Your losses may be covered by PIP insurance, uninsured/underinsured motorist insurance, and other policies.
Common Injuries in Car Accidents

Auto accidents can result in a wide range of injuries. Some of the most common injuries our attorneys see in car accident claims include:
Injuries to the face, including broken bones, eye injuries, and trauma to the jaw and mouth
Neck injuries, including whiplash and herniation of the cervical discs
Fractured bones in the hands, wrists, and arms
Trauma to the torso, such as broken ribs and organ damage
Back injuries, including broken vertebrae and disc injuries in the thoracic and lumbar spine
Injuries to the pelvis, legs, knees, ankles, and feet
Many of these injuries require extensive medical care and long-term therapy and rehabilitation. In some cases, victims may not fully recover.
Kogan & DiSalvo will assess the seriousness of your injuries in order to identify your options for pursuing compensation. You may be entitled to more than what is covered by your PIP insurance.
What Is the Average Settlement for a Car Accident?

Car accident victims often feel overwhelmed by information. One of the biggest sources of confusion is how much the average car accident claim is worth.
Although you can find all kinds of information online about the "average" settlement value after a car accident, the truth of the matter is that none of the numbers you find are relevant to your case. What represents a fair settlement or recovery in your case depends on a wide variety of factors, including:
The medical expenses you have incurred
Your lost income to date
How the injury affects your ability to work
The physical and emotional toll of your injuries
Whether the injuries resulted in scarring or disfigurement
No web page or online calculator can accurately quantify these damages. The only way to get a clear idea of the compensation you may be due is to speak to a qualified car accident attorney as soon as possible.
At Kogan & DiSalvo, we live by a simple but powerful philosophy: "It's Not Just a Case. It's Your Life." This means we take the time to understand exactly how the accident has impacted you and your loved ones. You can count on us to provide personalized, hands-on guidance tailored to your questions, your needs, and your situation, as well as pursue the best result for your unique circumstances.
What You Should Do After a Car Accident

The following information is intended to help you begin building your car accident claim in the aftermath of a crash. However, if you or a passenger in your vehicle has been seriously injured, you should prioritize medical care above all else, followed by contacting an attorney.
If you can safely stay at the scene, the steps you should take after a car accident include:
Call 911 if anyone is injured; the police must be called to any accident involving injury, death, or more than $500 in property damage.
Exchange information with the other driver or drivers, including name, contact information, insurance carrier and policy number, and the license plate number for all vehicles.
Take photos of the accident scene, the vehicles involved, your injuries, landmarks, and conditions.
Speak to any witnesses who saw the accident.
Provide a statement to the police officer who arrives on the scene (if the police don't show up, you will need to report the accident to the FLHSMV within 10 days).
Go to the emergency room. You may feel fine at the time, but a number of serious injuries may not be immediately apparent. Prompt diagnosis is key for reducing the risk of complications, creating a record of your injuries from the accident, and preserving your legal rights.
You should also contact Kogan & DiSalvo to discuss your case as soon as possible. The decision to hire a car accident lawyer can make an enormous difference in the successful resolution of your claim, and it is much better to seek legal counsel sooner than later.
How Long Do I Have to Sue After a Car Accident?

It is important to act quickly if you or someone you love has been in a car accident. Florida law limits the time you have to bring a claim. The statute of limitations varies by the cause of action and may be subject to other factors, but generally:
The courts rarely allow claims to proceed if they are brought after the statute of limitations expires. Acting quickly is imperative for ensuring that you have a chance to recover the full compensation you deserve.
When you hire Kogan & DiSalvo, our car accident lawyers begin building your claim immediately. If it is necessary to sue to achieve a favorable result, we will file ahead of the deadline and aggressively advocate for your interests every step of the way.
Contact a West Palm Beach Car Accident Lawyer Today

Kogan & DiSalvo is the premier personal injury law firm in Florida. For more than 25 years, we have represented those who have been seriously injured and lost loved ones in all types of motor vehicle accidents. Our attorneys have earned millions of dollars in verdicts and settlements on behalf of our clients.
We get to know each client on a personal level. This approach enables us to provide unparalleled service and achieve outcomes that change our clients' lives for the better.
Please call Kogan & DiSalvo at (561) 689-9955 today for a free review of your case. Our car accident lawyers serve clients in West Palm Beach, Lake Worth, Palm Beach Gardens, and other areas of Florida.