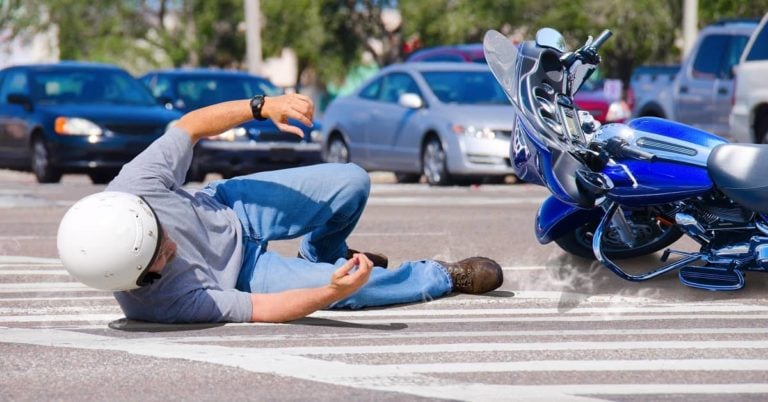 What Is the Average Payout for a Motorcycle Accident?
Categories:
Motorcyclists are among the most vulnerable road users in Florida and throughout the country. Both single-vehicle accidents and collisions between a motorcycle and one or more vehicles frequently result in serious injuries and even death.
You may assume that significant compensation is available after a motorcycle accident. While this may be true in your case, it is important not to make assumptions based on the "average" financial verdicts and settlements you might see online. The accident victims in these cases are not you; the extent of their injuries and damages, the circumstances of the accident, and other factors may be entirely different from the situation you face.
An experienced motorcycle accident attorney at Kogan & DiSalvo can pursue the compensation you deserve after a motorcycle wreck in Florida. Contact us today for a free case review.
How Is a Motorcycle Accident Payout Calculated?

Effectively, the sum of all of the damages you have incurred as a result of the motorcycle accident represents the compensation you may be able to recover. Damages in an accident claim can be divided into two categories: economic and non-economic.
The economic damages for which you can seek payment in a motorcycle accident claim include:
Medical bills
Lost wages
Loss of earning capacity (the loss of future income and benefits as a result of being unable to work)
Out-of-pocket expenses connected to the accident
Non-economic damages that may be recoverable after a motorcycle accident include:
Pain and suffering
Emotional anguish
Scarring and disfigurement
Disability
Loss of enjoyment of life
Loss of consortium (adverse impact on familial relationships, including relations with your spouse and children)
The damages in your case will depend on the specific losses you sustain. An experienced lawyer can assess the evidence and advocate for the full compensation you deserve after a motorcycle accident.
Does the Florida No-Fault Law Affect My Motorcycle Accident Compensation?

Because Florida is a no-fault state, many auto accident victims face several limitations to the compensation they can recover:
Victims must first file a claim with their own insurance company.
The right to sue an at-fault driver is limited to cases involving permanent injury, significant and permanent loss of a bodily function, significant and permanent scarring, and/or death.
The state-mandated personal injury protection (PIP) insurance offers no coverage for pain and suffering and other non-economic damages.
PIP insurance only covers a percentage of economic losses (such as medical expenses and lost wages) from the accident.
However, because a motor vehicle is defined as a "self-propelled vehicle with four or more wheels," the no-fault law does not apply to motorcyclists. This affects your motorcycle accident payout in two different ways.
First, you will not have recourse to your PIP car insurance, as PIP coverage does not apply to motorcycles. Second, your principal option for recovering compensation is a fault-based claim against the driver who caused the accident.
On the one hand, injured motorcyclists do not have access to the no-fault benefits that other motorists do in the event of an accident. However, on the other hand, motorcyclists have a broader right to sue for damages – and thus a greater opportunity to recover full compensation after a motorcycle accident.
What Should I Expect from a Motorcycle Accident Payout?

It is important to understand that insurance companies do not like to compensate accident claimants fairly. Even if the driver of the other vehicle was 100 percent at fault for the accident, you may still face obstacles to a fair payout for your injuries and damages.
An insurance payout that fairly compensates you for your motorcycle accident losses is earned, not guaranteed. With this in mind, it is crucial to contact a motorcycle accident attorney who can calculate the damages in your case, discuss your options for filing a claim, and represent your interests in negotiations with the insurance company.
Insurance companies are more likely to agree to fair payouts when claimants have legal representation. This is especially true if your attorney has extensive legal experience and a reputation for taking cases to trial.
Generally, insurance companies want to avoid the time and expense of going to court. The most common payout for damages takes the form of a settlement negotiated between your lawyer and representatives for the insurer. However, in the event that a fair settlement cannot be reached, it is important to know that your attorney has the willingness and capability to take your case to trial.
Contact a Motorcycle Accident Attorney Today

The majority of motorcyclists suffer serious injuries in the event of an accident. Tragically, some crashes result in fatalities.
If you have been injured or lost a loved one in a motorcycle accident, you may be entitled to compensation. At Kogan & DiSalvo, we pride ourselves on raising the bar in our handling of accident claims. The majority of our attorneys are recognized as Board-Certified Civil Trial Specialists by The Florida Bar, and we have achieved significant recoveries on behalf of clients in motorcycle accident claims.
Please call (561) 375-9500 today for a free case review. Our motorcycle accident attorneys serve clients in West Palm Beach, Boca Raton, Boynton Beach, Fort Lauderdale, Stuart, Delray Beach, and throughout Florida.