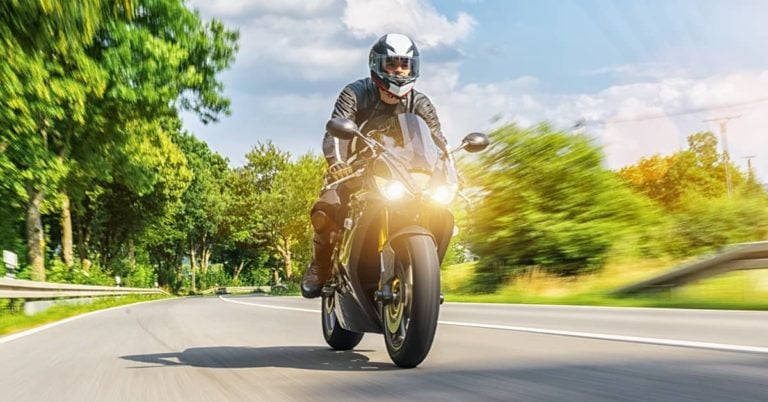 Are Motorcycles Covered by No-Fault Insurance?
Categories:
No-fault insurance (known in Florida as personal injury protection, or PIP insurance) is mandatory for all drivers in Florida. Your PIP policy covers certain losses in the event of an accident regardless of who is at fault. In turn, the majority of motorists are barred from suing the other driver for causing the crash.
However, the rules are different for motorcyclists. Florida PIP insurance treats motorcycles differently than other types of vehicles, and the options for compensation differ as well.
A Florida motorcycle accident lawyer can help you pursue fair compensation for your injuries and losses from an accident caused by a careless driver. Contact Kogan & DiSalvo for free today, or call (561) 375-9500.
What Are The Motorcycle Insurance Rules in Florida?

Florida PIP insurance is only required for the operators of motor vehicles with four or more wheels. As a result, motorcyclists are not eligible for PIP coverage.
If you choose to ride a motorcycle without a helmet, you are required to carry a minimum of $10,000 in medical insurance to cover potential accident-related injuries. This is the equivalent of the minimum $10,000 in PIP insurance required of other motorists.
However, $10,000 is likely to be far less than you need to cover your medical care in the event of an accident. Motorcycle accidents have a high likelihood of catastrophic injuries.
Florida is unique in that the owners of motorcycles are not required to present proof of insurance when they register the vehicle. However, whether by purchasing liability insurance or qualifying for self-insurance, you do need to meet the requirements set forth by Florida's financial responsibility law:
$10,000 in bodily injury liability per person
$20,000 in bodily injury liability per accident
$10,000 in property damage liability
If you are judged to be at fault for an accident, not having insurance can leave you personally liable for thousands of dollars in damages sustained by people injured in the crash. You may also face penalties if you are uninsured.
For these reasons, it is important to purchase sufficient insurance so you are covered whether you are at fault or not.
What Should Motorcyclists Know About PIP Insurance?

The lack of no-fault insurance for riders is a double-edged sword. On the one hand, injured motorcyclists do not have recourse to PIP insurance for partial coverage of their medical expenses and lost wages. Motorcyclists are also required to prove that the driver of the other vehicle was at fault for the accident to recover damages.
On the other hand, motorcyclists can sue after an accident regardless of the severity of their injuries. They can pursue full compensation without having to reach the statutory thresholds that apply in other motor vehicle accident claims.
What Are My Insurance Options After a Motorcycle Accident?

Motorcyclists injured in accidents often turn to their health insurance to help pay for medical treatment. Optional insurance coverage (such as medical payments and/or uninsured/underinsured motorist insurance) can also help offset some of the additional costs depending on the circumstances of the accident.
If you have been injured in a motorcycle accident, you should contact a Florida motorcycle accident lawyer as soon as possible to discuss your rights and legal options. Unlike motorists, the riders of motorcycles have the immediate option to file a claim against the at-fault driver.
It is crucial to know who is at fault for the motorcycle accident that caused your injuries. Unfortunately, motorcyclists are often too severely hurt to stay on the scene and exchange information. A motorcycle accident attorney in Florida can take the following steps on your behalf:
Investigating the scene: If you are unable to take photos of the accident site, your lawyer can enlist investigators and other professionals to document conditions and gather evidence.
Identifying the at-fault driver(s): The police report is the primary means of determining who else was involved in the accident. Your attorney can contact the local police department to get a copy of the report and review it for key information about the accident and the at-fault driver.
Assessing insurance coverages: The majority of fault-based accident claims in Florida involve filing a claim against the at-fault driver's insurance carrier. Before filing a claim on your behalf, your lawyer can review the coverage the other driver has in place as well as potential coverage under your own insurance.
Negotiating with the insurance company: Trying to negotiate a fair settlement on your own after a motorcycle accident is virtually impossible. Most riders don't know how much a motorcycle accident claim is worth, and the insurance company will attempt to pay you as little as possible. An experienced attorney can handle the claim on your behalf, including negotiations with the insurer, reviewing potential settlement offers, etc.
Taking your case to court: Insurance companies often treat injured motorcyclists unfairly. They may dispute liability for the accident or attempt to pay you less than your case is worth. Although most motorcycle accident claims are resolved via settlement, it is important to hire a lawyer who will go to trial on your behalf if it means obtaining the ideal outcome.
Each of these represents a crucial step in bringing a claim against the driver who caused your motorcycle accident. If you have been injured or lost a loved one, the last thing you should have to deal with is the complexity of an insurance claim.
Contact a Florida Motorcycle Accident Lawyer Today

The no-fault insurance system in Florida can be confusing, especially for motorcyclists. If you are unsure what to do after a motorcycle accident, the attorneys at Kogan & DiSalvo can help.
Our team has the experience, resources, and results to help you explore all of your options for obtaining compensation. This includes assessing your own motorcycle insurance coverage and filing a claim against the driver who caused the accident. We negotiate with the insurance company on your behalf with the goal of maximizing your recovery. Our lawyers will not hesitate to go to trial if it means achieving a better outcome for you.
Please contact Kogan & DiSalvo by calling (561) 375-9500 today for a free consultation. Our motorcycle accident attorneys serve clients throughout Florida from offices in West Palm Beach, Boca Raton, Boynton Beach, Fort Lauderdale, Stuart, Delray Beach, and throughout Florida.