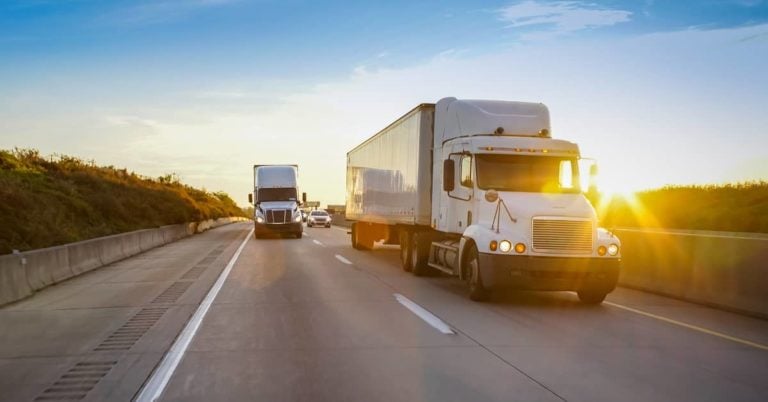 Who Is Liable for a Truck Accident?
Categories:
Claims involving semi truck accidents are among the most complicated cases our lawyers handle. One of the biggest sources of complexity is determining all of the parties that are at fault for the crash.
Unlike most vehicle accident claims, the driver may not be the only one responsible in a collision with a big rig. If you have been injured or a loved one was seriously hurt or killed in a tractor trailer crash, our experienced truck accident lawyers can investigate on your behalf and pursue fair compensation from all of the liable parties.
For more than 25 years, Kogan & DiSalvo has been raising the bar in helping clients achieve the results and peace of mind they deserve. Please call (561) 375-9500 today for a free consultation at our offices in Boca Raton, Boynton Beach, Stuart, Delray Beach, West Palm Beach, or Fort Lauderdale.
Liable Parties in a Truck Accident Claim

Commercial trucking is a complex industry with countless individuals and companies involved in the transportation of goods. The negligence of one or more of these parties can result in an accident; the key to recovering full compensation in your claim is determining all of the parties at fault.
Our truck accident lawyers will thoroughly investigate the crash on your behalf. The following parties may be liable for damages:
The Truck Driver
We will first examine the actions of the driver of the semi. The same errors we see in other auto accidents may also be a factor in your truck accident claim, including:
Distracted driving
Speeding
Following another vehicle too closely
Running red lights and stop signs
Errors while changing lanes or merging into traffic
Aggressive driving
Driving while fatigued
Driving while intoxicated (alcohol and/or drugs)
When we're on the road with a semi truck, we assume that the driver has the qualifications and training to operate the rig safely. Unfortunately, errors, lapses in judgment, and lack of attention are all common causes of truck accidents.
The Trucking Company
The company that employs the truck driver might also bear a significant portion of the liability for an accident. Although the driver is responsible for safely operating the rig, the company is responsible for many other aspects of the safety of the truck, including:
Hiring qualified drivers (i.e., those with a valid commercial driver's license, no history of drug and alcohol citations, no record of serious accidents, etc.)
Ensuring that the truck and/or trailer is in safe operating condition (sometimes one company or an independent operator owns the truck while another party owns the trailer; our lawyers investigate all parties with a stake in the vehicle)
Monitoring drivers to ensure they comply with state and federal regulations (i.e., hours of service, inspection of the truck, etc.)
Commercial trucking is big business. As with so many businesses, trucking companies often prioritize profit ahead of safety.
Negligence on the part of trucking companies often involves violations of the regulations issued by the Federal Motor Carrier Safety Administration, including bad hiring practices, failure to supervise drivers, pushing drivers to work beyond safe limits (hours of service violations), and more. Tragically, the carelessness of these companies is often the root cause of trucking accidents, with errors on the part of individual drivers often reflecting a much broader problem.
The Shipping Company
Loading a semi truck is a specialized procedure. Shipping companies must take into account the maximum weight of the truck, the distribution of weight on the axles, and securing cargo so it does not move during transit.
Our truck accident lawyers will investigate to determine if the company that loaded the tractor trailer was negligent. You may be entitled to compensation if you were injured in a tip-over or rollover accident with the big rig, or if unsecured cargo fell into the road and caused you to crash.
A Vehicle or Parts Manufacturer
Trucking companies and the mechanics and service centers with which they contract are responsible for maintaining and making repairs to the trucks in their fleet. However, if a rig or one of its parts is faulty, the company responsible for the product may also be liable.
Product liability claims involving defective truck components may center on issues such as:
Design defects that make the part or the entire vehicle itself unsafe
Manufacturing errors where the defect is introduced through faulty production or assembly
Failure to warn of a potential hazard – companies must place labels and/or include warnings in the instructions notifying consumers of dangers that may occur in the normal use of the product
Designing, manufacturing, and distributing vehicle parts generally involves multiple companies. Therefore, our truck accident lawyers may pursue compensation from multiple parties in your defective product claim.
Truck Brokers
In the trucking industry, brokers connect companies that need to transport goods with the drivers and companies that carry freight. Brokers are trusted to exercise discretion in hiring a trucking company or owner-operator who can competently and safely deliver the goods.
The broker may be liable in your truck accident claim for failing to verify the safety record of the truck driver and/or his employer. Brokers are also responsible for ensuring that the driver and/or company has sufficient insurance coverage.
Other Liable Parties in a Truck Accident Claim
Parties outside of the trucking industry may also be liable in accident claims involving tractor trailers. Generally, these cases arise when the negligence of a third party causes a truck driver to lose control of the rig, resulting in a crash.
Examples of third-party liability in truck accident claims include:
Defective or dangerous roads: A government entity may fail to maintain a road properly, increasing the risk of accidents.
Errors on the part of another driver: The careless driver of another vehicle may cause the truck driver to crash or lose control of the truck, resulting in the collision that causes your injuries.
Improper construction zones: Construction companies performing road work and other jobs that disrupt traffic have a responsibility to warn motorists of reduced speed, lane closures, and more. If they fail in this duty and an accident involving a semi truck occurs, you may be able to pursue a claim against the construction company.
The only way to identify all of the at-fault parties is to work with an experienced truck accident lawyer. Our team has decades of experience and extensive knowledge pursuing full compensation on behalf of clients in complex trucking accident claims.
Truck Accidents and the 'No-Fault' Law

You may be asking yourself why we have talked about who is at fault for a truck accident when Florida is a no-fault state. While it is true that in many vehicle accident claims your personal injury protection (PIP) insurance policy is the main (and perhaps only) option for compensation, exceptions under Florida law make it highly likely that you will be able to pursue a fault-based claim against the truck driver, trucking company, and other liable parties.
In Florida, drivers are required to carry a minimum of $10,000 in PIP coverage. As anyone who has been in a serious accident can tell you, $10,000 does not go very far in compensating you for medical expenses, lost wages, and other economic damages.
The economic damages in a truck accident claim frequently exceed $10,000. In addition, truck accidents often result in permanent injuries.
Both of these scenarios constitute exceptions to Florida's no-fault law. Therefore, you will generally be able to recover the full extent of damages in your truck accident claim, rather than relying solely on your PIP insurance for compensation.
Contact Our Truck Accident Lawyers Today

Time is of the essence after any truck accident. Key evidence may be lost, and records that reveal negligence or wrongdoing may be discarded. With this in mind, it is important to contact a truck accident attorney as soon as possible to begin building your claim.
At Kogan & DiSalvo, we know that the clock starts ticking on your case right away. We also understand the pain, confusion, and worry you and your family are experiencing. When you work with our team, you can feel secure and confident in the knowledge that we will always act in your best interest and pursue the maximum compensation you deserve.
Please call (561) 375-9500 today for a free case review. Our truck accident lawyers serve clients in Boca Raton, Boynton Beach, Fort Lauderdale, West Palm Beach, Stuart, Delray Beach, and all of Florida.