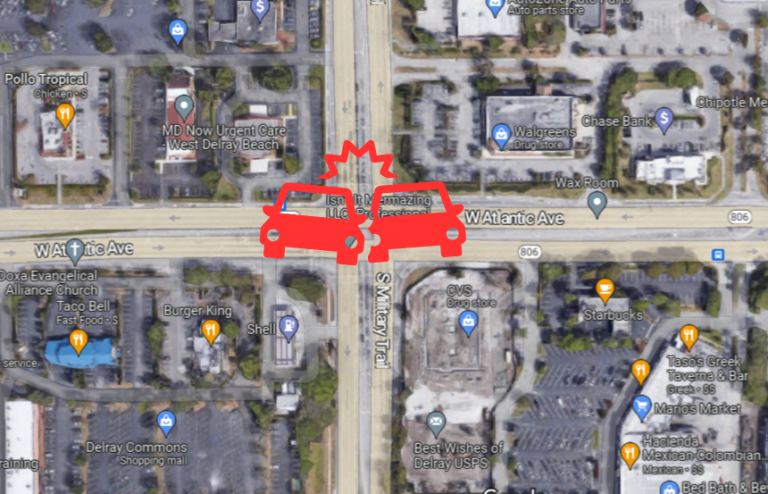 Fiery crash in Delray Beach leads to woman killed and four others injured
Categories:
Accident Date: Sunday, February 12, 2023
Type: Car Accident
Roadway: Atlantic Avenue and Military Trail
City: Delray Beach, FL
County: Palm Beach County, FL
The fiery crash occurred on 2/12/23 just before 5:30 a.m. when emergency crews arrived to find two cars involved, with one on fire at the intersection of Atlantic Avenue and Military Trail in Delray Beach.  According to police, one person was pronounced dead at the scene, while two others were transported to the hospital via trauma alert, and the remaining two were sent by ambulance. According to police spokesman Ted White, the victim was driving south on South Military Trail when her red Mazda SUV was struck on the passenger side by a black Honda Accord traveling eastbound at a high rate of speed. The identities of the victims have not yet been released. A spokesman for the Delray Beach Police Department said alcohol is believed to have played a part in the crash at the intersection of Atlantic Avenue and Military Trail.
In 2023 there were more than 390,000 crashes in Florida. Many of the 3400 fatalities in 2023 were caused by careless driving. The cause of every crash needs to be carefully investigated to determine who should be held responsible.
The law firm of Kogan & DiSalvo would like to send our thoughts and condolences to the victim's family following this fatal car accident in Palm Beach County.
In this accident news blog, it is our intent to write about local accidents and cases that align with our type of legal casework. We try to raise awareness of the injury and tragic loss of life due to car accidents in Florida.
The Personal Injury Law Firm of Kogan and DiSalvo is dedicated to helping those injured by the negligence of others.
Note: These posts are created using publicly available secondary sources. Information has not been independently verified. The photos depicted in these posts are not representative of the actual accident scene. Please contact us if there is new, updated, or inaccurate information and we will edit the content.