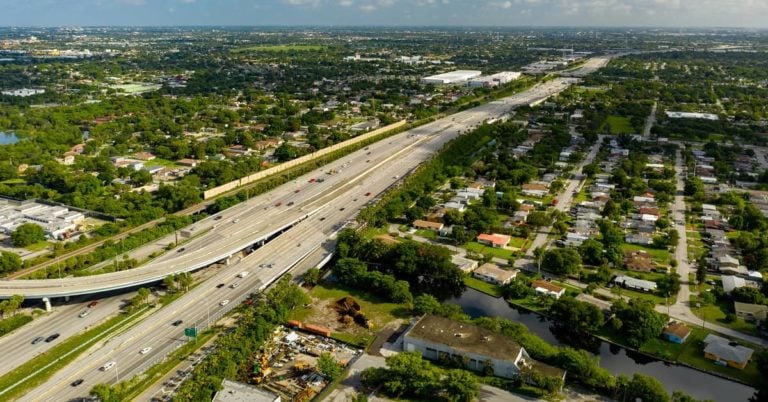 Why Does Fort Lauderdale Have So Many Accidents on I-95?
Categories:
Ten years ago Fort Lauderdale was named the most dangerous city in the country for driving. Although its standing has improved somewhat in the last decade, the rate of accidents in Fort Lauderdale remains a serious concern. Miami-Fort Lauderdale-West Palm Beach collectively ranks eighth in a report published last year on the most dangerous cities for driving.
Unsurprisingly, I-95 is a major contributor to Fort Lauderdale's reputation as a dangerous city for drivers.
If you have been injured or lost a loved one in a vehicle collision in or around Fort Lauderdale, it is in your best interest to contact a car accident lawyer as soon as possible. The attorneys at Kogan & DiSalvo know the dangers of I-95 and other roads in the area, and we are committed to pursuing fair compensation on your behalf.

What Makes I-95 Dangerous?
Accidents on interstate highways are a common occurrence throughout the country. High speeds, a significant volume of cars, and other potential accident causes are not unique to Fort Lauderdale.
However, a combination of issues makes the section of I-95 in the Fort Lauderdale metropolitan area particularly dangerous to drive. Some of the key factors that lead to accidents on this interstate include:
Traffic Congestion
As the primary interstate highway for the Eastern Seaboard, I-95 is extremely busy all day and every day. The more cars on the road, the greater the likelihood of a collision.
Although they are intended to expedite the flow of traffic, traffic jams are commonplace in the express lanes on I-95 in and around Fort Lauderdale. To make matters worse, many drivers veer into express lanes from regular lanes of traffic (a practice known as "lane diving"). Drivers who engage in lane diving often ignore the poles separating the lanes, resulting in damage to the dividers and increasing the risk of accidents.
Speeding
Many drivers ignore the speed limit on I-95. The speeding problem on I-95 is exacerbated by a lack of police presence on the interstate.
With long stretches of I-95 going unpatrolled, drivers often throw caution to the wind. Tragically – and perhaps inevitably – this leads to a large number of high-speed wrecks resulting in serious injuries and fatalities.
Drunk Driving
Nationally, I-95 has the second highest rate of fatal accidents involving drunk drivers. According to research by ValuePenguin, 266 deadly accidents with a drunk driver occurred on I-95 over a five-year period.
Intoxicated drivers are often responsible for some of the worst car accidents, such as head-on collisions. When these crashes occur at highway speeds, the risk of catastrophic injury and death is extremely high.
On-Ramps and Off-Ramps
Accidents frequently occur when drivers try to get on and get off of I-95. Failure to yield is a common issue in crashes where the driver trying to get on the interstate crowds in front of another vehicle. Drivers exiting I-95 may also cause accidents if they move across multiple lanes of traffic to reach an off-ramp.
On-ramps and off-ramps involve changes of speed and traffic patterns. Both the drivers on the highway as well as those trying to enter or exit must use caution at these sections of I-95.
Semi-Trucks
In addition to commuters, I-95 is a major thoroughfare for 18-wheelers. The combination of a significant number of semis with heavy passenger vehicle traffic means that I-95 is frequently the scene of serious truck accidents. In fact, FreightWaves rated I-95 as the second most dangerous interstate in the country for truckers
Truck accidents are devastating events, often resulting in catastrophic injuries and the deaths of multiple victims. Some of the most common types of accidents involving semi-trucks on I-95 and other interstate highways include:
Truck rollovers
Jackknife accidents
Accidents involving truck overloading and poorly secured loads
Underride accidents
Accidents involving dangerous cargo, such as combustible and radioactive materials
Car and truck accidents on I-95 involve many of the same causes, including distracted driving and driving while fatigued. However, bringing a truck accident claim is very different from suing the driver of a car. It is crucial to consult an attorney after any crash with a semi-truck.

Injured on I-95? Contact a Fort Lauderdale Car Accident Lawyer Today
Those who live in and around Fort Lauderdale know the dangers they face on I-95. Unfortunately, despite its notorious reputation, careless drivers keep adding to the interstate's lengthy history of accidents.
At Kogan & DiSalvo, we recognize that each accident is more than just a number. Crashes can permanently alter the lives of victims and their families. Our attorneys have the experience, knowledge, resources, and track record to pursue fair compensation on your behalf if you have suffered injury or lost a loved one in a car accident.
For more than 25 years, Kogan & DiSalvo has been representing people in Florida who have been injured through no fault of their own. We know the communities we serve, as well as the courts in cities and counties throughout Florida. As a result, our clients can count on us to provide knowledgeable guidance at every stage of their claim.
Please call Kogan & DiSalvo at (561) 477-9000 today for a free consultation. Our car accident lawyers serve clients throughout Fort Lauderdale and other communities in Florida.