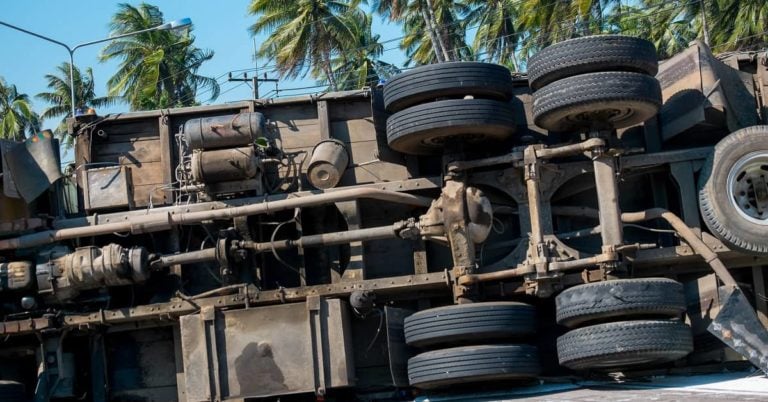 Can I Afford a Truck Accident Attorney?
Categories:
Being involved in any type of crash can create an enormous financial strain. For the victims of accidents with semi-trucks, the costs can be even higher.
Truck accidents often result in serious injuries. Medical treatment and rehabilitation for serious injuries is expensive. These expenses are frequently exacerbated by truck accident victims' inability to work  – sometimes permanently.
Given the costs involved in recovering from a truck accident, you may be wondering if you can afford to hire an attorney to handle your claim. With fair compensation for your injuries and losses on the line, you can't afford not to have an experienced lawyer on your side.
It is in your best interest to speak to a knowledgeable truck accident lawyer as soon as possible after a collision with an 18-wheeler. Kogan & DiSalvo can help. Contact our team for a free consultation today.
What Is a Contingency Fee Agreement?

The majority of personal injury lawyers handle cases on a contingency basis. With a contingency fee agreement, clients pay their attorneys no upfront costs. Fees are contingent on the result of your case. Clients are generally only required to pay fees if a settlement is reached or a verdict is obtained at trial.
At Kogan & DiSalvo, we Guarantee it's FREE if we don't get you any money. We handle all cases on a contingency fee basis. If we achieve a favorable result in your case, you pay us a percentage of the recovered amount.
How Contingency Fees Help Truck Accident Victims

If you have ever had to hire a lawyer, you know it can be expensive. Most attorneys who handle cases outside of personal injury law charge prospective clients for the initial consultation and then bill by the hour. Depending on the duration and complexity of your claim, these billable hours can add up quickly.
The thought of incurring such an expense when you already have bills piling up for medical care and other losses related to a truck accident can be overwhelming. Fortunately, attorneys handle personal injury and wrongful death claims on contingency precisely because the clients they serve are facing financial burdens.
Without contingent fees, accident victims may feel as though they can't afford legal representation. This reasoning leads many victims to try to take on their own claims. Unfortunately, those without representation often settle the case for less than they deserve, or even walk away with nothing.
Hiring an attorney is crucial for the success of your claim, especially if you were injured or lost a loved one in a truck accident. You should contact a truck accident lawyer as soon as possible to protect your rights and understand your legal options.
Why You Need a Truck Accident Lawyer

Now that you understand how hiring an attorney is affordable, it is important to understand why seeking legal counsel is beneficial both financially and for your peace of mind.
First, truck drivers and trucking companies are often represented by large and powerful insurance carriers. These companies do not have your best interest in mind, and they will do whatever they can to underpay your claim. An attorney will protect your rights and interests, making it more likely that you will recover full and fair compensation for your losses.
Second, the victims of truck accidents are often unaware of the full extent of compensation to which they are entitled. Loss of earning capacity, pain and suffering, and other damages are difficult to quantify on your own. Insurers often capitalize on this, offering minimal settlements with the expectation that uninformed claimants will take the money without pushing for more.
After thoroughly investigating all of your losses, a truck accident lawyer can build a strong claim for all of the damages you have sustained. Your attorney can also attempt to negotiate a fair settlement on your behalf.
Finally, a truck accident lawyer can take your case to trial if the liable parties and their insurers refuse to compensate you fairly. Your attorney will advance all of the costs and handle the time-consuming and expensive process of preparing for court. Although a favorable result cannot be guaranteed, you have a much greater likelihood of a successful outcome when you have qualified legal representation.
The decision to hire an attorney has a significant impact on the compensation you may be able to recover in a truck accident claim. The recovered money will allow you to pay your bills, make up for the income you lose, and cope with the other effects of your injuries.
Yes, your lawyer will charge you a percentage of the settlement or award. The portion of the compensation you keep, however, will enable you to afford medical care and more that can aid in your recovery.
Contact a Truck Accident Lawyer Today

Victims of truck accidents face a number of challenges in the wake of the crash. Choosing a qualified attorney should not be difficult.
At Kogan & DiSalvo, our team has the experience, resources, and commitment to service to represent you effectively in truck accident claims. The majority of our attorneys are recognized as Board-Certified Civil Trial Lawyers by The Florida Bar.
Due to the serious injuries and significant damages that occur in truck accidents, these cases have a high likelihood of going to trial. You need a lawyer well-versed in taking matters to court if you want to pursue full compensation for your losses.
For a free consultation, please call Kogan & DiSalvo at (561) 375-9500 today. Our truck accident lawyers serve clients in West Palm Beach, Boca Raton, Boynton Beach, Fort Lauderdale, Stuart, Delray Beach, and all of Florida.