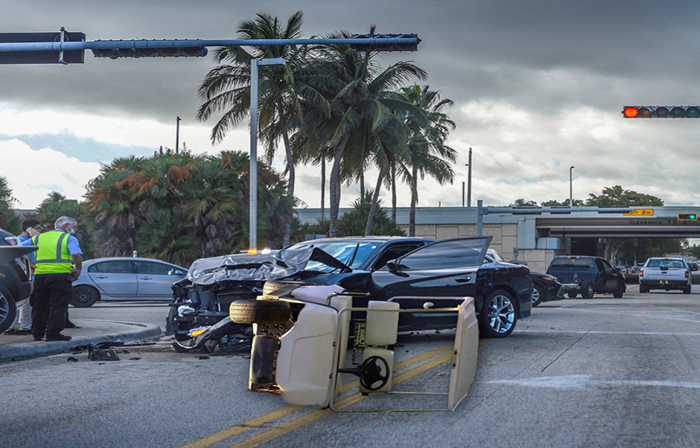 Kogan and DiSalvo Secure $1.26 Million in Compensation for Golf Cart Passenger's Severe Injuries
Categories:
BOCA RATON, FL, UNITED STATES, July 24, 2023 – Kogan and DiSalvo, a leading personal injury law firm, proudly announce their recent victory in securing a remarkable $1.26 million in compensation for a client who suffered severe injuries as a passenger in a street-legal golf cart collision. Despite the negligent driver possessing a mere $10,000 in bodily injury coverage, the firm's strategic approach and the client's foresight in carrying uninsured motorist coverage proved to be pivotal aspects of her protection.
The incident occurred when our client innocently rode as a passenger in a street-legal golf cart, only to be struck by a careless driver who failed to exercise caution on the road. The collision resulted in life-altering injuries, causing significant physical and emotional pain for our client.
Kogan and DiSalvo's dedicated legal team took immediate action, recognizing the importance of fighting for our client's rights and ensuring she received the maximum compensation possible. With an unwavering commitment to justice and vigorous representation, the firm meticulously built a compelling case against the negligent driver.
Through their extensive legal expertise, strategic negotiations, and relentless pursuit of justice, Kogan and DiSalvo successfully secured an impressive total of $1.26 million in compensation for the injuries our client sustained. This substantial amount will help cover her medical expenses, ongoing treatments, lost wages, and provide the support necessary for her continued recovery.
"Our client's trust in our firm, combined with her foresight to obtain uninsured motorist coverage, played a crucial role in this successful outcome," said Darryl Kogan managing partner at Kogan & DiSalvo. "We are proud to have achieved justice on her behalf and to have ensured she receives the necessary resources to move forward with her life."
Kogan and DiSalvo have built a reputation for their relentless pursuit of justice, and this recent victory further solidifies their position as a leading personal injury law firm. Their team of experienced attorneys stands ready to assist clients in their fight for fair compensation, regardless of the complexity of the case.
If you or someone you know has suffered injuries due to the negligence of another party, do not hesitate to contact Kogan and DiSalvo for a free consultation. Their team of compassionate and skilled attorneys is prepared to provide the dedicated legal representation you need to secure the justice and compensation you deserve.