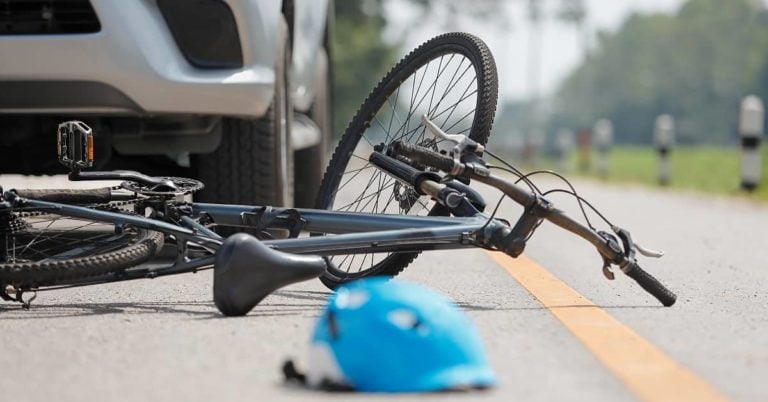 Building Your Bike Accident Claim
Categories:
Whether for exercise or recreation, cycling is a popular pastime for people of all ages. Unfortunately, bicyclists are often forced to share the road with drivers who are impatient, inattentive, and sometimes even aggressive.
Bicyclists are at a major disadvantage in collisions with motor vehicles. The potential for serious, possibly life-threatening injuries is high, and the aftermath of the accident can have long-term or even permanent effects.
A Florida bicycle accident lawyer at Kogan & DiSalvo can help you pursue fair compensation for your injuries. Contact us today for a free case review.
What to Do After a Bicycle Accident

The first step after any vehicle accident involving injury is to call 911. Not only is this the law in Florida, but it is crucial for paramedics to evaluate the seriousness of victims' injuries and transport them to the emergency room if necessary.
After an accident with a motor vehicle, bicyclists often have to be taken straight to the emergency room. If you were injured while riding your bike, it is important to comply with the instructions of the paramedics and receive the care you need.
However, if emergency medical personnel treat and release you at the scene, there are a few steps you can take to protect your legal rights and begin building your bicycle accident claim. These steps include:
Take pictures. The scene of the accident will be cleaned up quickly, resulting in the loss of crucial evidence. You can preserve some of this evidence by taking pictures of the damage to your bike, the damage to the other vehicle, skid marks, and debris in the roadway.
Note the location of the accident. It is also important to know where the accident took place. Use a camera or your smartphone to take pictures of any street signs, road markings, and landmarks.
Get the driver's information. You will need to be able to identify the driver involved in your bicycle accident. As such, you should ask for the driver's name, contact information, and details for his or her insurance carrier. You should also ask for the year, make, and model of the vehicle, and make note of the license plate number.
Speak to witnesses. Witness testimony can be crucial for supporting your bicycle accident claim. If anyone saw the accident, ask them what they witnessed immediately prior to and during the crash. Be sure to get each witness's name and contact information so you and/or your lawyer can speak to them later.
Give a statement to the police. In addition to paramedics, a police officer should be dispatched to the scene of any accident involving bodily injury. The police officer will document basic details at the scene (such as the location of the accident) and speak to the parties involved as well as any witnesses. Your statement to the officer should be factual and direct. Provide details of what you were doing before the accident, and anything you observed the driver doing. Be careful not to say anything to suggest you are at fault, and ask the officer for his or her name, badge number, and precinct so you can request a copy of the police report at a later date.
Bicycle accident injuries may not be immediately apparent, and they can get worse over time. Therefore, even if the paramedics released you at the scene, you should seek medical attention as soon as possible once you are done at the crash site.
Taking these steps will create crucial records of the accident when the information is fresh. When you contact a bicycle accident attorney, you will be able to share a significant amount of information that your lawyer can use to investigate your case.
Are Bicyclists Covered by the Florida No-Fault Law?

You may be asking yourself why you need to exchange information with the other driver when Florida is a no-fault state. After all, won't your insurance cover costs associated with the accident?
Bicyclists are covered by the no-fault auto insurance law in Florida. Your personal injury protection (PIP) insurance will cover select losses if you are injured in an accident while riding your bike. However, PIP does not cover everything, and you may be entitled to much more.
If you sustain significant, permanent injuries in a bicycle accident, you may be able to recover compensation through a fault-based claim against the driver who caused the collision. This claim is separate from filing for PIP no-fault accident benefits from your own insurance provider.
If your bicycle accident occurred due to the carelessness of another driver, you must be able to prove that the driver was at fault. An experienced bike accident attorney can investigate what caused the crash, assess the seriousness of your injuries, determine how much you may be entitled to in damages, and seek fair compensation on your behalf.
Start Building Your Bike Accident Claim Today

Bicyclists and their families face a wide variety of challenges after an accident. In addition to recovering from potentially serious injuries, the financial and emotional impact can be immense.
At Kogan & DiSalvo, our attorneys have decades of experience handling accident claims involving bicycles and other types of vehicles. We aggressively pursue the compensation you deserve for your injuries while providing hands-on support and compassionate assistance through all stages of your case.
Please contact Kogan & DiSalvo by calling (561) 375-9500 today for a free case review. Our bicycle accident lawyers serve clients in West Palm Beach, Boca Raton, Boynton Beach, Stuart, Fort Lauderdale, and throughout Florida.