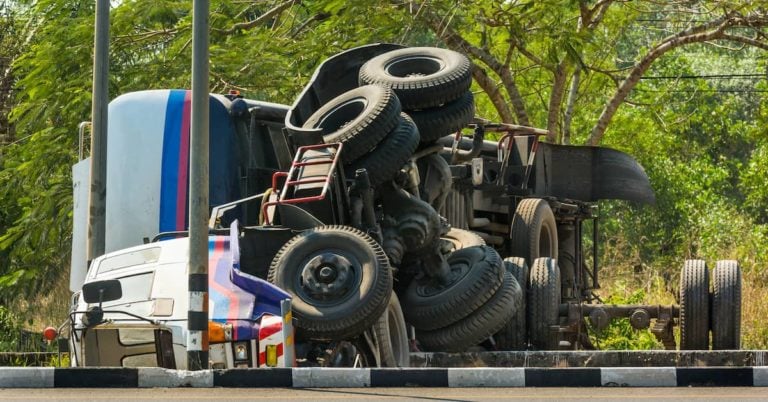 What Is a Fair Truck Accident Settlement?
Categories:
Truck accidents have a high probability of serious injuries and significant damages. In some cases the victims (particularly those in passenger vehicles) may not survive. As a result, the amount of compensation in a truck accident claim may be substantial.
Unfortunately, trucking companies and their insurers frequently undervalue these claims. If you receive a settlement offer (which is not guaranteed), it is likely to be less than your case is worth.
Experienced truck accident lawyers know what constitutes fair compensation after a collision with an 18-wheeler. Contact Kogan & DiSalvo for a free case review before settling your truck accident claim.
How Serious Are Your Truck Accident Injuries?

In Florida, you need to suffer what is classified as a serious injury to bring a fault-based claim against another motorist. This rule applies to any type of motor vehicle accident, including crashes involving semi-trucks.
Serious or significant injuries may include:
Bone fractures and orthopedic injuries resulting in permanent impairment
Loss of a limb
Severe damage to or loss of an internal organ
Any injury that does not completely resolve
These and other injuries are the rule rather than the exception in truck accident claims. As a result, the compensation you may be entitled to is likely beyond what can be recovered through personal injury protection (PIP) insurance alone.
Ultimately, the evidence in your claim needs to show that the injury is permanent and significantly impacts your life. Fault-based claims are also allowed if you suffer "significant and permanent scarring or disfigurement."
Additionally, surviving family members can pursue claims against drivers and other parties if an accident results in the death of a loved one. Compensation is recoverable in a wrongful death claim if we can prove that someone other than your loved one (such as a truck driver) was at fault for the accident that took their life.
What Damages Have You Sustained as a Result of the Truck Accident?
Once your right to bring a fault-based claim against the truck driver and any other liable parties is established, your attorney will calculate the total value of your losses. A complete understanding of the damages you have incurred is essential for determining if a truck accident settlement is fair. 
A potential settlement needs to compensate you fairly for your damages to date, as well as any losses you are expected to face in the future. These may include:
Medical Bills

Treating a serious or catastrophic injury can cost hundreds of thousands or even millions of dollars. Before you agree to settle, you need to ensure that the offered amount covers your medical expenses.
You may be entitled to compensation for the following costs related to medical care after a truck accident:
Ambulance transport
Emergency room treatment
Scans and imaging
Labwork
Surgery
Hospital stays
Therapy and rehabilitation
Medications
Medical supplies
Prosthetic and assistive devices
If you have to travel for medical care after the accident (such as for physical therapy, appointments with specialists, etc.), you may also be entitled to compensation for mileage and accommodations. If your injuries require home-based attendant care, you should also factor these costs into your truck accident claim as well.
Loss of Income

Victims of catastrophic injury are generally unable to work during the course of their recovery. In some instances, your injuries may permanently impact your ability to earn a living.
The settlement amount for a truck accident should cover (a) the wages you have lost to date and (b) the income, benefits, and other remuneration you would have earned were it not for your injuries. This latter category – known as loss of earning capacity – is frequently undervalued in settlement negotiations.
An experienced truck accident lawyer will review financial documents (such as pay stubs, tax returns, etc.) and consult expert witnesses to determine the value of damages for lost wages and loss of earning capacity. If a settlement offer is on the table, your attorney can advise you if the amount adequately covers the wages you have already lost as well as the financial burdens you will face from being unable to work.
Pain and Suffering

Pain and suffering is a broad category of personal injury damages that encapsulates a wide range of non-economic losses. Because these damages are not represented by line items on a bill or quantifiable like other economic losses, compensation for pain and suffering is frequently disputed in settlement negotiations.
A truck accident lawyer will evaluate all of the ways the truck accident has impacted your life. Based on the evidence, expert witness testimony, and more, you may be entitled to pain and suffering damages for the following:
Physical pain and discomfort
Depression
Anxiety
Post-traumatic stress disorder
Loss of mobility
Embarrassment stemming from scars and disfiguring injuries
Loss of enjoyment of life
The defendants in truck accident claims (including trucking companies, insurance carriers, etc.) employ inexact methods for calculating the value of pain and suffering. For example, they might multiply your economic damages by a number representing the severity of your injuries or assign a daily cost to living with a serious injury or impairment.
Neither of these calculations is likely to capture the true toll of your injuries from the truck accident. You need a lawyer who can accurately evaluate the damages in your case and advocate for a better settlement on your behalf.
What Is the Average Payout for a Truck Accident?

A quick online search may reveal a host of figures that purport to tell you how much on average trucking accident victims are able to obtain. While it may seem helpful to know what other people in your situation recovered, average settlement numbers are often deceiving.
In reality, there is no "average" truck accident settlement you should expect. There are far too many unique factors in a given claim for someone else's result to provide you with a meaningful insight on what constitutes fair compensation.
Promptly speaking to a truck accident attorney is the best way to find out the potential value of your claim. A knowledgeable lawyer will draw on relevant case law, the available evidence, and your specific damages to ascertain how much compensation to pursue for your injuries and damages in a truck accident.
How Liability Affects Your Truck Accident Settlement

One of the unique factors that makes truck accident litigation different from other claims involving vehicle accidents is the complexity of liability. Although the negligence of the truck driver may be the direct cause of the accident, many additional parties could be held liable as well, including:
The trucking company that hired the at-fault driver
The manufacturer of the semi-truck and/or its components
The loading or shipping company
You can bring claims against any and all parties whose negligence contributed to the truck accident. In fact, your ability to recover maximum compensation depends on identifying and taking legal action against all of the parties responsible.
When more than one party is at fault, the defendants can only be held liable for the percentage of damages for which they are responsible. If you only bring a claim against one or a few (but not all) of the defendants, you will only be able to recover a portion of your damages. Insurance companies frequently capitalize on complex liability in truck accident claims to offer low-ball settlements and even dispute fault altogether.
Another important reason to investigate thoroughly and identify all potential defendants is to maximize the available insurance coverage. The insurance company (or companies) will not offer to settle for more than the amount of the policy. If your losses from the truck accident exceed an individual defendant's coverage, you won't be able to recover full compensation unless you bring claims against all of the liable parties.
What If I Was Partially at Fault for the Truck Accident?

It is crucial to be honest with your attorney about any actions on your part that may have led to the truck accident. Partial fault will limit the settlement you may be able to reach, but it doesn't mean that you are barred entirely from compensation. Your attorney needs to know everything about the accident – the good, the bad, and the ugly.
That said, the defendants and their insurance companies will pounce on any error or admission of wrongdoing on your part to justify offering you a lower settlement (or no settlement at all). It is not uncommon for the other side to exaggerate these arguments in an effort to pay you as little as possible.
Without the guidance of an attorney, you might accept these claims at face value. In reality, however, you should never trust the word of an insurance adjuster or a representative for any of the liable parties. A truck accident lawyer will protect your rights and seek a fair settlement on your behalf.
Get the Compensation You Deserve for a Truck Accident

Most truck accident claims are settled out of court. While this is good news for those who have been injured or lost a loved one and just want to get on with their lives, it is important to ensure that any settlement adequately covers your current losses and provides you with sufficient support for the challenges you face in the future.
Commercial carriers, insurance companies, and other parties don't calculate settlements this way. They want to pay the absolute minimum (or nothing at all). You need a lawyer on your side who can ensure that you will not be taken advantage of and that any settlement represents fair compensation.
For more than 25 years, Kogan & DiSalvo has been representing clients in complex trucking accident claims. In addition to negotiating favorable settlements, our attorneys are not afraid to take cases to court on behalf of our clients. The majority of our lawyers are Board-Certified in Civil Trial Law by The Florida Bar due to our experience and results in the courtroom.
Please call Kogan & DiSalvo at (561) 375-9500 today for a free case review. Our truck accident lawyers serve clients in West Palm Beach, Boca Raton, Fort Lauderdale, Boynton Beach, Stuart, Delray Beach, Vero Beach, Palm Bay, and throughout Florida.