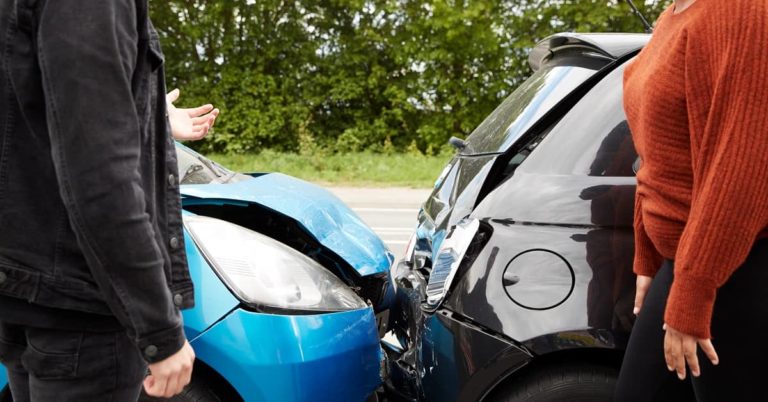 Can an At-Fault Driver Sue Me?
Categories:
When someone else causes a car accident, most people assume that insurance will fairly compensate them for their injuries. Unfortunately, liability for an accident is not always so cut and dried.
The no-fault auto insurance law in Florida limits the circumstances under which someone can file a claim after an accident. However, if you are unfairly accused of causing a car accident in which you were seriously injured, it is crucial to know your legal rights.
Kogan & DiSalvo can help you protect your rights and pursue the compensation you deserve. Contact a car accident attorney for free today, or call (561) 375-9500.
When Can Drivers Sue for a Car Accident?

Most drivers only have one option for obtaining compensation after a car accident: Filing a personal injury protection (PIP) insurance claim. PIP insurance covers some of the losses motorists incur in accidents, mainly medical bills and lost wages.
Because PIP is a no-fault insurance system, benefits are available regardless of who caused the accident. This also means that the right to sue is limited to accidents where a serious injury occurs.
In Florida, serious injuries are broadly defined as significant impairment, disability, or disfigurement (as well as wrongful death). Those who suffer a serious injury or lose a loved one in a crash caused by someone else's negligence can file a lawsuit against the driver who is responsible for the accident.
Who Is Liable for a Car Accident?

Liability for a car accident is based on negligence. Some of the most common negligent actions resulting in car accidents include:
Speeding
Running red lights and stop signs
Reckless driving
Driving under the influence of alcohol or drugs
If you are seriously injured in a car accident because another driver was careless, you can pursue compensation by filing a claim with the driver's insurance company. The insurer may offer to settle your claim, or you may need to sue to recover full damages.
However, liability for a car accident is not always straightforward. In the immediate aftermath of the crash you may be unable to tell exactly what happened or who is at fault.
The police report might make a preliminary determination of the cause of the accident, as well as the at-fault party or parties. Additional investigation (such as those conducted by car accident attorneys on behalf of their clients) may uncover more evidence of liability.
Depending on the circumstances, multiple parties may be liable for a car accident. If the other driver also suffered serious injury in the crash, he or she does have the option to sue. However, just because someone brings a claim against you does not mean you are at fault.
What If the Other Driver Sues Me?

If you find out that the driver of the other vehicle is accusing you of causing the accident, it is important to notify your insurance company immediately, or you may need to hire an attorney. The other driver may be hurt, angry, and looking for someone to blame. However, he or she may have also consulted a lawyer who has discovered evidence that could suggest liability on your part.
Without legal representation, you might make the mistake of admitting fault to an insurance adjuster. This can sink your own claim for damages, leaving you with no compensation to cover losses related to the accident.
It is in your best interest to allow an experienced lawyer to handle both your claim and any counterclaims brought against you. Your attorney can examine the facts to see if the at-fault driver has a case and protect your rights in communications with insurers and other parties.
Can I Recover Compensation If I Am Partially At Fault?

Some lawsuits launched by at-fault drivers are simply a tactic to avoid escaping responsibility. In other cases, however, the defendant's claim may have merit.
If you are indeed partially at fault for the accident, you are not barred from recovering compensation for your injuries and losses unless you are found to be more than 50% at fault for the accident. If you are found to be less than 50% at fault – but still some degree at fault – your damages will be reduced proportionately.
Florida has instituted a modified comparative negligence standard in personal injury claims. If the actions of the injured party contributed to the accident, the at-fault party can sue for partial recovery of damages.
Say, for example, that the at-fault driver rear-ends you after you turn right at a stop sign. In most instances the driver in the rear is at fault for the crash, meaning you can sue if you suffer a serious injury. However, if the evidence shows that you failed to come to a complete stop, you may be deemed partly at fault for the accident.
In this situation, the other driver may be found to be 90 percent at fault for the accident while you are 10 percent liable. Under the modified comparative negligence rule, your recovery would be 90 percent of your total damages. If the reverse was true – you are found 90% at fault – you would not be able to recover any compensation.
Contact a Car Accident Attorney Today

Getting hurt or losing a loved one in a car accident is a traumatic experience. The stress of the situation is magnified by claims that you were at fault.
At Kogan & DiSalvo, we know that every car accident is not just a case, but someone's life. We are committed to recovering maximum compensation on behalf of our clients. This means thoroughly investigating the crash, identifying all of your options for recovery, negotiating with the insurance companies, and – if necessary – going to trial on your behalf.
Please call Kogan & DiSalvo at (561) 375-9500 today for a free case evaluation. Our car accident attorneys serve clients in West Palm Beach, Boca Raton, Boynton Beach, Fort Lauderdale, Stuart, Delray Beach, and throughout Florida.